Hello Vegan foodies!
Brace yourselves and get ready to explore an entire collection of vegan mushroom recipes – crispy snacks, cozy soups, healthy salads, lip-smacking curries, pies and pizzas!
And guess what!
Nature offers us a whopping 10,000 different varieties of mushrooms that are edible!
However, the handful of fungi more popularly used in the kitchen include button mushrooms, shiitake, oyster mushrooms, puffball mushrooms, Portobello and cremini mushrooms.
Our collection of vegan mushroom recipes will reveal how to turn these fungi into awesome dishes.
So, let's get started!
Vegan mushroom soup is a delightful and cozy treat for mushroom enthusiasts.
The broth is thick and creamy thanks to coconut milk. Plus, it's so flavorful with the addition of vegetable broth and herbs.
And here is why it's a perfect weeknight dish…
This vegan soup is ready in 40 minutes and serves a satisfying meal.
Turn some ordinary household ingredients into a nutritious salad featuring mushrooms, lentils and a squeeze of lemon.
It is a high protein appetizer that can be enjoyed for snacking at any time of the day.
Plus, you can relish it guilt-free as it is low in carbs and fat.
Combine your favorite mushrooms with your favorite veggies to create this crispy stir-fry.
And remember, it's not your run-of-the-mill stir fry, but a stir fry bowl!
Do, you know the difference?
You pour all the contents over rice and let it sit for a few minutes so that all the sauces seep right down to make every grain lip-smacking!
Mushrooms and pasta are a classic combination loved by vegans and non-vegans alike.
And you wouldn't believe how easy this recipe is!
The creamy and rich pasta comes together in just 30 minutes to give you an ultra-satisfying experience with your dinner.
It also stores well in the refrigerator to be enjoyed the next day.
A meatless meatloaf!
Both intriguing and fascinating!
It is a delightful twist on the meaty classic with mushrooms and walnuts for a relishing texture.
Plus, the ketchup glaze at the top adds to the appeal and gives you just the right condiment to enjoy with your loaf.
Enjoy a wonderful vegan twist on the French classic with mushrooms and walnuts instead of the usual meat.
This flavorful paste is the perfect spread for toast, crackers or vegan meatloaves. You will love its velvety texture that is so easy to spread.
So, let this vegan pate add flavor to your buns, bread and more.
Here is an easy dish whipped up with meaty mushrooms.
This mushroom mince is so versatile that you can add it to any dish – pastas, sandwiches, salads and more.
Plus, it is really simple to make using a blender. Next, season it with your favorite flavors and let the fun begin.
There is nothing like a homemade bowl of warming cream of mushroom soup!
This vegan dish is full of the meatiness of mushrooms. Plus, its richness comes from almond milk, vegetable stock and a gluten-free thickening agent.
And should we share the best serving idea?
Pour the soup into homemade bread bowls for an impressive presentation.
Oh man! Crispy crust with a topping of caramelized mushrooms and garlic white sauce!
This scrumptious vegan pizza is all about the perfect texture and a mouthwatering taste!
Plus, it's an awesome treat for folks who are not fond of the usual texture of mushrooms. The caramelizing process makes them crispier.
Here is a nutrient-packed meal for the whole family!
This Mushroom Curry with Spinach and Chickpeas is loaded with proteins, fiber, iron and other nutrients. Plus, it is also big on the lip-smacking flavors!
The thick and rich curry is to be enjoyed with bread or rice – an absolutely filling dish!
Looking for some innovation to enjoy your mushroom meals?
Here is something different from the usual soups and curries – Spicy Mushroom Black Bean Fritters.
These are crispy with a delicious kick to add some heat to your dinner.
And the best thing is…
You can enjoy these vegan fritters both as an appetizer as well as a complete meal.­­­­
If you are an Indian or a fan of the Indian cuisine, this Vegan Mushroom Masala Curry is here as a tantalizing meal for you.
And guess what?
You don't have to be a kitchen pro to ace this recipe! All it takes is one pot and 30 minutes before you are done with this creamy and delicious curry.
Sausage rolls are not just a treat for meat eaters. Try this version that is just as delicious and tempting!
This fun snack features crispy puff pastry loaded with a delectable mushroom filling and voila! Your vegan sausage rolls are ready!
This can easily be your next party snack or game night appetizer!
Baking a hearty pie that fills the house with a delicious aroma is a delightful experience indeed!
Make the filling with mushrooms, cashews, herbs and the best seasonings.
And do you know how to make it cheesy?
Add some nutritional yeast. This popular vegan seasoning adds a wonderful cheesy flavor without making you resort to dairy cheese.
Here is an exotic South Indian stir fry dish featuring mushrooms with other veggies. It is a popular street food that you can now enjoy at your home.
Do you what makes it stand out from the usual stir fry recipes?
This one gives you a juicier dish with a finger-licking masala to enjoy.
In the mood for a creamy and satisfying lasagna?
There is no need to resort to animal products since this vegan mushroom lasagna gives you the same delicious results.
Sliced mushrooms replace the meat, vegan cheese adds creaminess and nutritional yeast further enhances the cheesy flavor.
So, enjoy the vegan deliciousness!
Looking for a perfect vegan meal for the chilly weather?
This easy vegetable stew gives you a satisfying, comforting and cozy dish made with vegetables and vegan ingredients.
It is a hearty combination of mushrooms, carrots, potatoes and lentils all cooked in a yummy and rich tomato sauce.
Oh, let me tell you about this delightful and filling vegan creation!
It's a creamy mushroom pie with a delectable sesame crust. The wonderful crust adds a delightful crunch and a hint of toasty goodness.
It's an ideal savory dish for gatherings as well as cozy family meal.
Add some variation to your usual vegan stew with this recipe.
The combination of mushrooms and white beans is not only healthy, but also offers a satisfying texture and amazing richness.
And when it comes to flavors, the wonderful array of herbs and Dijon mustard create a taste to remember!
Create the crispy and succulent joy of the world-famous fried chicken with this ingenious vegan recipe.
The remarkable oyster mushrooms are unbelievably meaty. With a crispy coating, these can give fast-food fried chicken a run for its money!
This recipe can make you a star-chef with your kids who are going to love this vegan snack.
Alright, folks, get ready to have your taste buds whisked away by none other than Biryani!
This aromatic rice dish has everyone raving, from Indians who know it by heart to those who are new to its incredible taste!
And this is a purely vegan version to let you include the exquisite dish in your meat-less menu.
Upgrade your pulses with this spicy Indian variation.
You can turn your humble yellow lentils into a symphony of textures by adding some crispy caramelized mushrooms.
And that's not all…
Savor the dish with an authentic Indian condiment – a lip-smacking coriander chutney. It add the perfect kick that makes your meal oh-so-exciting!
Enjoy a purely comforting vegan meal with this Creamy Coconut Mushroom Curry.
It has the right amount of heat to spice up your dinner at the end of a boring day. Plus, the creaminess is absolutely delightful as it melts in your mouth.
And the best part?
You'll be done with your kitchen work in 30 minutes!
Indian food enthusiasts have another vegan delight to savor with this finger-licking Mushroom Masala.
It is a rather dry masala as opposed to the usual creamy curries.
Do you know how that's better?
Well, the robust spices coat each bite of tender mushrooms with an intensified flavor and a heartier experience!
Make your mushrooms more versatile with this easy recipe for a velvety mushroom gravy.
Drizzle it over mashed potatoes, enjoy it with crackers or cook a side of rice with it – there are so many ways of adding something extra to your food with this gravy.
But the best part ever is!
It is oil-free and, hence, fat-free!
Here is an exciting replacement for chicken nuggets – introducing air fried oyster mushrooms!
The same crunch outside with a tender and meaty interior, this appetizer is great for kids as well as you!
Plus, the oil-less air frying makes these vegan nuggets an awesome addition to your healthy lifestyle.
Inspired from Chinese dumplings, these vegan wontons are a delightful snack filled with mushroom goodness.
The baking process makes them more delicious as well as healthier. There is a delightfully crispy exterior without deep frying in oil.
Dip them in a delectable sesame sauce – the perfect condiment for wontons.
If you are in the mood for Chinese food, try this recipe for delicious Kung Pao Mushrooms for a vegan treat.
King mushrooms, scallions and red bell peppers are chopped up nicely to create a vibrant dish full of textures.
Enjoy the spicy dish with noodles or rice.
Step aside, traditional hot dogs, because Portobello Mushroom Hot Dogs are here to steal the show!
It is an amazingly creative way of making your hot dogs vegan!
Whether it's a backyard BBQ party or a quick lunch, these hot dogs are a wonderful plant-based meal.
So, get ready to grill some mushrooms!
Looking for vegan comfort food for chilly winters?
Here is an amazing Creamy Potato Mushroom Chowder with velvety richness and crunchy vegetables.
Guess what makes the chowder so creamy without dairy-products?
It's some yummy cashews that add the perfect texture as well as nutrients to your chowder.
Korma is a deliciously savory and aromatic curry fit for royalty!
So, if you fancy dinning like the Mughal Emperors of India, try this recipe and spice up your curry game.
This vegan version offers mushroom and tofu for hearty meaty textures. Every bite is rich and indulgent!
This is not just another recipe for a spicy curry! It offers much more!
Other than a flavorful fusion of spices, one of the key ingredients include tamarind pulp to add an exciting tangy twist.
Plus, the spinach makes your mushroom curry more vibrant as well as healthier.
Don't skip this recipe thinking it's just a salad! Because it's not!
It is a vegan version of the famous Vegan Thai Beef offering a fusion of heat, zest and the perfect crunch with crispy mushrooms!
You can whip up this delectable salad in just 30 minutes.
Who says steaks have to be all about meat?
Brace yourself for a mind-blowing revelation: mushrooms can rock the stage as steaks too!
And get ready to be further surprised!
With Portobello mushrooms as the star ingredient, this hearty dish needs only 5 more items from your pantry!
Here is the recipe for a glorious pastry stuffed with a mouthwatering medley of mushrooms, veggies, and plant-based goodness.
It is wonderful for gatherings or a special Sunday meal with your family.
How about some suggested accompaniments?
Some creamy vegan mashed potatoes or a zesty herb-infused gravy will pair beautifully with your mushroom and veggie Wellington.
Pakoras – spicy and crispy fritters that hail from the Sub-Continent are a delicious and irresistible snack.
There are many ways of creating these heavenly, deep-fried bites. But this version with batter coated mushrooms is sure to take your breath away!
Crunchy from the outside, tender and meaty from the inside – just the appetizer everyone needs!
Karahi is a feast-worthy dish that hails from Pakistan and India.
Conventionally made with all kinds of meat, this vegan version gives you mushrooms and potatoes to add texture to the spicy and rich curry.
So, savor this blend of Indian spices in a juicy tomato curry with delicious mushrooms and potatoes.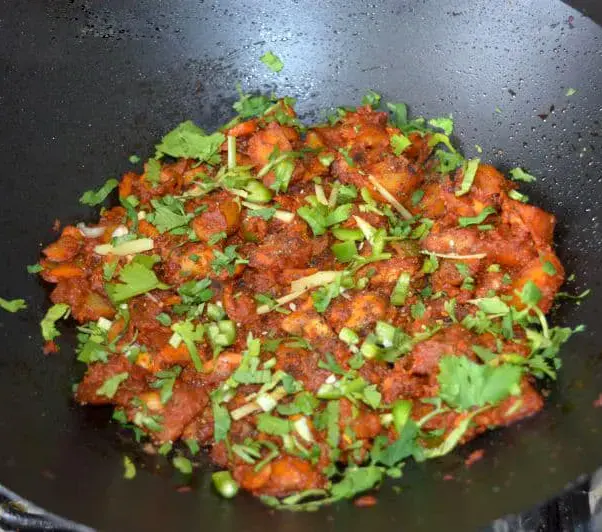 Express your true passion for mushrooms with this easy sandwich recipe.
It combines not just one, but various kinds of mushrooms in a single sandwich for a really fungi-tastic experience!
So load a French baguette with some vegan smoked cheese, caramelized onions, tantalizing sauces and your favorite mushrooms!
Get ready to savor a popular Middle Eastern Shawarma that traditionally features meat, pickled veggies, sauces and pita bread!
Just replace the meat with mushrooms and enjoy with creamy tahini sauce to dine like the dessert folks!
You may roll it up like a burrito and enjoy it like a taco-sandwich with the filling oozing out deliciously!
Cut down your time in front of the stove with this amazing Baked Vegan Mushroom Rice recipe.
Featuring the much sought-after basmati rice, the dish features your favorite kind of meaty mushrooms.
And here is what makes it lip-smacking!
Herbs, garlic, mushroom stock and other delicious seasonings! It is a dish your family would request for again and again.
Final Thoughts
So, fellow mushroom enthusiasts!       
Our magical journey with vegan mushroom recipes comes to a close with 40 amazing ideas for you to enjoy your meals.
Whether you are a fan of curries, rice dishes or salads, we are sure you will find your favorite vegan recipes using mushrooms here.
We would love to know if you have any more ideas. Don't hesitate to comment and share your creativity.