Are you tired of the same old mushroom varieties?
Let's introduce you to a fascinating fungi – the lion's mane mushroom!
With its unique appearance resembling a fluffy lion's mane, this visually intriguing edible mushroom features in many lion's mane mushroom recipes.
But here is what makes it truly remarkable…
These fungi are brimming with fiber, vitamin B complex, amino acids, zinc, potassium, selenium and antioxidants!
And there is more…
It has a delicate and meaty texture, making it a fantastic replacement for meat!
So, whether you're a vegan, vegetarian or simply an adventurous foodie, lion's mane mushroom recipes are sure to add a delightful twist to your meals.
Let's start the mushroom adventure!
Oh, the amazing Lion's Mane Mushroom Crab Cakes!
They're a vegetarian twist on the classic recipe, where the tender and flavorful Lion's Mane mushrooms take the place of traditional crab meat.
Imagine biting into a crispy, golden crust and discovering a delicious blend of lion's mane mushrooms, herbs, spices, mayo, mustard and more!
These vegetarian crab cakes offer a unique and satisfying dining experience, perfect for those seeking a plant-based alternative to the original meaty cakes.
Alright, get ready to meet your new favorite dish – Lion's Mane Mushroom Steaks with Balsamic Pan Sauce!
These bad boys are a wonderful vegetarian alternative to classic beef steaks.
Imagine thick slices of Lion's Mane mushrooms, sizzling in a pan until they turn juicy and meaty.
Then comes the star of the show…
The balsamic pan sauce. It adds this tangy and savory kick that takes the flavor to a whole new level.
Trust me…
You won't miss the beef with these hearty, earthy, and downright delicious mushroom steaks!
Here is the best way to create a quick and hearty pasta dish – Lion's Mane Mushroom Pasta.
Picture perfectly cooked al dente penne pasta tossed with sautéed Lion's Mane mushrooms, cherry tomatoes, peppers and more.
Now, here's the kicker…
Delicious Asiago cheese adds a creamy and nutty flavor that adds more delight to the pasta.
And the best part?
You will whip it up in just 30 minutes with melt-in-your-mouth pasta and lion's mane mushrooms adding a meaty touch!
Let me introduce you to the delightful Lion's Mane Mushroom Soup.
This comforting soup features tender lion's mane mushrooms that bring a unique and delicate flavor to the dish.
But that's not all…
The addition of noodles adds a hearty element, making it a complete meal.
Now, imagine the flavors – a tantalizing blend of ginger, garlic, soy sauce, and hoisin sauce infusing the broth, creating a savory and aromatic experience.
And to top it off…
There is an umami richness, thanks to miso paste.
This recipe tell you how to turn some bland yet meaty mushrooms into a cumin infused spicy delight!
The real secret of the flavor is…
A lip-smacking fusion of salt, cumin powder and fiery chili powder!
Simply coat your lion's mane mushrooms with the spice mixture and pan fry for a delicious and crispy exterior.
But it doesn't end here…
The mushrooms are threaded on sticks for a visually attractive presentation!
So, jump to the recipe and explore how to turn some simple mushrooms into a delicious and tempting treat!
Pan fried lion's mane mushrooms are an easy and quick way of having a nutritious side dish on your table!
Would you believe it?
It's a 20-minutes dish that requires only 4 ingredients for a satisfying dish.
And not to forget…
It's a vegan meal that uses only plant-based ingredients to give you a delicious option for your restricted diet.
So, head to the recipe and discover the quick and magical vegan appetizer!
Here is a win-win treat for both mushroom enthusiasts and mac-n-cheese lovers!
Trust me, it's a game-changing twist on the classic comfort food!
Imagine digging into a creamy, cheesy mac and cheese with the added bonus of hearty Lion's Mane mushrooms!
You are going to enjoy a meaty and slightly nutty texture with the classic melt-in-your-mouth mac and cheese!
And that's not all…
Lion's Mane mushrooms bring a nutritional side to the dish with antioxidants, vitamins and protein!
Looking for a unique and flavorful dinner idea?
Let's introduce you to Creamy Lion's Mane Mushroom Pasta!
It's a quick dish that is ready with just 8 ingredients in no more than 30 minutes!
Imagine tender Lion's Mane mushrooms cooked to perfection, tossed in a creamy sauce that coats every strand of pasta.
The result?
A wonderful medley of flavors as well as textures!
It's worth giving a shot to this easy yet scrumptious recipe!
Get ready for an epic vegan burger experience – the ultimate plant-based alternative to meat patties.
Picture this…
Meaty Lion's Mane mushrooms with a smoky flavor, melty vegan cheese, crunchy lettuce and juicy tomatoes and onions!
But you know what the best part is?
This amazing burger is incredibly quick to make! Ready in just 12 minutes!
It's incredibly quick to make, ready in just 12 minutes!
And guess what!
It's a kid's friendly, fun meal which gives you the satisfaction of serving something nutritious to your family!
Lion's Mane Mushroom Risotto – a dish that's satisfying, wholesome and purely vegetarian!
Imagine creamy, perfectly cooked Arborio rice infused with Lion's Mane mushrooms.
With each bite, you will experience different delightful textures as well as lip-smacking flavors!
The best part?
It's a satisfying family meal that is ready in less than an hour!
So, get ready for a meal you'd want to make over and over again!
Here is a fancy salad that is super nutritious!
It features both lion's mane mushrooms as well as Shiitke mushrooms that create a very satisfying salad with their meaty texture and filling fiber.
But that's not all…
The dish also offers lentils. Quinoa, a medley of crunchy seeds and healthy salad greens all
The result?
Get ready for a sea-food like experience which is totally vegetarian!
Yes, that's right!
You can create your own crab salad with lion's mane mushrooms instead of the actual meat as both so closely resemble in texture!
And here is the magic touch!
Hot tabasco sauce and zesty old bay seasoning give you the perfectly spicy and sour kick that makes the salad more exciting!
Served on peppery arugula, it is a lip-smacking and satisfying salad!
Here is a delicious recipe with a medley of contrasting flavors to give your hearty lion's mane mushrooms an unforgettable taste.
Imagine every bite with a touch of savory, spicy, tangy and sweet, all at the same time!
The secret?
A one-of-a-kind peanut sauce featuring flavorful ingredients like peanut butter, lemon juice, tamari, maple syrup and sriracha!
And that's not all…
This stir fry is a feast with tofu, mushrooms, squash, bell peppers, cauliflower rice and more!
Get ready for a vegetarian delight with Lion's Mane Orange Chicken!
Guess what?
This Chinese-inspired dish swaps out the chicken for tender and meaty Lion's Mane mushrooms.
The taste is a perfect balance of savory and citrusy, while the texture of the mushrooms adds a satisfying bite.
But here is the real magic…
A tangy and sweet orange sauce that coats the mushrooms and gives you a lovely, one-of-a-kind flavor!
Serve over rice or noodles for a complete and vibrant meal!
Get ready to level up your nugget game with Lion's Mane Mushrooms!
These chicken-less wonders have it all!
Imagine biting into a crispy, golden exterior that gives way to a juicy and meaty interior.
The best part?
Lion's Mane mushrooms bring many health benefits to the table, boosting brain power and strengthening the immune system!
Kids will go crazy for them too!
It's a nugget revolution, my friends!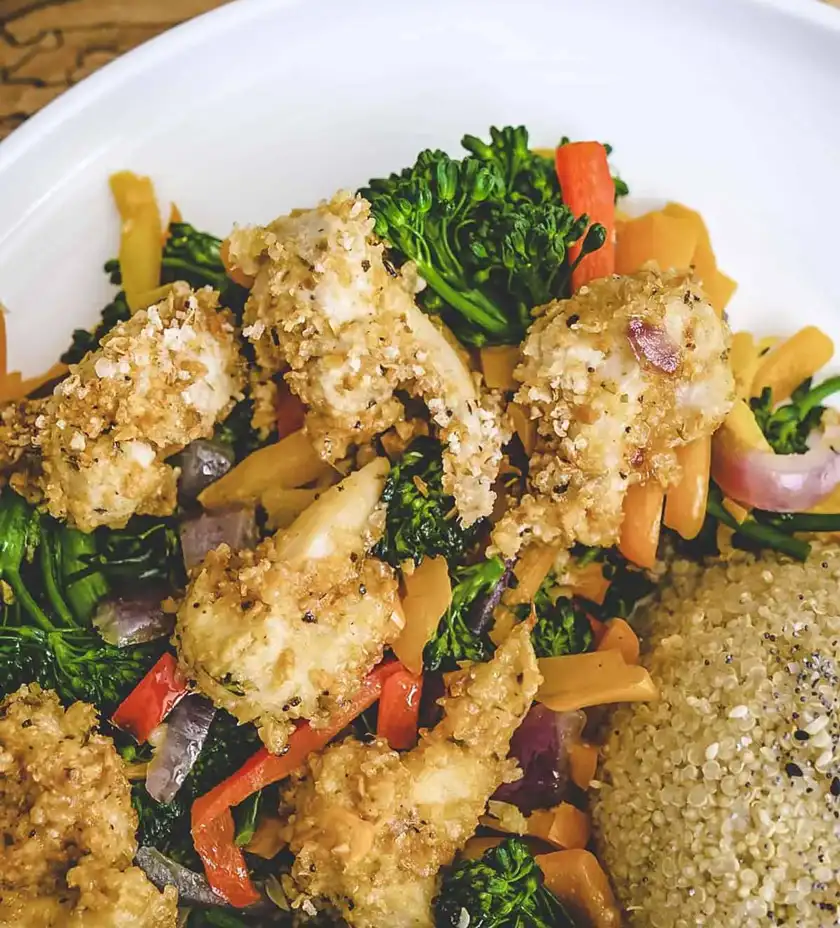 Get ready to be wowed by Lion's Mane Steak Au Poivre – A fancy dish that's super delightful.
Here is the catch…
Instead of regular meat steaks, we're rocking it with Lion's Mane mushrooms and other plant based ingredients for a purely vegan dinner.
And guess what?
The bourbon in the sauce adds this amazing richness while the flavor is enhanced with fresh thyme, salt, and pepper.
It's perfect for an elegant occasion or when you want to impress.
Start your day with the goodness of lion's mane mushrooms with a cheesy and hearty omelette!
Here is the most incredible part…
This delicious omelette is ready in no more than 6 minutes!
Plus, it's totally customizable so that you can add your own ingredients and flavorings to make it exactly the way you like!
So, head to the recipe right away and discover this satisfying, yummy and amazingly quick breakfast option.
Lion's Mane Mushroom Chowder is a tasty revolution that mimics the classic New England clam chowder.
Guess what?
If you don't have clams at hand, Lion's Mane mushrooms are a fantastic substitute with their meaty and hearty texture!
Plus, bacon, potatoes, celery and other ingredients give it a very satisfying texture!
And not to forget the creamy and cheesy factors that come from organic grass milk and cheddar cheese.
Enjoy with crusty bread or oyster crackers for the ultimate chowder experience!
Get ready for a delightful meal with the incredible Lion's Mane Noodle Bowl!
This dish takes inspiration from Vietnamese bùn and features an Asian touch for Asian food lovers.
Picture this…
Lion's Mane mushrooms pressed, seared, and simmered in a sauce bursting with flavor. They soak up all that goodness!
Then, they join a party of vermicelli rice noodles, veggies, and fresh herbs, topped off with a drizzle of an irresistible Vietnamese sauce.
It's a delicious, satisfying, and genius idea to whip up in your kitchen.
Looking for creative ways of using some nutritious lion's mane mushrooms?
Try these amazing sandwiches that are an awesome option for vegans.
The mushrooms are seasoned and cooked with incredibly flavorful ingredients like garlic and herb seasonings.
The result?
A delicious replacement for meat in your sandwich.
And not to forget the mouthwatering fixings that include vegan butter, vegan mayo, arugula tomatoes and avocados!
It's the perfect recipe for a delicious, crispy, juicy and super nutritious sandwich!
Final Thoughts
In a nutshell, lion's mane mushroom recipes bring a new level of awesomeness to your meals.
But it's not just about their taste and texture…
Packed with protein, fiber, vitamins, and minerals, these mushrooms are like a superhero for your body.
So if you're looking to jazz up your meals, boost your health, and impress your taste buds don't miss out on trying out some lion's mane mushroom recipes.
Trust me…
From salads to chowders and sandwiches to steaks, these fungi will give a new twist to your kitchen adventures.
Are you ready for your mushroom adventure?
Do comment and tell us how excited you are about these recipes!