Presenting the exotic and exciting Southeast Asian cuisine in the form of 40 irresistible Indian dinner recipes.
Renowned for its aromatic spices, flavorful dishes and a wide variety of meal options, the Indian cuisine is truly enchanting!
But it's not just about the lip-smacking flavors…
Generously used spices like turmeric, cumin and ginger offer antioxidant and anti-inflammatory properties in addition to promoting digestive health!
So, enjoy a great variety from vibrant vegetable-based creations to exotic classics like Chicken Tikka and fragrant Biryani!
Immerse yourself in the rich culinary traditions and experience some world-famous dishes with these Indian dinner recipes.
Let's dive into flavor!
Indian Butter Chicken is a beloved and indulgent dish that boasts a rich and creamy tomato-based sauce.
Tender chicken pieces are marinated in aromatic spices and then simmered in a luscious buttery sauce.
This dish is a culinary delight, combining flavors of tomatoes, butter, Indian spices as well as cashews and almonds.
It's a special meal that brings comfort and satisfaction to any occasion.
Indian daal is a humble dish that's a budget-friendly dinner option. It's also extremely convenient to make.
But don't worry…
This recipe turns the modest dish into an immensely flavorful delight with exciting Indian spices.
And there is more…
Featuring red or yellow lentils, it is a wholesome dish which is rich in proteins, fiber and minerals.
Relish it with hot flatbread or boiled rice for a complete Indian touch to your dinner!
Get ready for an exciting treat with Chicken Tikka Masala!
This dish is loved worldwide and hailed as the gem of Indian cuisine.
Picture this…
Tender grilled chicken, bathed in a luscious, creamy tomato sauce bursting with aromatic spices.
The flavors are an incredible fusion of tangy, savory, and just the right amount of spice.
With each bite, you'll experience the juicy, smoky chicken and the velvety texture of the sauce.
Ready in less than an hour, it's an incredibly exciting treat for your dinner guests.
Get ready to indulge in the delightful flavors of Palak Paneer – a beloved Indian dish.
It combines the goodness of vibrant spinach with chunks of soft and creamy Indian cottage cheese for a divine and rich experience.
It's a vibrant dish that is really satisfying. Plus, the Indian spices bring a fiery kick with a wonderfully savory flavor.
And that's not all…
It's a healthy, nutrient rich dish – a fantastic choice for a wholesome dinner.
Here is a delight that hails from the Punjab region in India – a hearty egg curry!
It's a dish featuring hard boiled eggs in a spiced onion and tomato based sauce, bringing a satisfying and delicious experience.
The best part?
This is a simple recipe and takes only half an hour for the dish to be ready!
But that's not all…
It's an amazing choice for a family dinner as it's full of nutrients from the eggs as well as the tangy and spicy curry!
Get ready to savor the heart-favorite and globally renowned Indian Mutton Biryani!
This dish is a true indulgence, filled with aromatic spices, tender mutton and fragrant basmati rice – nothing short of a traditional Indian feast!
Here is what makes it truly special…
It features richness of flavors with alternating layers of rice and mutton masala – tangy, spicy and oh-so-savory!
Whether it's a festive celebration or a special gathering, Mutton Biryani is the ultimate dish to elevate any occasion to a truly unforgettable experience.
So, get your hands on this recipe and learn to make the mighty mutton biryani the easy way!
Daal chawal embodies the beauty of simplicity in a single, comforting dish!
Featuring a savory Indian lentil soup and plain boiled rice, the dish is incredibly easy to make and is ready in a jiffy!
But here is how it turns out to be more exciting…
The use of delicious Indian spices like cumin, coriander powder, red chilies, turmeric and more create a fantastic flavor that makes us lick our fingers!
Enjoy with Indian condiments like pickles and chutney to add more pizzazz to the dish.
You won't believe how incredibly delicious vegetables can be until you experience the Indian Vegetable Curry!
A magical blend of aromatic Indian spices turns some humble veggies into a mouthwatering meal everyone anticipates at dinner time!
Vegetables like carrots, potatoes, peas and cauliflower create a wholesome dish you will feel good about serving your family.
And guess what…
It's ready in just 30 minutes to be enjoyed with warm bread.
Learn to create this culinary gem add this to your recipe collection!
Indian Bitter Melon is a fascinating and exciting dish that defies expectations, despite its inherent bitterness.
Guess what…
This recipe skillfully transforms the bitterness into a delectable delight by incorporating a combination of spices and special cooking techniques.
And there is more…
Besides its unique taste, bitter melon is celebrated for its numerous health benefits, including blood sugar regulation and boosting immunity!
Do give this special Indian recipe a try!
Aloo Gobi is a delightful Indian dish that combines humble ingredients into a flavorful and satisfying dish.
Did you know?
This potato and cauliflower curry is a true gem in Indian cuisine, known for its simplicity, ease of preparation, and budget-friendly nature.
And that's not all…
Aloo Gobi also offers health benefits as it's packed with nutrients, including vitamins, minerals, and dietary fiber.
So head to the recipe and learn to create this wonderful dish in just 35 minutes!
Get ready to indulge in the all-time favorite and highly anticipated Bhindi dish loved by local Indians!
Featuring ladyfingers, it's a summer delight that makes you lick your fingers!
When sautéed with onions and tomatoes, it transforms into a mouthwatering sensation with a satisfying texture.
The best part?
It's a budget-friendly meal that can be whipped up in under an hour, ensuring you have a wholesome and delicious feast on your plate.
Chole Bhature is a heavenly combination in Indian cuisine that's a 5-star dish!
Chole – a spicy chickpea curry – combines with a fluffy and deep fried bread that we call bhature!
The result?
A divine experience with each bite of the tender and crispy bread soaked up in the mouthwatering chickpea curry!
It's a tantalizing and exciting treat that's worth the effort!
So, jump to the recipe and learn the art of making the exotic chole bhature!
Kaddu ki Sabzi – pumpkin curry is a delightful dish with a tangy and subtly sweet flavor.
Guess what…
It's incredibly easy to make in just 25 minutes to be served as a perfect weekday meal for a quick weekday meal.
But the best part is…
This dish offers several health benefits as it's low in calories, high in fiber, and packed with vitamins and minerals!
Enjoy it alongside piping hot flatbread or steamed rice for a comforting and nutritious experience.
Get ready to dive into the tantalizing world of Indian Goan Fish Curry!
This dish takes you on a coastal flavor adventure straight from the sunny shores of Goa.
Imagine succulent fish bathing in a vibrant curry infused with aromatic spices, tangy tamarind, and luscious coconut milk.
The fish is perfectly tender and flaky, dancing in harmony with the rich and creamy curry, unbelievably ready in just 20 minutes!
Get ready for a mouthwatering Indian dish called Rajma Masala!
It's all about kidney beans cooked in a delicious tomato-based gravy – super exciting and packed with Indian flavors.
The beans are nice and tender, soaking up all the amazing spices with a thick gravy that is super-indulgent.
You can enjoy it with rice to savor the delicious Rajma chawal considered an epic dish in India!
Trust me…
This recipe is just as good as what you'd get in a fancy restaurant!
Indulge in simplicity with Indian Aloo Matar – potatoes and peas curry.
It's a beginner-friendly recipe that takes a total of 30 minutes to be cooked!
It's a true comfort food with tender potatoes, sweet peas and a tomato based curry. The dish lifts up with a collection of Indian spices!
But here is the best part…
This easy dish is packed with nutrition and is purely vegetarian! Both delicious and healthy.
Oh, the tantalizing kadhi chawal!
It's a unique, yogurt-based curry featuring the delectable Indian pakodas – so rich and incredibly flavorful!
Imagine the combination of spicy fritters soaked in a tangy curry served with plain, boiled rice! Simply divine!
Trust me…
It's a deliciously satisfying dish that you can't have enough of!
So, dive into the recipe and discover this pure vegetarian feast!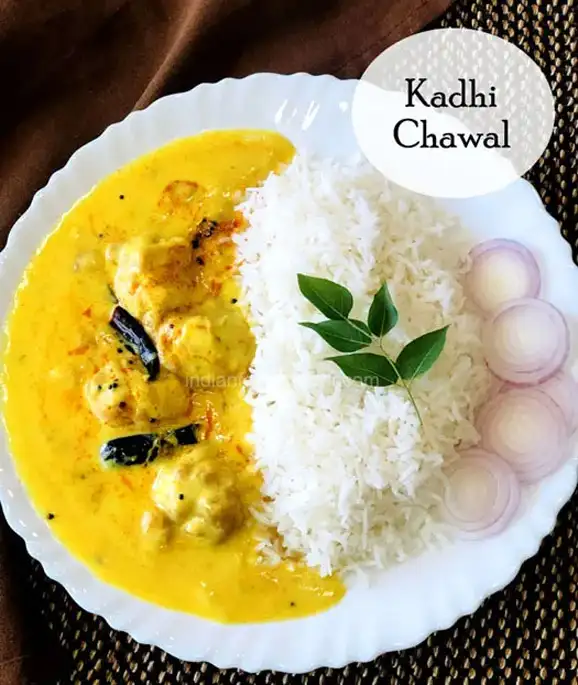 South Indian One Pot Sambar Rice is a delightful and flavorsome dish that combines rice and lentils in a single pot!
Cooked with a medley of vegetables and aromatic spices, it has a tangy and savory taste with every bite being a pleasurable experience.
The rice has a fluffy texture while the lentils add a creamy thickness to the dish – rich, comforting and oh-so-satisfying!
Head to the recipe and discover this hassle-free Indian delight!
Sarsun ka Saag is a traditional dish originating from the northern regions of India.
Featuring mustard greens along with other leafy greens, the dish is cooked with Indian spices for a deliciously fiery experience.
The vibrant dish has a delightful earthy flavor with a hint of bitterness, and a texture that is both tender and slightly fibrous.
It's the perfect winter treat – warming and nutritious!
Here is how to enjoy it the traditional Indian way…
Pair it with cornmeal flatbread and a dollop of butter for a rich and comforting meal.
Here is a simple yet wholesome dish that comes from South India – a dish that doubles as a breakfast as well as dinner option!
You won't believe it…
All it takes to cook the indulgent Rava Pongal is 12 minutes!
The star ingredients?
Semolina, split green gram and a mix of Indian spices.
The result is a soft and creamy delight that is loaded with a spicy, savory and nutty flavor. It is filling, enjoyable and wholesome!
Have you ever tried the Indian version of mashed potatoes?
It's a savory and spicy twist on the western classic! More indulgent and absolutely lip-smacking!
The most exciting part?
It's delightfully creamy, buttery, and packed with aromatic spices that create a mouthwatering combination of smoothness and a slight rustic bite.
Using pre-boiled potatoes, the dish is cooked in about 10 minutes and can be served as a main course meal with flatbread!
Discover a beloved Indian street food dish that consists of a spiced vegetable curry served with soft buttered bread rolls.
The curry is an exciting medley of vegetables, simmered in aromatic spices – simple yet flavorful with a soft and creamy texture.
This easy-to-make dish is a great dinner idea for Indian food lovers – fulfilling, enjoyable and different from any western dish you have ever tried!
You know what's one of the best things about the Indian cuisine?
There are so many way of transforming the humble potatoes into a delightful dinner option!
One of them is aloo ki bhujia – thinly sliced potatoes, sautéed with spices and herbs.
It offers a crispy texture on the outside and a soft, melt-in-your-mouth texture on the inside. The taste is a perfect blend of savory, tangy, and spicy.
This simple yet satisfying dish is an excellent choice for dinner, as it can be enjoyed as a standalone meal or as a side dish with roti or rice.
You might have tried Indian mashed potatoes, but this eggplant mash brings a whole new experience to the dinner table!
Cooked with aromatic Indian spices, it offers a smoky and savory flavor with a rich and creamy texture that melts in your mouth!
It's a unique and healthy dinner option and a great way of incorporating the nutritious veggie in your diet!
Ready in under an hour, it's an enjoyable dish that is satisfying and fulfilling!
Get ready to elevate your dinner with an exciting Indian Chicken Curry!
Picture succulent chicken simmered in a luscious blend of aromatic spices and a rich tomato-based gravy. It's a classic Indian dish famous the world over!
The flavors are mind-blowing with incredible heat and deliciousness. Each tender piece of chicken soaks up the enticing curry with a divine experience.
Explore the recipe and learn to create this spectacular Indian feast in under an hour!
Want to give your lentils an exciting makeover?
Try this scrumptious Indian recipe for dall makhni – creamy and buttery lentils!
This is an extra special recipe as it features vegan butter and coconut cream to turn this dish into a vegan feast!
Plus, the indulgent flavors make it a wonderful and impressive dish to have at dinner time!
And guess what?
It's a hassle-free meal that's cooked in an instant pot in 45 minutes!
Make your holidays or Sunday meals more exciting with a fiery Indian-style roast chicken.
What makes it stand out are the vibrant flavors and unique Indian blend of spices – chili powder, garam masala, ginger, garlic and more!
The result?
A deliciously juicy chicken that's beautifully spiced to give you a tantalizing experience.
Serve it with fragrant basmati rice, naan bread and a side of cooling yogurt dip for a complete and unforgettable Indian meal.
Here is an innovative way of devouring your favorite fungi with spicy, Indian flare!
Cooked in a velvety gravy featuring tomatoes and cashew cream, it is truly delightful and indulgent!
Plus, the Indian spices add a lip-smacking factor that is hard to resist!
But that's not all…
It is also a healthy dinner option rich in protein and vitamins.
So, get ready for an Indian vegan delight for dinner tonight!
Indian pulao has many forms featuring different kinds of meats and veggies. This vegetable pulao offers a wholesome variation for our vegan friends!
The exotic rice dish is popular for its aromatic spices that add a delectable flavor to the dish.
The most incredible part?
This is an instant pot recipe, helping you to create the dish conveniently within 25 minutes!
Urad daal or white lentils – a popular dish in Punjab with a finger-licking taste.
It is prepared in an incredibly simple way with a handful of ingredients and ordinary spices.
But here comes the real magical touch…
Once cooked, it is garnished with tempered onions that infuse the entire dish with a beautiful flavor!
And guess what…
After soaking the lentils for 4 hours, all it takes is 35 minutes to cook them!
Looking for a quick and wholesome Indian dinner idea?
Indulge in the flavors of Indian Potato and Eggplant Curry.
It's a delicious dish that combines the hearty goodness of potatoes with the subtle earthiness of eggplants.
The tender veggies present an ooey-gooey mixture that is irresistible with some hot bread.
But here is the best part…
It takes no more than 35 minutes to cook this dish as a nutritious weekday dinner!
Popularly known as Aloo Methi in India, it is a unique but simple creation that's lip-smacking good!
It's not your everyday Indian curry….
The flavors are savory yet a little pungent, making you feel addicted to the taste soon!
But the best part ever is…
This dish is a powerhouse of nutrition! Aloo methi control blood sugar, improves digestion and provides many minerals and vitamins.
So, check out the recipe and discover this unique but healthy dish.
The Indian version of Chicken BBQ or chicken tikka is one-of-a-kind and truly divine – fiery and full of flavors.
Boneless chicken chunks are marinated with a delicious blend of Indian spices, threaded on skewers and cooked on the grill.
The result?
Juicy and tender chicken pieces with a thrilling flavor consisting of smoky and spicy flavors.
Here is why this recipe is extra special…
It makes the whole process more convenient by using store-bought mixture of tikka spices or tikka masala. Simply marinate and cook!
Aloo Palak is a delightful Indian dish that combines potatoes and spinach and spinach in a flavorful curry.
It's a delicious and satisfying way to consume nutrient-packed spinach with Indian spices creating a savory flavor.
Tender potatoes uplift the rather bitter spinach and make it a more exciting dish with a lovely texture – soft potatoes with wilted spinach.
But this is why it is highly recommended…
Aloo palak is a rich source of many nutrients including iron, vitamin A, vitamin K, potassium, calcium and more!
Prepare to be transported to the coastal paradise of South India with the tantalizing South Indian Fish Curry.
This mouthwatering dish features tender fish simmered in a luscious coconut milk-based gravy infused with aromatic spices – absolutely finger licking!
And you know what adds the magical touch?
The exotic tempering with coconut oil, mustard seeds, curry leaves and shallots.
It's a one-of-a-kind fish curry that's a must-try!
Here is a great dinner option that puts a nutritious and flavorful dish on the dinner table with ordinary pantry ingredients!
Scrambled eggs combine with tender potatoes to create a dry curry with Indian spices and herbs.
The result?
An extremely satisfying meal that is great for kids and adults alike!
And guess what?
You can have the leftovers for breakfast the next day!
Here is a dish that combines three different kinds of lentils in an onion and tomato based gravy with the bold flavors of fenugreek leaves.
It's a unique and exciting twist on simple Indian lentil soup. The flavors are more exotic with a rich texture owing to the combination of lentils!
The most incredible part?
You can whip up this flavorful delight in no more than 30 minutes!
Enjoy with rice as a completely satisfying dinner!
Give your seafood and exotic Indian flare with this exciting fish fry recipe!
It's a special dish with a crunchy coating and a tender, flaky interior.
The secret?
A special batter made with gram flour and a spicy marinade. It gives the fish an amazing crispy texture and a mouthwatering flavor!
Don't worry…
There is nothing complicated about the cooking procedure. You may refer to the picture instructions in the recipe for added convenience!
Have you ever tried the Indian ridge guard curry?
Known as turai ki sabji by the locals, it is a delicious vegan meal that features many health benefits.
The veggie is usually hard to cook. But this easy recipes cooks it in a pressure cooker to make things easier and quicker!
The result?
You will have savory, spicy and wholesome meal ready in just 25 minutes!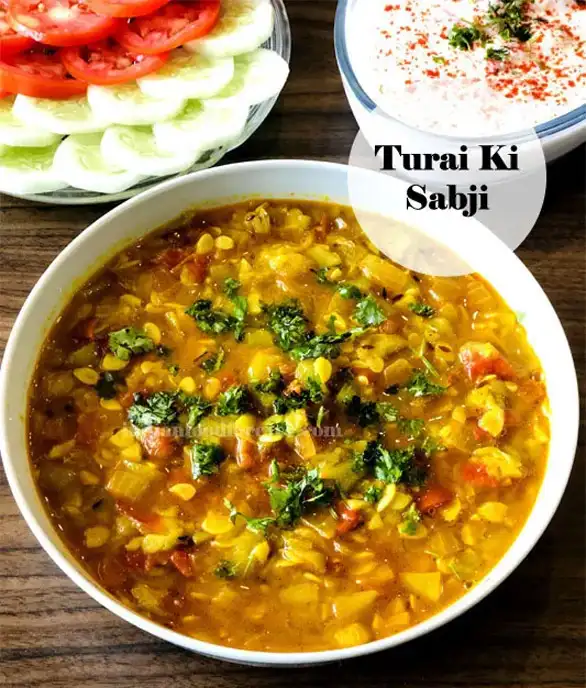 Here is an easy dinner idea using any veggies you have available at home!
This mixed vegetable curry is flavorful, nutritious and an easy dinner idea for vegetarians and non-vegetarians alike.
The best part?
It is an uncomplicated, easy-to-follow recipe. Even beginners can nail it perfectly!
And guess what?
Featuring potatoes, peas and carrots as the main veggies in the mix, you may add any other vegetable that you love!
So, don't miss out on this easy, customizable recipe!
Final Thoughts
Exploring Indian dinner recipes opens up a world of aromatic spices, vibrant flavors, and wholesome ingredients.
Whether you're savoring the comfort of vegetarian dishes or indulging in exotic non-vegetarian delicacies, Indian cuisine never fails to impress.
From creamy curries to fragrant rice dishes, each meal tells a story of cultural heritage and culinary artistry.
And there is something beyond the deliciousness…
These recipes bring health benefits with their use of spices and nutrient-rich ingredients.
So, experiment with bold flavors and create a memorable experience with Indian dinner recipes.
Do comment and let us which of these dishes fascinates you the most.