Welcome to the rich and vibrant world of Hungarian recipes!
Known for its bold flavors, hearty dishes, and mouthwatering pastries, Hungarian cuisine offers a unique array of dishes.
Did you know?
Influenced by its Central European location and a fusion of cultural traditions, Hungarian cuisine is a celebration of taste and tradition.
From the iconic goulash, a hearty meat and vegetable stew, to the irresistible layers of a Dobos Torte, Hungarian recipes are one-of-a-kind!
Discover the warmth and hospitality that define Hungarian cooking and enjoy the indulgent dishes.
Let's get going!
Start your day with a touch of Hungarian flare!
This classic omelette features red bell peppers, onions, tomatoes and paprika – a rich and vibrant combination.
It is a fluffy omelette with a slightly smoky flavor from the paprika and a fresh crunch from the onions and bell pepper.
And guess what?
This easy breakfast takes only 15 minutes!
Presenting Goulash – a traditional Hungarian stew that requires minimal effort to whip up.
This comforting concoction features ground beef, veggies and macaroni – hearty, delicious and nutritious!
You may add variations by switching the macaroni with the pasta of your choice and replacing the beef with pork.
The best part?
Everything is cooked in a single pot, making it hassle-free!
The flavors fuse together beautifully as the goulash simmers, creating a rich and savory taste.
Time to explore a classic Hungarian dish that features a rich chicken meal.
Tender chicken pieces are simmered in a luscious sauce made with onions, tomatoes, chicken broth and cream.
The most exciting ingredient?
Paprika! It infuses the dish with its signature flavor, providing a slightly sweet and smoky taste.
This comforting and flavorful meal is often served over egg noodles or dumplings, making it a true Hungarian delight.
Presenting a beloved street food treat from Hungary – Fried Langos!
These fluffy, deep-fried dough disks are crispy on the outside and soft like a pillow on the inside.
Here is how to enjoy it best…
Top it with garlic butter, sour cream and grated cheese for a mouthwatering experience.
Enjoy it as a snack or a meal as a delightful Hungarian specialty.
Try these unique rolls with a crunchy cabbage wrap and a rich, meaty filling.
Tender cabbage leaves are filled with a flavorful mixture of both pork and beef mince to give you the best of both worlds!
And that's not all…
The filling also contains rice, onions and a delectable fusion of spices.
The rolls are then simmered with sauerkraut until they become tender and infused with rich flavors!
This unique Hungarian dish is definitely a must-try as it's a flavorful and hearty meal.
Behold the Hungarian Dobos Torte – an iconic Hungarian cake that's a true stunner!
Here is how this cake stands out!
It's made up of multiple thin sponge cake layers filled with a rich and creamy chocolate buttercream!
And there is more…
Each layer is separated by a thin layer of caramel, adding a delicious crunch.
But the top layer is the best one!
Covered with a tempting caramel glaze and decorated with beautiful chocolate wedges!
Get your hands on this recipe and learn to create this impressive Hungarian wonder!
Call them crepes or Hungarian pancakes! Loaded with a savory filling, these are a classic Hungarian treat.
The thin crepes are filled with an extraordinary filling consisting of a rich stew created with meat, onions, tomatoes and sour cream!
But hold on as the real magic begins here…
The filled crepes are baked in the oven with a creamy and flavorful paprika sauce!
The result is a delicious and hearty meal, representing the rich and diverse flavors of Hungarian cuisine.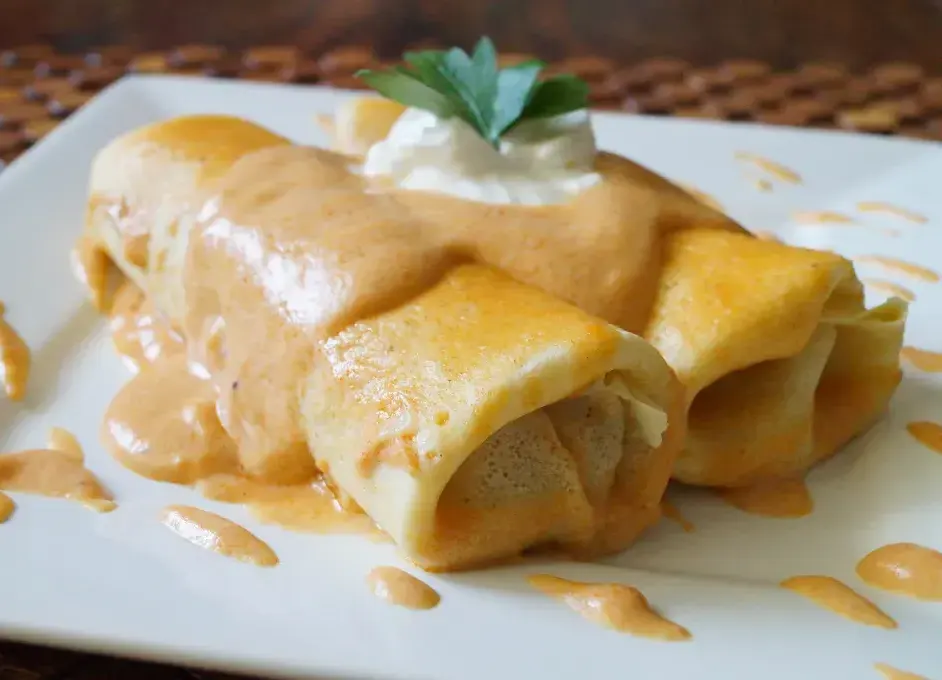 Presenting one of the iconic treats the Hungarian cuisine is famous for – the ever so popular chimney cakes!
The sweet delight is made from a yeast dough that is wrapped around a wooden rolling pin, then rolled in sugar and finally baked.
The result is…
A deliciously caramelized and crunchy pastry with a soft and fluffy interior.
Follow the recipe and learn to create this impressive dessert right in your own kitchen!
Hungarian Tomato-Pepper Stew, or Lecso as called in Hungary, is a traditional and flavorful dish.
The secret ingredients?
Onions, bell peppers, tomatoes and paprika – the favorite elements of Hungarian cuisine.
The ingredients are slowly cooked together until the vegetables are tender and the flavors fuse into a rich and savory stew in under an hour.
The best part?
Lecso is a versatile dish that can be served as a main course with sausages or eggs, or as a side dish to accompany various meals.
Time to discover a classic Hungarian comfort dish – pasta with cottage cheese.
It is the easiest dish ever with just 4 to 5 ingredients that are combined together to create a satisfying meal in 25 minutes!
The dish features dried square pasta, dry cottage cheese, bacon fat and sour cream – a combination of rich and hearty ingredients!
But the real magic lies here!
It's the layering of the ingredients that create a mouthwatering medley of textures and flavors for you to savor!
If you love tomatoes, you are in for a juicy Hungarian treat!
This easy-to-make salad is a vibrant addition to your meals as a refreshing and delicious accompaniment to any kind of meal.
Here is what makes this salad truly special…
Ripe cherry tomatoes are marinated in a flavorful dressing made with apple cider vinegar, olive oil, garlic, sugar, salt and black pepper!
The result?
The zesty and slightly sweet marinade infuses the tomatoes with delicious notes, creating a delightful and light salad that is truly unique!
The crescent shaped Kifli is a popular Hungarian pastry that offers a delightful treat at snack-time.
The best part?
The yeast dough made to prepare the pastry can be both sweet or savory – just the way you want!
And guess what?
There are a lot of customization options, letting you fill the pastry with nuts, jam, cheese or simply leave it plain!
It's a simple recipe that helps you create the perfect crescents in no time!
Indulge in a lovely, fruity dessert to satisfy your sweet tooth with a truly delightful treat.
They are made by wrapping dough around fresh plums and boiling them until tender.
But it doesn't end here…
Once cooked, the dumplings are rolled in sweetened toasted breadcrumbs to add a delightful crunch that complements the juicy plum filling.
Guess what?
The dumplings double as an after-meal dessert as well as a sweet breakfast option.
Discover a hearty Hungarian Casserole made with layers of thinly sliced potatoes, sausages, and hard-boiled eggs!
What hold the layers together is a generous amount of sour cream, adding a creamy and tangy element!
And guess what?
With just 5 minutes of prep time, toss the casserole dish in the oven and let the meal cook to delightful perfection.
Enjoy layers of comfort with this easy yet rich dish!
Hungarian Mushroom Soup is a perfectly comforting concoction for chilly winters.
Suitable for our vegetarian friends, the soup is prepared with a base of mushrooms, onions and garlic.
Here is what adds the magical Hungarian touch…
Paprika and herbs!
The broth is infused with smoky and herby flavors that complement the savory mushrooms.
The best part?
It's a beginner-friendly recipes that involves the usual sautéing and simmering with no complicated procedures!
So, put a comforting bowlful of a classic Hungarian soup with this easy recipe.
Take a break from the conventional English Christmas trifles and indulge in this one-of-a-kind Hungarian dessert!
Here is how this Hungarian trifle is truly unique…
It is a delightful combination of three differently flavored sponge cakes – walnut, chocolate and plain vanilla!
The beautiful fusion of flavors is enhances when the cakes are soaked in a rum infused syrup.
And not to forget…
The pastry cream that brings all the gorgeous layers together!
This iconic Hungarian dessert will give you a unique trifle experience that's fun to create and delightful to eat!
Get ready for a beloved Hungarian dessert consisting of a thin and flaky pastry dough filled with a sweet and spiced apple filling!
Just when you begin to wonder if it's another version of apple pie, you will be surprised!
The uniqueness of this dessert lies in its dough – featuring sour cream, eggs and vinegar other than the usual dough components!
The pastry turns out crispy yet soft with a sweet and tangy apple filling featuring warm cinnamon notes!
Discover a tangy twist on the classic deviled eggs with this pickled version.
These beautiful and tantalizing appetizers are made by first submerging the boiled eggs in pickling brine to infuse them with a tangy flavor.
Next, the filling brings a classic Hungarian flavor with sour cream, paprika, dill and other flavorings.
It's the pickling process that infuses the eggs with extra flavor, transforming them into a one-of-a-kind appetizer!
Don't miss out on this impressive Hungarian recipe.
Beef and Onion Stew is a cherished part of Hungarian cuisine.
It is made with tender chunks of beef simmered with onions, tomatoes, bell peppers and seasonings.
This hearty stew features robust flavors which are a result of slow simmering that achieve the perfect fusion of all the delicious flavors.
Create this beautiful meal and enjoy the special Hungarian touch.
Here is a colorful meal option loaded with hearty goodness!
Imagine bright and juicy bell peppers filled with a mouthwatering mix of ground meat, rice, spices and more all simmering in a rich tomato sauce.
The flavors blend perfectly, making each bite a delightful experience.
Served with a dollop of creamy sour cream, it's a rich and mouthwatering experience!
Pair it with mashed potatoes or crusty bread, and you've got a satisfying and tasty Hungarian meal!
Savor the special Hungarian dumplings with a one-of-a-kind experience.
Small and soft egg-based delights, these are a popular accompaniment to many Hungarian dishes.
Guess what?
These are similar to German Spätzle or Italian gnocchi!
But these are incredibly easy to make!
Simply create a batter of eggs, flour and water, then drop into boiling water or broth. As they cook, the dumplings rise to the surface!
Ready to be served in no time, these pair well with stews, goulash or as a side dish with meats and gravies!
Hungarian Cheese Biscuits are these amazing savory pastries that Hungarians just adore!
They're like little flaky biscuits made with buttery dough and filled with tasty cheese – sometimes, they even have a hint of paprika for that extra kick!
Once they're baked to a golden crisp, you just can't resist biting into them – perfect as snacks, appetizers or as a side with meals.
Trust me…
You won't stop munching on these delightful treats!
Hungarian Floating Island, or Madártej, is this dreamy dessert that's like a culinary magic trick!
Check out how cool is this…
Fluffy meringue islands, just like little clouds, floating on a sea of velvety vanilla custard!
The islands are poached in milk until they're soft and pillow-like.
And the best part?
This impressive dessert takes only 45 minutes to be ready!
Don't miss out on this special recipe!
Hungarian curd cheese squares are the rock-stars of Hungarian desserts!
It's like a cheese cake, but oh-so-much-better!
Imagine three fantastic layers – flaky pastry, sweet curd cheese filling, and fluffy meringue. What a wonderful contrast of textures!
Learn to make this marvelous treat from scratch and amaze your friends at gatherings.
The best part?
These are bite-sized squares of pure bliss that are easy to serve at gatherings and parties.
Hungarian Bread Pudding is a dessert that's all about comfort and pure yum!
Imagine soft, gooey bread soaked in a sweet mix of eggs, milk, and vanilla.
Here is what makes it more special…
It's layered with sweet apple slices and a dash of cinnamon and then baked to create pure magic!
And guess what?
It's a great way of making use of stale bread lying around in your kitchen!
Presenting a beloved and iconic dish in Hungary – the Hungarian Fish Soup!
It is a rich and spicy soup made from various freshwater fish. Try cod, tilapia, red snapper or any fish with tender white meat.
The soup is simmered slowly with paprika, onions, tomatoes, white wine and other ingredients to create a bold and flavorful broth.
The most incredible part?
This beautiful soup is ready in less than an hour!
Hungarian Paprika Potatoes – a delightful and comforting dish from Hungary!
It features tender chunks of potatoes cooked in a rich and flavorful paprika-infused sauce.
The secret ingredients?
Onions, tomatoes, green pepper and, of course paprika!
Guess what?
All you need is 8 ingredients to put this delicious dish together!
So, jump to the recipe and discover the magic of an easy and comforting Hungarian dish.
Hungarian Rice with Meat is a flavorful staple enjoyed in the region as a comforting meal.
The main ingredients?
Tender pieces of pork, rice, peas and other veggies all cooked in chicken broth!
The dish is simmered till the rice is fluffy and infused with all the delicious flavors!
The best part?
You can make use of leftovers to create this dish!
Hungarian Vegetable Marrow Stew with Dill is this yummy dish you've got to try!
Wondering what's vegetable marrow?
It's a type of squash with a tender texture and healthy nutritional profile.
Cooked in a creamy and dreamy sauce bursting with the freshness of dill, this stew is a delight of vegetarians and non-vegetarians alike!
And guess what?
It's really easy to put together in just 30 minutes.
Hungarian Cucumber Salad is like a zesty breath of fresh air!
It's all about thinly sliced cucumbers mingling with onions in a tangy dressing made of vinegar, water, sugar, and a pinch of salt and pepper!
Add some fresh dill or parsley on top for that herbal pop.
Serve it as a cool and refreshing sidekick to any Hungarian meal, especially during sunny summer days.
Final Thoughts
These Hungarian recipes have taken us on a delicious adventure, filled with flavors that emanate right from the heart of Central Europe.
From the comforting embrace of goulash to the sweet temptations Hungarian trifle, these dishes are truly unique.
Now, it's your turn! Try these Hungarian recipes in your own kitchen, share your experiences and let us know your thoughts in the comments below.
Embrace the joy of Hungarian cuisine and create your own culinary masterpieces!