Step into the world of Polish culinary traditions with hearty kielbasa recipes!
First, let's explore what Kielbasa really is.
It's a Polish sausage made from ground pork, beef, or a combination of meats!
And do you know what sets it apart from regular sausages?
Seasoned with a blend of spices, it strongly emanates the flavors of garlic, pepper and marjoram!
This mouthwatering smoked sausage is the star ingredient of our recipes and transforms your meals into extraordinary feasts.
Get ready for easy skillet recipes, soups, sandwiches and more to make your dinner more exciting with Kielbasa recipes.
Let's get started.
Kielbasa and potatoes is a winning combination that always turns out delightful.
The smoky and savory flavor of the kielbasa perfectly complements the creamy and comforting potatoes.
The result?
A delicious meal that fills us up with loads of comforting goodness!
Plus, here is what adds a touch of more magic…
The simple yet delightful flavorings including Italian seasoning and paprika!
It's worth checking out the recipe for this family-friendly meal.
Looking to whip up a hassle-free dinner?
Here is your wish come true in the form of this one pan recipe featuring a cheesy concoction of Kielbasa and pasta.
Do you know why it's a good idea to make this dish?
Kielbasa and pasta is a hearty combination. Both ingredients offer delightful textures and create a meal that is comforting and filling.
And not to forget…
It's a very easy and simple recipe that lets you create your meal effortlessly.
Here is a recipe that gives beautiful Mexican vibes.
Don't worry…
It's easy on the hot spices, but adds a generous amount of vibrant appeal at your dinner table!
Red and yellow peppers turn and ordinary combination of Kielbasa and potatoes into a more exciting dinner option.
And guess what…
This recipe is perfect for beginners! All you have to do is cook all the ingredients in a single pan till everything is nice and tender!
Get ready for a showstopper on your plate with Hasselback Kielbasa!
Imagine the kielbasa sausage sliced in a way that creates a mesmerizing look, like an edible work of art.
But it's not just about the appearance…
This dish takes it up a notch by adding onions and bell peppers, infusing extra flavor and adding vibrant colors to the mix.
Plus, with a blend of delicious seasonings, each bite is a burst of smoky, savory goodness with a hint of sweetness.
Prepare to impress your guests with this visually stunning and incredibly tasty creation!
Can you believe this?
Here is a pizza recipe that takes only 20 minutes to prepare! WOW!
The topping is a hearty combination of beef kielbasa, chewy mushrooms, vibrant bell peppers and rich cheddar Jack cheese.
Using packaged crust, you can get things done more conveniently and quickly.
So, now you can create a delicious and totally satisfying pizza any day of the week with this 20-minutes recipe.
Hot dogs?
That's old news!
Say hello to the new sensation in town – Queso Kielbasa Dogs!
These mouthwatering creations take ordinary sausages to a whole new level of flavor and indulgence.
The secret?
A rich and creamy queso cheese topping that make every bite loaded with cheesy goodness!
It can be a different dinner option that brings more fun than the same old mundane meals.
Get ready for a tasty dinner treat with this warm potato and kielbasa salad!
It's a yummy mix of tender potatoes, juicy kielbasa, and colorful veggies, all tossed in a tangy mustard dressing.
This salad is so satisfying and filling yet light – perfect as a dinner option.
Here is the secret that makes it so indulgent…
The salad is served warm so that all the flavors fuse beautifully and the potatoes are soaked with tasty goodness!
So, try this super easy dinner-time salad and enjoy the satisfaction.
This versatile Kielbasa Skillet with Eggs is here not only to start your day with breakfast, but also to wind up your evening with a delightful dinner!
Sizzle up some flavorful kielbasa, crispy potatoes, and a colorful mix of veggies in one skillet. Top it all off with perfectly cooked eggs!
The result?
A protein-packed meal that satisfies us any time of the day!
Whether you're craving a hearty breakfast or a comforting dinner, this skillet dish is quick, easy and full of satisfaction.
Gather the whole family around the table for a mouthwatering One Pan Kielbasa Hash!
This crowd-pleasing dish combines the smoky goodness of turkey kielbasa with a medley of veggies and potatoes.
The best part?
All ingredients are cooked together in one pan. No more heaps of cooking utensil to clean up afterwards.
And guess what…
With simple pantry staples, it's a go-to meal when you don't feel like grocery shopping.
Plus, it's so versatile that you don't have to wait for dinner time to serve. It can also be your breakfast or lunch!
Omelets can totally be a great dinner option if they are as rich as this Kielbasa Swiss Omelet.
Stuffed with creamy Swiss cheese and delicious kielbasa chunks, each bite reveals a tasty surprise with cheesy, meaty and smoky goodness.
And guess what…
All you need is 3 main ingredients plus some seasonings and vegie add-ons like mushrooms and onions.
Don't restrict this omelet to your breakfast. You may whip it up for dinner on days you don't feel like extensive sautéing, simmering and more!
Lentil and Kielbasa salad is not just a side-dish, it's a satisfying main course meal that is delicious, filling as well as nutritious.
It is like a lentil stew featuring veggies that include carrots, onions and turnips.
And here comes the most exciting part…
Kielbasa slices add a scrumptious texture and smoky flavor that really uplift the otherwise ordinary combination of lentils and vegetables.
Served with baguette slices slathered with goat cheese, it is a show-stopping dish that wonderfully rich.
Want to discover the quickest and easiest appetizer?
Try this recipe for Kielbasas pineapple skewers that are not only easy to make, but also incredibly exotic!
Imagine the combination of smoky goodness of meaty Polish sausages with the tropical sweetness of juicy pineapples!
This 2-ingredient dish literally takes only 15 minutes to be ready!
It's a quick and fun appetizer for your dinner guests to entertain them while you fix the main course!
Here is an incredibly quick meal featuring smoky Kielbasa.
The most dazzling fact?
This complete dinner requires no more than 3 ingredients! Plus, the recipe steps are also only 3!
All you need to do is pan fry the kielbasa to infuse some buttery goodness in the Polish sausage.
The meaty delight is then served over pre-fried cabbage.
It's convenient, quick and completely hassle-free!
Presenting the quickest ever recipe for fried Kielbasa!
Use your air fryer to fry up some exciting Polish sausages in 10 minutes!
The result?
Tender and juicy Kielbasa with a delicately crispy exterior giving us an irresistible snack to enjoy!
And the best part is…
You can use the fried sausages for anything imaginable! Add sliced or full Kielbasa to salads, pasta, breakfast eggs, casseroles, soups and more!
Let's head over to a recipe that comes all the way from Hungry!
Imagine a plateful of golden, crispy fried potatoes mingling with sweet caramelized onions and savory kielbasa.
The combination is pure magic!
These fried potatoes with onion and kielbasa are a great comfort food – so hearty and satisfying.
And it's so easy, it's unbelievable!
All you need to do is boil the potatoes, sautee the rest of the ingredients and then combine everything!
Say hello to the ultimate comfort food that hails from the beautiful Netherlands.
Prepare for the mouthwatering combination of creamy mashed potatoes and kale topped with delicious kielbasa slices.
The kielbasa adds a smoky, savory element to the dish that is a welcome addition to the gooey potatoes.
It's a one-pot wonder that makes everything simple for home cooks!
Kielbasa baked beans are a mouthwatering combination of smoky kielbasa sausage and rich, flavorful baked beans.
The kielbasa infuses the dish with its savory goodness while the baked beans add a comforting and hearty element.
Together, they create a satisfying and protein-packed meal or side dish.
The best part?
This easy dish is really versatile. Serve it with rice, enjoy with some bread or for a summer BBQ.
Grilled kielbasa and vegetable kabobs are a delightful feast on a stick!
Imagine juicy kielbasa sausage and colorful veggies all charred to perfection on the grill.
The combination of flavors is incredible, with the smoky sausage complementing the tender-crisp veggies.
Assembling the kabobs is a breeze, making it a fun activity for gatherings or weeknight dinners.
Plus, you can get creative and customize the kabobs with your favorite veggies and seasonings.
It's a versatile dish that guarantees a tasty and enjoyable dining experience.
Kielbasa soup is a hearty and healthy dish packed with flavorful kielbasa, tender potatoes, and an array of vegetables.
It's the perfect dinner meal to satisfy your hunger and offers healthy nutrients at the same time.
The best part is…
You don't need to be an expert chef to make it! With simple ingredients and no complicated procedures, even beginners can whip up this delicious soup.
So, add this easy, filling and nutritious dish to your dinner menu!
Get ready to embark on a smoky culinary adventure with homemade smoked kielbasa!
Guess what!
This recipe will be a game-changer for your parties, offering an easy and budget-friendly way to satisfy a hungry crowd.
And there is more…
The versatility of smoked kielbasa means it pairs perfectly with any side dish you desire – rice, corn on the cob a refreshing salad or more!
It's a succulent and smoky treat that is incredibly easy to make.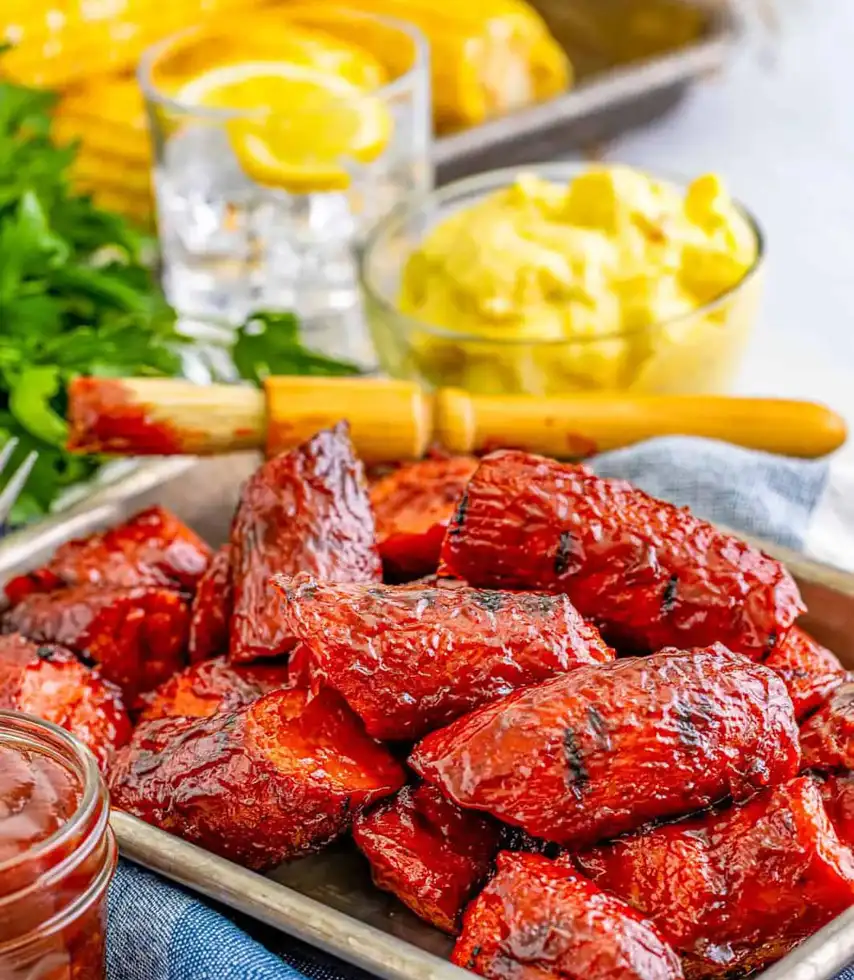 Get ready to create a mini-treat that gives immense pleasure despite being bite-sized!
Incredibly easy to make, this fun appetizer features beef kielbasa drenched in BBQ sauce.
But here is the real surprise…
Before drizzling the BBQ sauce over your sausages, you give it a heavenly sweet and spicy flavor with a fruit and honey spread!
Experience the magical result yourself by trying out this one-of-a-kind dinner treat.
One of the easiest dinner options with Kielbasa is a sandwich – a quick and hearty meal that everyone enjoys.
The star of this recipe is a special BBQ sauce that takes your Polish sausage to the next level!
It makes use of some pantry ingredients like ketchup and tomato puree along with unusual additions like maple syrup!
The result?
A lip-smacking sauce featuring savory, spicy and sweet flavors all at the same time!
It's really going to make your Kielbasa sandwich juicier and absolutely lip-smacking.
Get ready for a flavor-packed twist on a classic favorite with Kielbasa Roll-Ups!
These little bites of deliciousness are like pigs in a blanket, but with a Polish twist.
Picture juicy slices of kielbasa wrapped in a warm, crescent roll.
The combination of savory kielbasa and buttery pastry creates a mouthwatering treat that ends your day on a good note at dinner.
Whether you're looking for a quick and easy snack or a dinner side, these Kielbasa Roll-Ups are fun option.
Presenting an awesome dinner option for all home cooks who struggle to find time for cooking a wholesome meal.
This stew features Kielbasa with beans and a few vegies to turn it into a hearty combination of textures and healthy ingredients.
But the best ever part is this!
You can make it ahead and store it in the fridge for up to 3 days. And if you want to freeze it, it can be stored up to a whopping 3 months!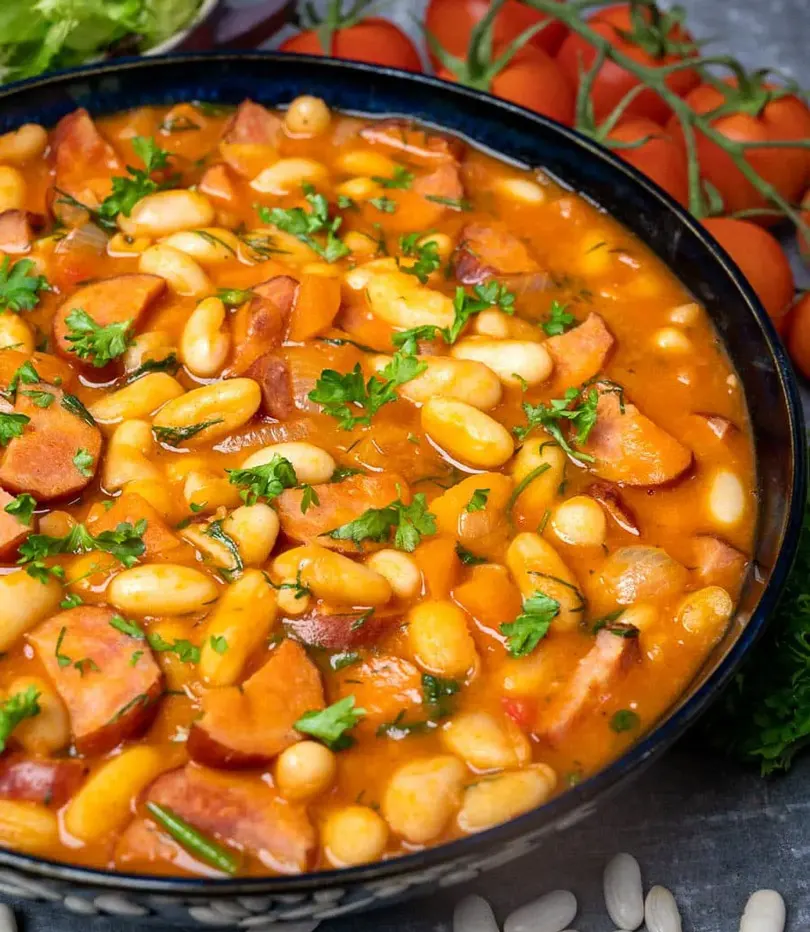 Try some cheesy Kielbasa sandwiches as a fun and casual dinner option.
It is one of the easiest sausage sandwiches featuring just 5 ingredients!
Surprisingly, this simple combination of a few items successfully creates an exciting sandwich.
Drenched in cheesy goodness, your sausage sits inside an Italian style roll amid crunchy onions and vibrant bell peppers.
Don't miss out on the exciting fun!
Get ready to dig into a delicious Chicken and Kielbasa Pie!
This twist on a classic pot pie combines juicy chicken, flavorful kielbasa, and a mix of veggies inside a flaky crust.
It creates a comforting and satisfying meal that's perfect for sharing with loved ones.
With simple instructions and amazing taste, this pie is sure to become your favorite meal to cook!
Indulge in the ultimate comfort food with the Three-Cheese Kielbasa Bake!
This mouthwatering dish combines the best of pasta and casserole in one glorious fusion.
Loaded with macaronies, Kielbasa, zucchini, carrots and more, it's a wholesome delight.
But the real star of the show is the trio of creamy ricotta, tangy cheddar, and gooey mozzarella cheeses that take it to the next level of cheesy goodness.
Jump to the recipe for a cheesy, savory, and oh-so-satisfying meal!
Get ready for the ultimate cheesy dinner experience!
There is a delicious combination of Monterey Jack, cheddar cheese and heavy cream!
The result is a dish loaded with flavor, comfort and the richest creamy texture.
But the star of the show is…
Meaty Kielbasa adding a smoky and savory twist that takes this casserole to a whole new level of hearty deliciousness.
It's a crowd-pleasing dinner that can be a hit at any gathering.
Craving a satisfying and hearty sandwich?
Here is a delicious sandwich recipe. These mouthwatering delights resemble the famous cheesesteaks.
But here is a twist.
Juicy kielbasa takes the place of traditional steak, bringing a smoky and flavorful punch.
Plus, it is topped with melted cheese, caramelized onions, and bell peppers for a really magical touch!
And this recipe is a real gem as it gives really useful tips for making and storing these make-ahead sandwiches.
Looking for a delicious and hassle-free dinner idea?
Try grilling up some juicy Kielbasa!
This recipe makes it a breeze by using pre-cooked sausage. Simply fire up the grill, add your favorite veggies, and let the flavors mingle.
Do you know what magic the grilling process brings?
It brings out a smoky and charred taste that no other cooking procedure can offer.
Serve it on a bun with mustard and sauerkraut or alongside a fresh salad. It's a perfect choice for a relaxed and flavorful dinner that everyone will enjoy!
When we say "easy" we mean it!
This Kielbasa stir fry recipe takes only 10 minutes to put a flavorful and meaty dish on your table!
Plus, the added veggies enhance the flavor and contribute to a lovely presentation, making it hard to believe that it's only a 10-minute dish.
But wait, there is more!
It is an incredibly tasteful dish as the sweet chili sauce adds unforgettable sweet, savory and spicy tone!
Craving a unique and hearty dinner option?
Try this elegant Pierogi Kielbasa Quiche!
It's a delightful combination of fluffy eggs, savory kielbasa and comforting pierogi filling. All of these are enclosed in a tasty crust.
This dish brings the flavors of pierogies to a whole new level with smoky Polish sausages.
And guess what…
This recipe asks for only 20 minutes of prep time before you bake it for the next 35 minutes.
It's easy, uncomplicated and can really please a crowd!
Looking for a budget-friendly dinner option for a busy weekday?
Kielbasa and Rice to the rescue!
This is a 20-minutes dish that offers everything – meaty goodness, delicious veggies, flavorful seasonings and a satisfying meal with rice!
And this recipe also offers a bonus…
Expert tips and tricks! These can be really useful for home cooks to attain culinary perfection.
Here is a dish that is really innovative and exciting! It is definitely going to wow your folks!
Picture this…
Lasagna strips bathed in spaghetti sauce and wrapped around a chunk of cheese along with juicy and thick Polish sausages!
When you bake these rolls in a dish, the cheese melts and fuses with the Kielbasa to give the ultimate delicious experience!
You've definitely got to make this simple yet impressive dish to experience the magic first hand!
Get ready to put together an easy yet hearty dish that combines the smoky goodness of turkey kielbasa with the vibrant flavors of peppers.
But that's not all…
This wonderful combination pairs with linguine pasta – long strands of noodles that really soak up all the flavors to yield the most amazing results.
And not to forget…
Juicy Roma tomatoes add a wonderful touch of Italy to the Polish sausages.
And guess what…
All it takes is 3 steps to put everything together beautifully!
Looking to add some spicy flair to your fried rice?
Try Kielbasa Cajun Fried Rice!
This mouthwatering dish features slices of savory kielbasa cooked with Cajun seasonings, combined with fragrant rice and fluffy eggs.
And not to forget…
A colorful medley of stir-fried vegetables make the dish brighter and more delicious.
The bold flavors of the kielbasa and Cajun spices bring a delightful kick to the dish. It's perfect dinner option for those craving something with a little heat.
So, jump right away to this 20-minutes recipe.
Turn the same old beans more exciting with this recipe.
The combination of smoky kielbasa, tangy tomatoes, and tender beans creates a rich and flavorful experience.
And here is the secret behind the added flavor…
A magical sprinkle of Italian herbs like oregano, basil and rosemary.
This aromatic dish offers really satisfying textures and a protein-rich meal that feels really comforting and wholesome.
Cheesy Kielbasa Rice and Broccoli Skillet is a vibrant and satisfying meal!
The kielbasa is cooked to perfection, becoming wonderfully crispy and flavorful.
Imagine digging into a bowl of creamy, cheesy rice mixed with tender broccoli and Kielbasa that's both crispy and tender.
And guess what…
This amazing dish comes together in just 40 minutes.
Plus, the bonus is the picture instructions that are a great help to beginners as well as expert cooks.
Lazy Kielbasa Taco Soup is the ultimate easy and flavorful dinner option.
Wondering why it is called lazy?
Well, that's because it requires minimal effort and time – perfect for when you are feeling too lazy to cook!
The broth is loved by anyone who enjoys the exciting flavors of taco seasoning and chunky salsa with a twist.
Juicy Kielbasa, beans, corns and chicken broth make it an unusual combination of Mexican and Polish delights.
You've got to try to and experience the innovative fusion.
Get ready for a keto dinner delight with irresistible Keto Kielbasa Cornbread!
This dish is a tantalizing fusion of fluffy cornbread and smoky Kielbasa.
The result?
A mouthwatering creation that's low in carbs and high in satisfaction.
With each bite, you'll experience the savory goodness and the thrill of indulging in a keto-friendly comfort food.
Plus, the perfectly golden-brown bread is studded with Kielbasa chunks, creating a visually appealing dish that looks like a piece of art.
Final Thoughts
Kielbasa, the star of Polish cuisine, brings a delightful twist to any meal.
Its distinct smoky flavor and robust texture set it apart from regular sausages. These Kielbasa recipes won't be the same with any other kind of sausage!
And here is the best part…
This versatile ingredient can be used for elegant gourmet dishes as well the simplest appetizers!
Grill it, stir-fry with veggies, simmer in soups or put it on skewers for beautiful creations. These amazing Kielbasa recipes are full of ideas!
And we would also love to get inspiration from you. Drop your creative ideas below!