Get ready to practice your culinary skills on juicy and tender ham that has been cured to perfection and ready to be cooked with some delicious gammon recipes.
First, let's spice up things with some fun facts about the meat!
Gammon is traditionally made with the hind leg of a pig. Its distinctive mouthwatering flavor comes from smoking or brining.
Whether you're a fan of smoky flavors or prefer a sweeter glaze, gammon recipes offer so many possibilities for culinary creativity.
Let's start the ham-tastic journey!
Here is a beautiful feast for your Christmas party – the classic Honey Roast Gammon.
It is prepared with a few uncomplicated steps – boiling, pouring the honey mustard glaze and then oven roasting the gorgeous ham.
The combination of sweet and sticky is always a pleasurable experience. Plus, the tender meat is just heavenly!
Here is a simple roast gammon recipe to make your festive occasions more exciting.
Guess what?
You can get a crispy exterior by roasting it with the skin on!
Glaze it with a combination of classic honey and mustard that gives your roast the best flavors and a scrumptious appearance.
Ah, the delightful Jerk Gammon!
The recipe guides you to prepare juicy gammon roast that is perfect not just for festivals, but for any occasion!
So, head to the recipe and unlock the secret for a tempting gammon roast.
And you can be creative with the sides – mashed potatoes, stir fried veggies, rice or anything you wish!
Let's talk about a hunk of gammon that's been jazzed up with a kick of fiery chili goodness!
A blend of fiery chilies and bold spices glamorize your ordinary gammon into a show-stopping roast!
But don't worry…
You don't need to spend hours preparing the meat, rubbing the spices on. It just takes 20 minutes before you pop it into the oven!
Experience the magic of slow cooker gammon!
Contrary to its name, this recipe is surprisingly quick and convenient.
But here's the most exciting part!
It's totally customizable to suit your taste buds! Simply boil it up and enjoy or jazz it up for a more adventurous meal.
Slow cooker gammon is all about flexibility and making it your own!
In the realm of delectable dishes, we have the hassle-free one-pot gammon with braised vegetable.
Tender gammon is lusciously coated in a creamy parsley sauce. Joining the party are traditional French smoked sausages and a medley of veggies.
It's a great family meal that offers all – protein, fiber, vitamins and deliciousness!
Can you imagine making the perfectly tender and super flavorful gammon in just 15 minutes?
You definitely can with this magical recipe!
And here is the star of the dish…
Chinese 5-spice powder that makes your meat finger-licking good!
Adding a side of stir-fried veggies makes it a wholesome meal.
When it comes to taste, the combination of honey and gammon is a tried-and-true winner that never disappoints.
But here is how this particular recipe stands out…
It provides a complete guide not only for the cooking process, but also what to serve with it and how to enjoy it best!
Here is an exciting dish featuring tender slices of succulent gammon served alongside a comforting mash of cabbage and leeks.
The meal has some juicy gammon mingling with the creamy and slightly chunky mash
It stands out from your conventional Christmas roast as it brings a unique twist to the table!
Gammon with apple and cheese – a beautiful gourmet meal with 5-star quality.
This lovely dish is created using only a few ingredients. Plus, the grilling process makes it really simple.
The apple topping is a rare combination with gammon, but gives it a beautiful touch. Adding the crumbly cheese makes it absolutely heavenly!
You won't believe what this delicious dish is made from!
Your Christmas leftovers!
Make use of the leftover roast and create another feast for the next day. Topped with potatoes and cheese, it makes a really satisfying dish.
Plus, the cream sauce with warm nutmeg tones adds to the deliciousness.
Here is another way of using leftover roast gammon from last night's feast.
Making these delicious sandwiches gives you a casual meal. You can just whip it up without much effort.
These are also perfect as a lunchbox option for your kids or yourself – an exciting thing to look forward to when you head back to work after the holidays.
Take a simple macaroni and cheese meal to the next level by adding some juicy gammon to it.
It is a pocket-friendly and quick dinner idea for overwhelming weekdays. Plus, it is really filling as well as comforting.
Not to forget the cheesy and gooey goodness that turns a simple meal into a fantastic dish.
Combine simplicity, traditional flavors and an irresistible old-school charm in this beautiful breakfast dish.
This rich hash brings together some wonderful summer veggies and succulent gammon for you to enjoy the first thing in the morning!
Making this hash is an easy job with delicious and hearty results.
Looking for a meaty side-dish?
These gammon and cauliflower cheese grills turn out to be excellent as a side or an eye-catching appetizer.
Each appetizer is a mini gammon steak topped with a delicious cauliflower and cheese filling. These are so fun to make with a presentable look.
This Glazed Smoked Gammon is a beautiful dish that beautifully adorns your festive dinner table.
And here is a twist…
You don't need to brine the gammon like you usually do before roasting!
Instead, the recipe provides an alternative method to achieve meat that is succulent and melts in your mouth.
Here is a dish that's inspired by the mighty Brazilian national treasure known as Feijoada!
We've taken a delightful twist on this classic by swapping out black beans for creamy white beans. Plus throw in some juicy gammon meat for good measure.
The result is a stew that is thick, hearty, and ready in 1 hour!
This might be the king of all meat stews as it features succulent chicken things along with delectable gammon chunks – a meaty feast with lots of delicious veggies!
And not to forget…
The buttermilk dumplings are soft as pillows. These absorb the juices beautifully and turn out more delectable than ever!
Get ready for a salad that's not your ordinary leafy affair, my friends. It takes center stage as a hearty and filling main course.
Inspired by the classic ham, eggs and chips, this salad features gammon meat and eggs with pineapple.
Drizzled over this hearty combo is a finger licking dressing of honey mustard.
Here is a warm and comforting serving of a juicy salad featuring gammon meat with vibrant tomatoes and the classic honey mustard dressing.
Complementing the meaty salad are roasted potato chunks with a crispy touch. Roasted soft onions and lamb's lettuce are also here to join the party.
The salad is really easy to put together and serve as a main course dish.
Behold a vibrant dish featuring tender pulled gammon infused with zesty ginger beer goodness.
Visually, it's a colorful masterpiece with a medley of fresh ingredients including juicy oranges and enticing pomegranate seeds for a festive touch.
You are going to love the delightful mix of succulent gammon and fluffy quinoa.
Create a holiday masterpiece with a gorgeous roast turkey hiding a scrumptious surprise inside!
It's a mouthwatering combination of sweetness from the apricots, savory richness from the gammon and nuttiness from the pistachios.
And the best part is…
You can utilize leftover gammon for this luxurious stuffing.
Get ready for a gammon feast with a twist—Gammon with Parsley Sauce!
Picture this…
A glorious platter featuring tender slices of gammon drenched in a vibrant green parsley sauce! A mouthwatering stunner!
And the taste?
Oh, it's a divine fusion of savory gammon with the fresh and herby notes of parsley.
Are ready for a nostalgic classic that never fails to satisfy?
Gammon and pineapple is a heart-winning combination fusing the savory meat with the sweet and citrusy pineapple.
And there is more…
Boiled potatoes and carrot chunks make the beautiful meal more satisfying! You may season them or enjoy the natural flavors.
Buckle up for a flavor adventure featuring succulent gammon adorned with a luscious brown sugar glaze that is tantalizingly sweet and sticky.
The gammon offers meaty richness while the roasted pineapple brings a burst of tropical sweetness.
And that's not all…
It is a glamorous dish with golden glaze glistening over the gammon and the caramelized pineapple adding vibrant pops of color.
Ah, the beloved Gammon Steak – a true British classic!
Imagine this…
A thick and juicy gammon steak crowned with a sunny-side-up egg and accompanied by a side of golden, crispy chips!
It's a plateful of comfort and nostalgia, hailing from the culinary treasures of Great Britain.
Cheers, mate!
Get ready to unleash the power of the air fryer with a sizzling gammon Steak.
In just 10 minutes, you'll have a succulent, perfectly cooked masterpiece!
And here is the fun part…
The steak comes out as a blank canvas waiting for your creative touch. Pair it up with anything your heart desires—pineapple, mustard or a juicy sauce.
Make your gammon steaks more pleasurable with this juicy recipe.
Aromatic herby mushrooms enhance the taste of the dish while a side of French beans add a crispy, fresh touch.
So, home cooks, you will love this recipe for its simplicity, impressive presentation, and the way it elevates everyday ingredients into a gourmet delight!
Wondering how to use your precious leftover holiday gammon meat?
Turn it into a tantalizing curry that creates a whole new dish fit for a feast with family and friends.
This dish has a classic Indian touch with lots of herbs and mouthwatering spices to create the best flavors for the curry.
Unleash the flavors of 5-spice to create a heavenly Chinese dish featuring gammon meat.
Guess what?
Unlike the conventional roast recipes that take hours of cooking time, this one is ready in just 25 minutes!
So, enjoy your spicy gammon with a side of stir fry vegetables and fluffy rice for the best Asian touch.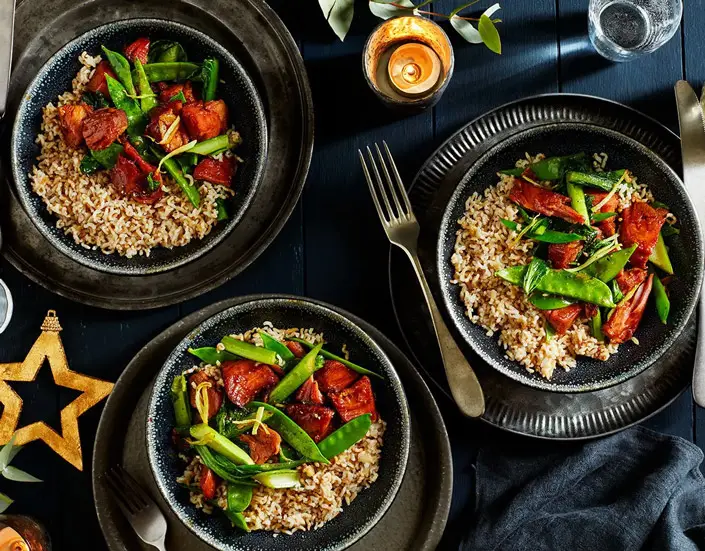 Final Thoughts
So fellow flavor adventurers, these juicy gammon recipes are sure to open the doors culinary magic where creating a delicious ham is right in your hands!
From beautiful glazed gammon for Christmas to hearty steaks, you have discovered 30 different ways of cooking the succulent meat.
So, if you are ready to elevate your ham game and become a gammon guru, turn to these wonderful gammon recipes for inspiration and guidance.
And don't forget to leave your comments. We are looking forward to your feedback and ideas.