Aloha, fellow food lovers!
Prepare yourself for an epic culinary journey through the happy flavors of the enchanting Hawaiian recipes.
Picture creamy macaroni salad, cheerful Hawaiian cocktails, the smoky Huli Huli chicken and other exotic treats from the island!
Fun Fact!
The Hawaiian cuisine showcases a wide use of pineapple, coconut, and other bounties from the lush tropics!
From the iconic coconut-based Haupia dessert to the mouthwatering fusion of pineapple in various dishes, Hawaiian recipes bring delightful fusions!
So, grab your chef's hat, embrace the island vibes, and let's uncover the tantalizing world of Hawaiian food together.
Let's unleash the vibrant dishes!
Ah, the authentic Hawaiian macaroni salad—a true island delight!
It's a creamy and comforting dish that perfectly exhibits the spirit of Hawaiian cuisine.
What sets it apart?
Well, unlike traditional macaroni salads, this one features a unique twist. It's made with elbow macaroni, mayo, grated carrots, and a touch of sweetness.
The secret lies in the texture—the macaroni is cooked until tender, then chilled, creating a cool and velvety mouthfeel.
The best part?
It uses simple ingredients with a luxurious and rich result!
Here is an exotic treat for chicken lovers!
Wondering what Huli Huli means?
It refers to the special cooking techniques that involves frequent flipping of the chicken to get that beautifully charred exterior and juicy interior!
But here is where the real magic is!
The chicken is marinated with an exotic sauce featuring pineapple juice, brown sugar, ginger, garlic, apple cider vinegar, soy sauce and more!
The result?
A gorgeous savory, sweet and tangy creation that is just out of this world!
Looking for a fun and tasty treat?
These Hawaiian Ham and Swiss Sliders present a savory and sweet snack to fill you up!
What makes them stand out?
These little bites of deliciousness feature Hawaiian sweet rolls stuffed with savory ham, Swiss cheese slices, and a delectable glaze!
So easy to make and perfect for parties or game nights!
The combination of sweet, salty, and melty flavors is truly irresistible!
Are you ready for a one-of-a-kind chicken BBQ?
It's smoky, savory with a sweet fusion!
Imagine succulent chicken, kissed by the grill and infused with a magical
blend of pineapple, soy sauce, ginger, garlic and brown sugar.
And let's not forget the star of the show…
The heavenly BBQ sauce!
Complete your tropical feast by pairing it with a side of delightful Hawaiian macaroni salad. It's a flavor paradise you won't want to miss!
Would you like to discover a dish that's way better than any take out?
This recipe for exotic Hawaiian fried rice is your answer!
Full of pineapple chunks, bright veggies, juicy ham and fluffy eggs, these fried rice are tantalizingly satisfying!
The best part?
Cooking this dish will be the easiest part of your day as you can whip it up in just 30 minutes!
So, explore the recipe and create the colorful dish for your family!
Oh the hearty Hawaiian beef teriyaki! A tropical dish like no other!
The magic ingredients?
A mixture of soy sauce, brown sugar, ginger, garlic and of course, pineapple juice – a gorgeous concoction that brings the classic Hawaiian touch!
And there is more…
Thin slices of beef come out beautifully crispy yet juicy with flavors that will make you lose yourself!
And guess what?
Hawaiian Beef Teriyaki needs just 6 ingredients for a magically delicious dish!
Presenting a beautiful, snowy-white tropical treat that is sweet and magical!
This creamy, coconut-based dessert is a must-try for any sweet tooth.
Picture a smooth, luscious pudding with a hint of tropical coconut flavor, perfectly chilled and served in bite-sized squares.
The most incredible part?
This elegant delight is created with just 4 ingredients!
Pair t with fresh fruit, or as a topping for cakes and pies to add to the indulgence!
Hawaiian pizza is a true tropical delight that combines the best of both worlds!
Imagine a classic pizza topped with a unique twist – juicy chunks of pineapple nestled among savory ingredients like ham, cheese and pizza sauce!
The result?
The citrusy sweetness of pineapple beautifully contrasts with the salty ham and gooey cheese – a combo worth giving a try!
Using pre-made pizza dough, you can make this tropical pizza with a handful of ingredients. And feel free to customize the toppings!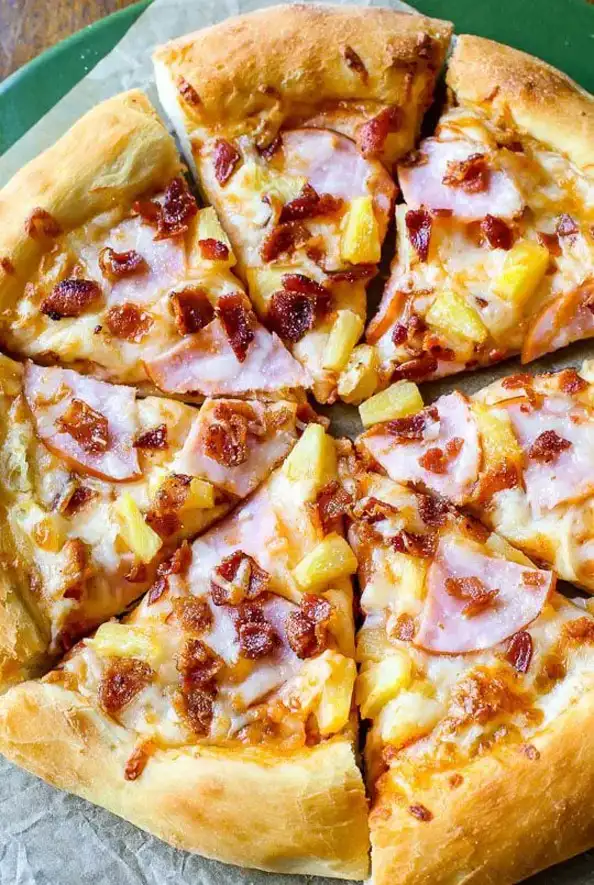 The Blue Hawaiian cocktail is a vibrant tropical delight for your pool parties!
The star ingredients?
Rum, pineapple juice, coconut cream, and a touch of blue curacao, creating a beautiful blue-colored drink!
Sipping on a Blue Hawaiian is like savoring a taste of summer on the beach – refreshing, creaming and exotic!
The best part?
It's really simple to make – simply blend all the ingredients together, pour into a glass and add a fun garnish!
Here is a sweet treat that's rich, creamy and immersed in pineapple goodness!
These bite-sized delights consist of a buttery pastry filled with a sweet and tangy cream filling made by combining sour cream and whipped cream.
And that's not all…
The filling is topped with chopped pineapple chucks and shredded coconut!
Using mini-frozen pie shells, these pineapple tarts are incredibly easy to make any time you are in the mood for a tropical treat!
Hawaiian Poke is a beloved dish at the bright islands!
It features bite-sized pieces of fresh, raw fish marinated in a flavorful blend of soy sauce, sesame oil, onions, and spices.
What makes it so popular?
The combination of its vibrant flavors, contrasting textures and a beautiful presentation!
Create a fusion of savory, umami and sweet flavors with this recipe that help you put this classic dish on your table for the delight of your family!
Discover a delicious comfort food from Hawaii – the classic Loco Moco.
Picture a plateful of goodness – a juicy beef patty nestled on a bed of steaming white rice, topped with a sunny-side-up egg!
And it doesn't end here…
Everything is smothered in a rich, drool-worthy brown gravy!
One bite reveals the tender beef, the creamy egg, and the savory gravy, blending together for a taste sensation.
And guess what…
This delicious comfort food can be served for a happy breakfast or an exciting lunch or dinner.
Here is a tropical side dish that takes just minutes to prepare!
You won't believe it…
It's a dish that is created with no more than 4 ingredients!
Lomi Lomi consists of diced fresh salmon combined with tomatoes and onions – that's it!
This simple combination is a balance of salty, tangy and fresh! The salmon provided a silky richness while the veggies add a crunch and juicy factor.
And guess what…
This side offers omega-3 fatty acids from the salmon and antioxidants, vitamins and minerals from the veggies.
Both delightful and healthy, it's an amazingly easy dish to add your lunch or dinner menu.
Bring a tropical touch to your special occasions with this homemade Hawaiian wedding cake!
Guess what…
This elegant cake is really easy to make using cake mix for the perfectly soft and moist result.
Here is what makes it Hawaiian…
Crushed pineapple and sweetened coconut flakes that mingle deliciously with the rich cream cheese filling and luscious whipped cream frosting!
Easy yet luxurious, do give this cake a try!
Poi – a dish made with pounded taro root is a Hawaiian staple that is a satisfying side to any meal.
Guess what?
The recipes consists of just 2 ingredients – steamed taro and water. The taro is mashed with water till a smooth consistency is achieved.
Here is why it is an excellent addition to your table…
Rich in fiber, vitamins, and minerals, Po supports digestive health and provides sustained energy.
Plus, it provides a starchy and filling element to any meal, adding texture and richness.
Presenting Hawaiian Spam Musubi – a delightful handheld snack that blends the flavors of Hawaii with Japan.
It features a slice of grilled spam, seasoned with a teriyaki glaze, placed on a block of sticky sushi rice, and wrapped with a strip of nori.
It's elegant, delicious and filled with umami goodness!
The best part?
Its portable snack you can enjoy at picnics or as a lunchbox treat.
Here is a treat you'll see a lot of if you happen to visit Hawaii!
Inspired by the traditional Japanese Mochi, it features a tropical twist combining the best of both worlds!
This popular delight is a chewy and gooey dessert made with glutinous rice flour, sugar, butter, and coconut milk.
The result?
A soft and slightly sticky interior with a sweet, buttery goodness and hint of coconut.
Hawaiian Lau Lau – a delicious traditional dish that brings the flavors of the islands to life!
It's a bundle of seasoned pork, black cod along with carrots and sweet potatoes, all wrapped up in luau leaves and ti leaves.
The leaves give the meat a unique earthy aroma and keep it juicy.
It is a simple yet rich treat making the best use of the bounties of the island.
Hawaiian Style Mahi Mahi is a mouthwatering seafood dish featuring fresh Mahi Mahi fillets marinated in a blend of tropical flavors.
You guessed it right!
The blend of flavors is created with pineapple juice, soy sauce, ginger, and garlic – the customary ingredients used in classic Hawaiian dishes.
The recipe pan sears the fish to gorgeous results. But you may also grill it for a tender yet smoky touch.
You won't believe it…
The beautifully flaky and flavorful fish is ready in no more than 16 minutes!
Hawaiian style beef jerky is a one-of-a-kind treat!
Thin slices of beef are marinated in a heavenly blend of soy sauce, ginger, garlic, brown sugar and pineapple juice to impart tropical flavors to the meat.
Don't be intimidated by the exceptionally long cooking time.
It actually allows the flavors to intensify and the beef to become irresistibly tender and chewy.
It's worth the wait because the end result is a savory, sweet and smoky dish that strongly features a touch of the beautiful island.
Enjoy it as a snack on-the-go, a protein-packed addition to salads, or a flavorful element on a charcuterie platter.
Time to explore the delight of a light but delightful dish called Chicken Long Rice.
This beloved dish of the locals combines tender chicken, translucent bean thread noodles, and a flavorful broth infused with ginger and garlic.
Guess what?
The long rice noodles soak up the aromatic broth, creating a comforting and slurp-worthy experience!
It can be enjoyed as a light meal all by itself or as a side with a meaty dish.
Kulolo is a delectable Hawaiian dessert that's irresistibly sweet and sticky!
Made with just 3 ingredients – taro, sugar and coconut milk – it's a gooey and sticky treat is a favorite among locals and visitors alike!
And it's not just the addictive texture….
Kulolo will enchant you with its rich, caramel-like flavor.
So, jump to the recipe and experience the true essence of island sweetness with every mouthwatering bite of this traditional Hawaiian delicacy.
Treat yourself to a slice of the classic Hawaiian Passion Fruit Chiffon Pie with this easy recipe.
This luscious dessert combines the tangy and sweet flavors of passion fruit with a light and airy chiffon filling.
Nestled in a delicate and flaky crust, the pie is a refreshing and vibrant delight.
With its inviting creamy appearance and tropical aroma, it's a perfect dessert for sunny days or special occasions.
Savor the flavors of the ocean with homemade Ahi Tuna Poke Bowls!
Fresh, sushi-grade Ahi Tuna, rice and delightful veggies create a delicious and satisfying meal.
And here is a healthy twist…
This recipe makes the dish low-carb by incorporating brown rice instead of white rice.
And that's not all…
The recipe also presents other versions for gluten-free or purely veggie based twist on the dish!
So, head to the recipe, pick your favorite version and start cooking a nutritious and delightful meal.
You must have tried many types of savory spring rolls, but these banana-filled rolls are surely surprising!
The sweet treat is inspired from Philippine's banana lumpia with a twist – instead of lumpia wrappers, we use spring roll sheets for this recipe.
Picture this…
A crunchy roll that reveals a sweet and tender banana-filled core with every bite! A one-of-a-kind experience!
Easy and delightful, it's a must-try recipe!
Malasadas are fluffy and pillow-soft deep-fried pastries that are a local favorite.
Did you know?
These sweet treats originated from Portugal, but have become a beloved treat in Hawaii.
Made from a yeasted dough that is fried until golden and then rolled in sugar, it's a delightful combination of crispy exteriors and soft, doughy interiors.
Guess what?
You can enjoy them plain or fill them with luscious fillings like custard or tropical fruit jams.
Experience the flavors of Hawaii with the classic Squid Luau.
This traditional dish features tender squid cooked with taro leaves, coconut milk and Hawaiian salt.
But this instant pot recipe is special!
It brings convenience and makes your cooking more efficient.
The outcome?
A rich and creamy luau that would typically take hours to prepare! But with this recipe, you can create this dish in only around an hour!
Craving a delicious and convenient snack?
How about some easy baked manapua?
These delectable Hawaiian treats consist of fluffy steamed buns filled with savory pork.
But here is a twist…
With this simplified recipe, you can skip the steaming process and bake them instead.
The result?
Soft, golden buns with a tender and savory filling ready to be devoured as a beautifully rich snack.
Say Aloha to deliciousness with this dazzling dish.
Picture Succulent chicken cutlets breaded in panko breadcrumbs and fried to perfection.
The result?
A golden, crunchy exterior that gives way to juicy and flavorful chicken.
But what sets it apart is the addition of furikake – a Japanese seasoning blend of seaweed, sesame seeds, and other flavorful ingredients, sprinkled on top.
And the result is an extra pop of umami and excitement to this already fantastic dish.
Serve it with a side of steamed rice, macaroni salad, and a smile because this Hawaiian-inspired comfort food is sure to make you happy!
Here is a delectable dessert that takes the classic pie to a new level of tropical delight.
The creamy filling features shredded coconut and creates a rich and velvety experience with every mouthful.
But the real star of the show is a generous amount of crunchy macadamia nuts scattered over the topping for a delightful nuttiness and a satisfying crunch.
It's an indulgent and beautiful dessert to grace your dinner table on parties or festive holidays.
Final Thoughts
As we conclude this incredible exploration of Hawaiian recipes, we invite you to savor the diverse tapestry of flavors that this cuisine has to offer.
From meaty delights like Hulu Hulu chicken to iconic desserts like the Coconut Macadamia Nut Pie, you can create a vibrant feast!
And let's not forget…
These Hawaiian recipes include exotic seafood dishes like Mahi Mahi and Poke that showcase the bounty of the surrounding Pacific waters!
Whether it's a festive luau, a casual gathering, or a fun beach party, these recipes shine brightest when shared with loved ones!
Do mention your favorite Hawaiian recipe in the comments below!