Unlock a world of culinary possibilities with griddle recipes!
Do you know the benefits of griddle cooking?
It provides an even cooking surface, excellent heat retention, and the perfect canvas for creating mouthwatering meals!
From breakfast favorites like fluffy pancakes and crispy bacon to savory lunch and dinner options like juicy burgers and sizzling fajitas, a griddle can do it all.
Among the various griddle options available, the Blackstone griddle stands out for its versatility and performance.
So, fire up your griddle, embrace the sizzle, and embark on a flavorful journey with these delectable griddle recipes.
Let's dive into the fun!
Forget complicated recipes!
Griddle scrambled eggs are a one-ingredient breakfast delight that's super easy and fun!
But here's the catch…
You need to master the perfect texture on a griddle.
Lucky for you!
This recipes provides easy instructions with visuals to give you two types of results – classic fluffy eggs or deliciously crumbly.
So, jump to the link and discover the helpful discussion that will tell you all about griddle scrambled eggs.
Griddle omelets are a quick and tasty breakfast option that you don't want to miss!
What makes it stand a part?
The griddle's surface allows for a slightly crispy texture on the outside while keeping the inside fluffy and flavorful.
Use your favorite veggies, cheese and just 1 tablespoon of butter to cook the omelet on the flat top – healthy and delicious!
Wholemeal griddle bread – more commonly known as Paratha – is a beloved South Asian flatbread!
It is a delightful breakfast treat because of its unique texture – flaky, yet soft.
How is this achieved?
A griddle of course! The flattop cooks the paratha with a golden-brown crust and layers that melt in your mouth!
And guess what…
Once you master the plain paratha, you can also learn to create an array of delicious stuffed varieties!
Ditch the pan and embrace the griddle for pancake perfection and endless customization possibilities!
Guess what?
It's a game changer when you cooking for a hungry crowd!
Instead of just one pancake at a time in a pan, imagine creating 10 t0 12 fluffy delights all at once on that large surface of the griddle!
Not to mention, you can always customize the basic recipe and create any pancake version from chocolate chip to fruity pancakes!
These fish tacos are amazingly delicious, quick to make and fun to create!
Featuring the tasty Tilapia, a Blackstone griddle makes the cooking process more efficient, making the meat crispy yet succulent!
But, wait there is more!
Before loading the fish and all the mouthwatering fixings on the tacos, the shells are lightly fried in some butter on the griddle.
The result?
Delicious and crispy tacos that provide the perfect crunch with every bite brimming with the fish, sauces, cheese and veggies!
Here is a special sandwich that's incredibly quick to make!
The star of this recipe is…
Your Blackstone griddle! Makes cooking lightning fast, grills the fish with a minute amount of out and brings out the perfect texture!
Adding to the delight is the blackened seasoning that creates a delicious crust with a smoky and spicy flavor!
Combined with tartar sauce and baby arugula, the fish sits between two buns to create a beautiful, healthy and lip-smacking sandwich!
Smash burgers are all the rage, and for good reason!
These mouthwatering creations are made by smashing a ball of ground beef onto a hot griddle, creating a thin patty with irresistible crispy edges.
The result?
A burger with a caramelized exterior, juicy interior and incredible texture.
You know what?
The flat surface maximizes contact between the patty and heat, resulting in those perfect crusty edges that make smash burgers a delicious sensation.
This epic recipe brings together all the amazing elements!
Using a flattop griddle is a great way of cooking those juicy chicken breasts quickly with an impressively crispy texture.
And guess what!
You are in for a treat because this recipe gives two different marinade options – BBQ and teriyaki!
And last but not the least…
While you are cooking your chicken, throw in some veggies on the same flat top to get things done quickly!
Cooking Hibachi noodles on a Blackstone griddle is a piece of cake – incredibly easy and quick as flash!
This is a simple yet one-of-a-kind Japanese dish with a unique flavor combining soy sauce and garlic with brown sugar!
The result?
Tender noodles featuring a delicious sweet and savory flavor.
Stir-fry the noodles with veggies of your choice on a Blackstone griddle and have a delicious meal option ready in no time!
Upgrade your beef game with this special stir fry recipe that puts a beautiful and finger-licking delicious meal on the table in 30 minutes!
Here why it's extra special!
It features juicy beef chunks cooked with gorgeous veggies and delicious rice noodles all on the same Blackstone griddle.
And here comes the final touch…
A heavenly sauce with a combination of ginger, garlic, soy sauce and citrusy orange juice – yummy!
The scrumptious Tawa Chicken hails all the way from India's vibrant Punjab region!
It is a finger-licking combination of chicken cooked on a flat-top and a delicious, thick curry.
Here is what makes it so tempting!
The chicken is coated in gram flour and cooked on a griddle, resulting in succulent chunks with a crispy exterior!
Next, the curry is prepared with onions, tomatoes and classic Indian spices as well as aromatic ingredients to create a divine meal!
Are you ready to have fun flipping some crepes?
These thin, delicate pancakes are made on the sizzling hot griddle, resulting in a golden and lacy texture with really crispy edges!
The ingredients?
The most basic things that are available in every kitchen – flour, eggs, milk, butter with some salt and sugar!
The best part?
Once cooked, these versatile crepes are ready to be filled with anything your heart desires – try Nutella, fresh fruits or savory mince.
Ah, beef keema! A favorite Southeast Asian minced meat dish that is full of aromatic spices and loaded with a rich and savory taste!
While there are many ways to cook beef keema, this griddle recipe adds a fun and speedy twist.
The result?
The hearty beef develops a delightful sear, locking in all the mouthwatering flavors.
This recipe brings an exciting street-food style touch to your own kitchen with a spicy, tender and simply delicious dish to enjoy!
Would you like to experience the colorful flavors of Mexico's street food?
Give these delectable fritters a try – an exotic combination of sweet corn, tangy spices and creamy cheese!
Let's unleash the magic of Blackstone griddle in the recipe!
The flat-top imparts a delicious charred flavor, mimicking the traditional street food experience! Plus, the flat surface allows for easy flipping!
The result?
An irresistible combination of crispy exteriors and tender, moist interiors with a mouthwatering taste!
Sizzle with flavor as you explore the beautiful Blackstone Griddle Vegetable Skewers!
These skewers are a vibrant medley of colorful vegetables, charred to perfection on the griddle.
Guess what?
The griddle's high heat creates a smoky sear that enhances the vegetables' natural sweetness and adds a delicious touch of char!
Serve them as a standalone appetizer or a side dish to brighten up your dinner table!
It's a customizable, visually stunning, and utterly scrumptious way to enjoy the goodness of grilled vegetables!
Presenting a juicy, mouthwatering and hearty steak to appease those hunger pangs!
You know the most amazing part?
This incredible recipe uses no more than 4 ingredients to put a luxurious meal on your plate in a few minutes!
This griddle steak is perfectly seared with just a little bit of oil, featuring the aromatic flavors of Montreal seasoning.
And guess what!
The helpful and easy-to-understand instructions in the recipe will make you a steak pro!
Experience a delicious fish meal like no other with this drool-worthy Indian recipe that makes use of conventional griddle cooking for extraordinary results!
The magic begins here…
Exquisite red snapper is marinated with a blend of spices and then fried on the flattop.
The result is…
A mouthwateringly delicious and wonderfully flaky fish that is ready with ease over the griddle within minutes!
So, head to the recipe and don't miss out on this exotic Indian treat from the ocean!
This dish is a stunning and delicious change from the usual routine!
Prepare some juicy steak and vegetable kebabs like a pro on your griddle, achieving charred and juicy perfection!
The best part?
This stunning and exciting dish takes only 25 minutes of your time!
Here is why beginners and experts both should visit the recipe…
It spills the beans on pro tips, so you can finally conquer those pesky skewer troubles!
So, leave your worries behind and cook with impressive results on the griddle!
Naan, a traditional Indian bread, is a soft and pillow-like delight that steals the show on the dinner table as an accompaniment with spicy curries.
Conventionally made in tandoor ovens, this recipe offers an easy and accessible way to enjoy homemade naan using the Blackstone Griddle.
Guess what…
The griddle mimics the intense heat of a tandoor, resulting in naans with a delightful char and perfect softness.
Serve these warm, fluffy naans with your favorite curries or use them as a base for wraps and sandwiches!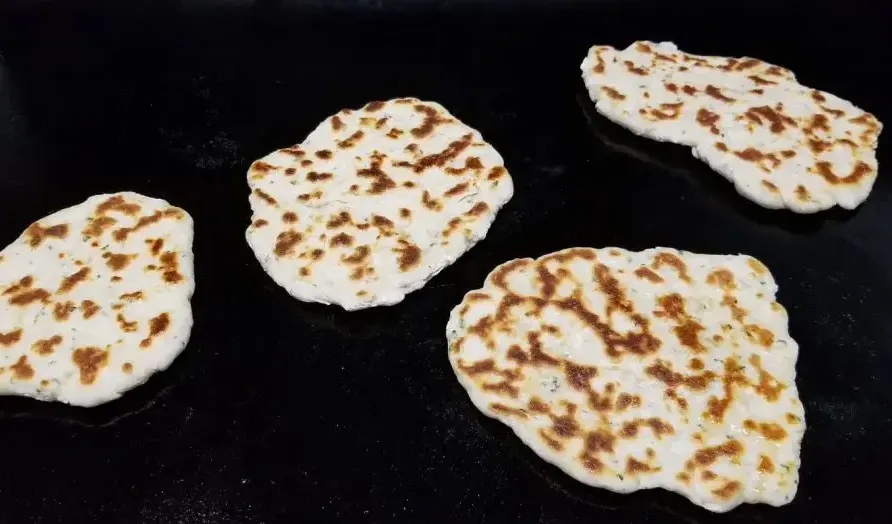 You may have enjoyed a lot of flour-based crepes, but this South Indian version is a completely different experience!
These delicate beauties feature thin and crispy edges but a wonderfully fluffy center, ready to be paired with exotic chutneys.
With a hot griddle, the crepe batter is spread thin and cooked to perfection, resulting in golden-brown crepes with a lacy texture.
So, bring some savory change to your breakfast routine with this Indian delight.
Guess what?
Your trusty griddle has a surprise up its sleeve – it can make fantastic fries too!
If your fries have been lacking that satisfying crunch, it's time to switch things up. Grab some frozen fries, and throw them onto the preheated griddle.
There isn't any need to thaw them first!
In just 10 minutes, you'll have golden and crispy fries that are irresistibly good!
And there is another awesome benefit!
On a griddle, you'll use way less oil compared to conventional deep frying.
So, head to the recipe now for mind-blowing tips and techniques that guarantee fry perfection!
Say goodbye to sticky pans and hello to griddled sunny side up eggs!
The griddle brings multiple benefits to the table!
In just 5 minutes, you can whip up a perfectly cooked egg with just 1 tablespoon of butter.
And there is more…
Thanks to the griddle's generous surface area, you can make multiple eggs simultaneously, saving you precious time.
Check out the recipe for a step-by-step video guide so that you ca get that flawless sunny side up goodness every single time!
Indulge in the decadence of Blackstone French Toast – thick and pillow-soft!
It's one of the ultimate griddle treats that are easy to create for a bright morning breakfast!
The most amazing part?
With the griddle's efficiency, you can whip up four servings of this awesome delight in just 20 minutes!
And guess what…
These indulgent French toasts are made with basic ingredients, all ready for exciting toppings of your choice.
Spice up your weekday meals with some mouthwatering Chicken Fajitas!
This vibrant dish features marinated chicken, sizzling bell peppers, and onions, all cooked to perfection on the griddle!
Here is what brings the real excitement to cooking these…
It is the unique experience of cooking fajitas on a griddle – unlike the conventional stovetop or grill.
You know what?
The cooking time for these fajitas on the griddle is only 10 minutes!
Plus, with easy flipping and control over the cooking process, you get the best, juiciest and most flavorful fajitas.
Make a vibrant addition to your keto-friendly meals with this easy Blackstone broccoli.
Bid farewell to the long process of steaming the veggie. Instead, grill it on the flattop to make it perfectly tender in no more than 10 minutes!
The recipe makes your green veggie deliciously flavorful with a seasoning of garlic, salt and pepper.
This savory treat is perfect to be served as a keto side-dish with a protein or just as a stand-alone salad or appetizer.
The exciting Mexican Fajitas take a healthier twist with this treat for vegetarians!
Cooked on a flattop, these unique fajitas feature zucchini and poblano peppers as the star ingredients.
Loaded in tortillas, these are a satisfying and delicious treat that is quick to make on any day you crave for some Mexican food!
It's a one-of-kind version of fajitas you must try!
Cooking your asparagus on a griddle is a quick and delightful addition to any meal.
The Blackstone griddle brings a unique touch, transforming ordinary stir-fried asparagus into something extraordinary!
In just 10 minutes, you'll have tender-crisp asparagus with a tantalizing char!
Guess what?
The asparagus is seasoned with zesty lemon juice and a sprinkle of salt so that each bite brings refreshing flavors!
So, make your meal for vibrant with this quick recipe for extraordinarily good asparagus!
This soft and flaky bread is made from whole wheat flour and cooked on a griddle!
The result?
The griddle's direct heat creates the signature puffed texture with beautiful brown spots.
Roti is enjoyed by tearing off pieces and pairing it with curries, stews or simply slathering it with ghee for a healthy and filling meal.
So, learn to create this essential Indian staple that adds a touch of comfort to every meal.
Experience the ultimate cheesy delight with Flat Top Griddled Quesadillas!
These golden, crispy tortillas are filled with ooey-gooey melted cheese and a variety of flavorful ingredients!
Guess what?
The flat top griddle takes this classic Mexican dish to new heights by creating a perfectly toasted exterior.
Whether you prefer a traditional cheese filling or want to get creative with additional toppings, these quesadillas will please both kids and adults alike.
So, jump to the recipe and discover this fiesta of flavors.
Stir up a delicious feast with Blackstone Fried Rice!
This Asian-inspired dish is a flavor-packed combination of rice, veggies, chicken and a medley of savory sauces.
Here comes the magic touch…
Cooked on a Blackstone griddle, the high heat ensures perfect texture, giving the rice a delightful chewiness and a hint of smoky goodness.
And that's not all…
The griddle's large cooking surface make it ideal for preparing large batches to feed a hungry crowd on large gatherings and parties.
Whether you prefer a classic vegetable fried rice or want to add your favorite protein, this versatile recipe is a crowd-pleaser!
Made with succulent cubes of paneer – Indian cottage cheese – and an array of aromatic spices, this dish is a treat for vegetarians and cheese lovers alike!
Cooked on a sizzling griddle, the paneer gets a delicious char and a slightly smoky flavor.
But here is the fun part…
This common street food is called "Taka Tak" due to the vigorous tossing and turning of the ingredients with a spatula that make the sound "Taka Tak"!
It's not just a recipe, but a technique worth learning to add some excitement to your cooking!
Blackstone Griddle Pasta Primavera is a bowl of flavorful goodness!
This vibrant dish combines al dente pasta with a medley of fresh, seasonal vegetables along with cheese all cooked to perfection on the griddle.
The griddle keeps the vegetables crisp and tender and brings a charred effect.
The best part?
This is not just an ordinary recipe, but a thorough guide that covers everything from what size of griddle to use and suggested ingredients substitutes!
So, enhance your cooking knowledge and give this recipe a try.
Blackstone Chicken Caesar Tortellini because of the creative fusion of two beloved classics!
This mouthwatering dish combines tender chicken, cheese-filled tortellini and a creamy Caesar dressing.
Cooked to perfection on the Blackstone griddle, the chicken gets a delicious char while the tortellini becomes beautifully golden.
Tossed together, these ingredients create a harmonious blend of savory and creamy goodness.
And here comes a healthy kick…
The recipe features lots of spinach to give you a dose of healthy greens the delicious way!
Prepare to embark on a pizza adventure with Blackstone Griddle Pizza!
Yes, that's right!
It is possible to make the perfect pizza on the flat surface of a griddle in no more than 15 minutes!
The secret?
Use pizza dough kit to create the perfect dough, roll out, add your favorite pizza fixings and voila!
The griddle's even heat distribution creates a perfectly crispy crust with the cheese on the top melting beautifully.
Mushroom Taka Tak – a vibrant vegetarian dish infused with Indian spices!
Here is what makes it stand out…
It's the griddle cooking method that makes it quick and convenient to put together.
The "taka tak" technique adds an exciting experience to the process!
The mushrooms are constantly tossed and stirred, infusing them with the rich flavors of the spices.
So, savor this zesty and aromatic dish that brings a touch of Indian flavors and cooking technique to your kitchen!
Experience the sizzling magic of Hibachi Fried Rice on the Blackstone Griddle where this beloved Japanese dish takes on a new level of excitement.
The effect of griddle cooking?
An impressive caramelized and smoky wok-like flavor in every grain of rice.
Mixed with a medley of colorful veggies, succulent bacon, eggs and savory seasonings, each bite is loaded with umami goodness.
So, enjoy restaurant-quality fried rice with a touch of hibachi flair with this recipe!
Prepare an exciting dinner with this 10-minutes recipes that takes hot dogs to a new delicious and hearty level!
Wrapped with delicious bacon, the sausages taste a whole lot more scrumptious!
And not to forget…
The perfect sear brought by cooking the hot dogs on a griddle!
It's an incredibly quick and fun treat for dinner that can turn a boring weekday happier!
Here is magic on a griddle!
Just 6 ingredients and an appetizing side-dish is ready within 30 minutes!
So, potato lovers, preheat that griddle and create the perfectly crispy exterior with a sprinkle of herbs and seasonings for a finger licking flavor!
Enjoy them at breakfast or add them to the dinner table – this griddle recipe is an effortless way to satisfy those potato cravings!
Do you want your hamburgers to be extra delicious?
This simple 5-minutes griddle technique is a surprising game changer!
Your soft buns develop a beautiful golden crust while staying fluffy on the inside. The griddle's ensures consistent browning and a delightful texture.
From classic cheeseburgers to gourmet creations, these homemade griddled buns will take your burger experience to the next level of delightful crunch.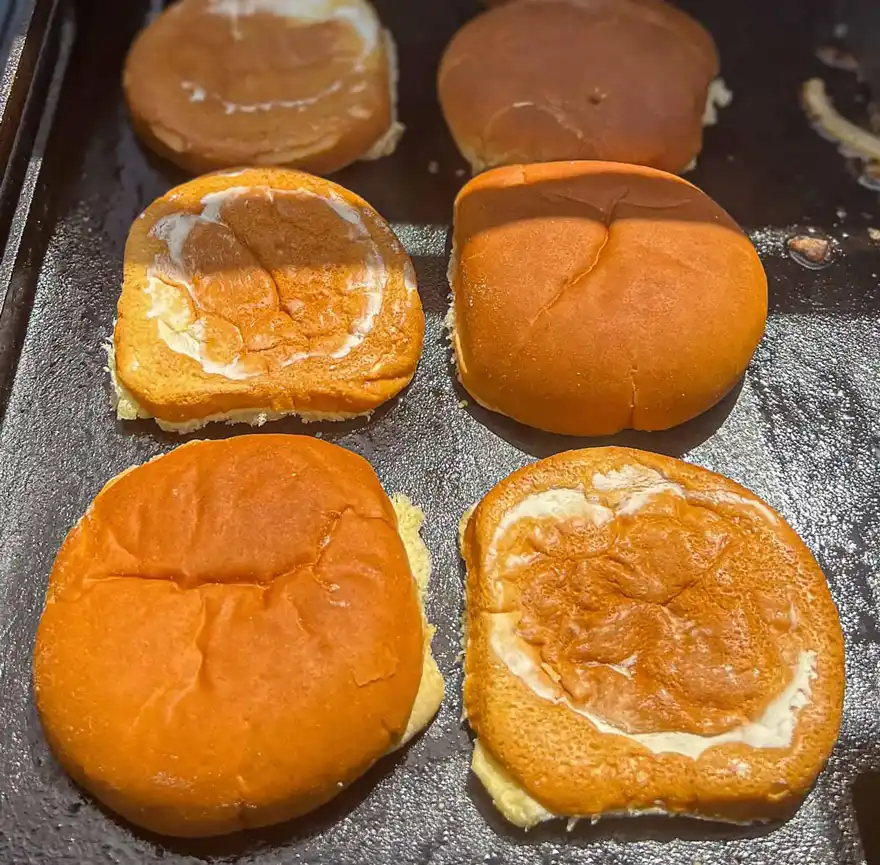 It's time to be blown away by the mouthwatering deliciousness of Blackstone Wet Burrito!
This culinary masterpiece features a hearty filling of seasoned ground beef,, cheese, and veggies all wrapped in a warm tortilla.
Cooked on the Blackstone griddle, the burrito gets a delectable crispy exterior while the flavors meld together to create a sensational taste experience.
The most dazzling part?
A warm and satisfying meal will be ready in only 15 minutes!
Final Thoughts
With a griddle in your kitchen, you're equipped to become a culinary superstar!
So get creative, flip your way to deliciousness and savor the joy of griddle recipes.
Master the art of pancake flipping, embrace the sizzle of burgers, and create culinary delights from around the world.
From breakfast feasts to mouthwatering dinners, griddle recipes bring fun and flavor to every bite with endless possibilities.
So heat it up, get your spatula ready, and let the griddle magic unfold in your kitchen.
Do mention your favorite griddle creation in the comments section below.