Welcome to the sizzling realm of electric skillet recipes where cooking meets convenience!
Embrace the magic of this versatile kitchen tool that serves as a pan, griddle, and more, all rolled into one!
The best part??
There's need to worry about stove space or uneven heating – your electric skillet ensures even, precise temperatures for consistent cooking results!
From hearty breakfast classics like fluffy pancakes to savor-rich dinner ideas with stir-fried veggies or seared steaks, we've got you covered!
So, unlock your creative side as you experiment with new electric skillet recipes and transform ordinary ingredients into extraordinary dishes!
Let's Start!
Presenting a sizzling, one-pan wonder that brings the charm of a classic English breakfast right to your kitchen.
The electric skillet becomes your culinary stage where crisp bacon mingles with hearty sausages, juicy grilled tomatoes and comforting baked beans.
And not to forget…
Eggs – sunny-side-up – glisten with perfection, completing this English masterpiece!
So, rise and shine – this breakfast will be ready in 30 minutes oozing with comfort!
This recipe will rock your world with an electrifying twist on the classic Chicken Chow mein – all made effortlessly in your trusty electric skillet!
Tender chicken strips stir-fry to perfection amidst a medley of healthy veggies – burssel sprouts, mushrooms, celery and onions.
And the magic touch?
Flavorful soy sauce bringing a mouthwatering taste as well as gluing all the ingredients together with a think, gravy-like consistency.
The chicken is then served over rice along with chow mein noodles for a complete meal.
Time to experience a flavorful, easy and delicious Chicken in Electric Skillet recipe!
Grab your electric skillet and watch the magic unfold.
Tender chicken sizzles to perfection, locking in those juicy flavors. A medley of herbs add the best flavor to the meal.
Let the aroma fill the air as everything cooks to golden-brown goodness in under an hour.
With minimal effort and maximum taste, this mouthwatering chicken dish is a weeknight winner!
Here is a rich and heavenly Vegetable and Goat Cheese Frittata, brought to life in your trusty electric skillet!
Loaded with veggies and goat cheese, this egg-based meal brings lots of nutrition to the table.
The most delightful part?
The soft and fluffy frittata is interspersed with melty-cheese pockets to bring a delectable creaminess with each bite.
Watch the frittata cook to a glorious golden hue as you prepare for a nutritious and satisfying breakfast or brunch.
Savor the finger-licking goodness of Electric Skillet Barbecue Chicken!
This recipe takes grilling to a whole new level where the electric skillet ensures the chicken cooks evenly from the outside in.
The outcome?
No undercooked surprises underneath that charred exterior!
And here is what really makes it stand out…
The magical combo of BBQ sauce and zesty orange soda which infuses the meat with a tangy-sweet flavor explosion!
All done in under an hour, it's a lip-smacking masterpiece with satisfying results.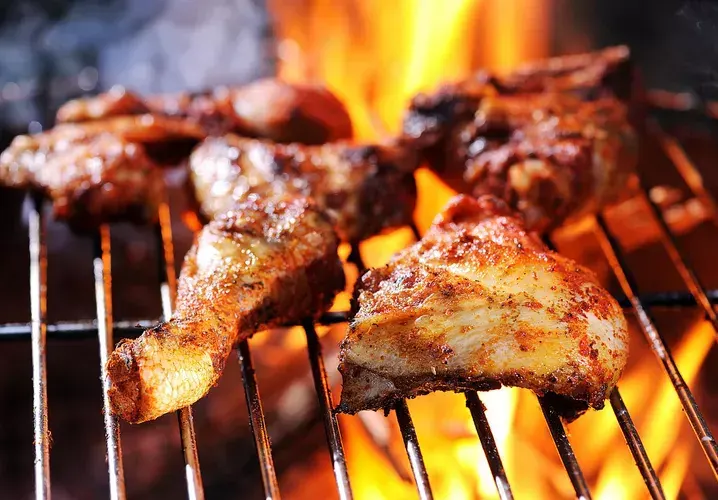 Fuel your outdoor adventures with this Camping Breakfast skillet!
The most exciting part?
With just one pan, you can create a mouthwatering feast – golden hash browns, delicious deli ham, fluffy eggs and melty cheese!
As you dig into this flavorful skillet, you'll be reminded of the joys of nature and the satisfaction of a well-prepared camping meal.
With the ease of an electric skillet, you can create this satisfying meal for breakfast or lunch with the utmost convenience.
Just plug it into your RV's power source or use a portable generator, and you're all set.
Making pancakes on an electric skillet is a whole new experience! This ingenious appliance ensures perfect golden-brown pancakes with ease.
Just pour your fluffy batter onto the non-stick surface, and let the skillet work its magic.
The result?
No more uneven heat or burnt edges! Just perfectly fluffy and delightful pancakes.
This is a basic recipe using simple ingredients. You can customize and add your own flare with your favorite flavorings and toppings.
When life gives you lemons, make this electric skillet lemon chicken!
With just a few ingredients, you can create an excellent meal with juicy chicken combined with citrusy goodness and a hint of garlic.
The best part?
This gorgeous dish takes only 35 minutes to come together beautifully, ready to be served with a side or rice or sautéed veggies.
All done in a single pan, the electric skillet ensure flawlessly cooked meat.
No more hassle with stovetops as you cook your breakfast hash browns in an efficient electric skillet.
The benefits?
The dish is ready more quickly and you can whip up a large batch for your whole family.
And that's not all…
This awesome recipe combines just 3 ingredients to give you deliciously satisfying hash browns with a crispy texture!
So, head to the recipe and discover the easy instructions and visual to guide you all through the process.
Enjoy a bowl of creamy seafood indulgence with Electric Skillet Seafood Chowder!
Tender shrimp, succulent fish, plump scallops and mussels swim together in a rich and velvety seafood stock.
The best part?
Your electric skillet ensures even cooking, allowing the seafood to reach perfection without effort.
Toss in diced Yukon gold potatoes, onions and bacon creating a chowder that's both hearty and comforting.
So, jump to the recipe and learn to create this seafood sensation for the whole family.
Would you believe it?
You can make your own pillow-soft bread at home with dough that required no kneading!
The most incredible part?
This recipe doesn't even need an oven! This one-of-a-kind bread is made in your electric skillet!
Combine just 5 ingredients to create this cheesy bread that can be made ahead and used for the next 4 days without going stale!
So, hurry up! Jump to the recipe and see for yourself what all the fuss is about!
Oh, you're in for a treat with these electric skillet scalloped potatoes!
Picture this…
Tender slices of potatoes layered with creamy goodness, cooked to perfection in an electric skillet.
With its even cooking, the skillet ensure a lovely golden crust topped with ooey-gooey cheese – a satisfying and velvety experience in every bite!
It's comfort food at its finest, delivering a delicious blend of flavors and textures. The skillet ensures even cooking and a lovely golden crust.
The best part?
You throw together just 8 ingredients and create this amazing meal effortlessly.
Oh, let me tell you about this delightful treat – Electric Skillet Brownies!
They're a game-changer in the dessert world, make effortlessly without an oven.
Picture rich and moist brownies, but with the added convenience of using an electric skillet!
No need to preheat the oven. The skillet's even heat distribution ensures perfect baking every time!
So, indulge in this quick and hassle-free way to satisfy your sweet cravings!
Create an indulgent morning treat with this beautiful recipe for Electric Skillet Nutella Stuffed French Toast.
It's a heavenly fusion of crispy, golden French toast filled with ooey-gooey Nutella goodness.
Made with thick slice of French baguette, these are soft and extremely satisfying.
And guess what?
This delicious snack can also be a hit among kids – easy to make and perfect to feed your family!
The electric skillet ensures a perfect, evenly cooked exterior while keeping that velvety Nutella center intact.
You won't believe how innovative and delicious this roast beef is!
Guess what?
Unlike the conventional full roast, it's in the form of shredded meat.
The secret ingredient?
Onion soup mix! An unexpected ingredient for a roast recipe that magically unveils a delightfully savory flavor.
The meat turns out tender and juicy on the inside while forming a crispy, caramelized crust on the outside.
All thanks to the electric skillet that makes the cooking convenient and flawless.
Enjoy the roast meat piled high on a soft bun with melted cheese for a mouthwatering sandwich or serve over a bed of fluffy mashed potatoes!
Looking for an easy side with your protein?
Presenting the Easy Garlic Butter Mushroom Skillet – simple yet rich, aromatic and flavorful.
Guess what?
All you need is 6 ordinary, pantry ingredients and your delicious mushrooms will be ready in 15 minutes with an herby flavor and buttery goodness.
It's a dish that can be made on a regular cast iron skillet or an electric skillet. Choosing the later will bring more convenience to the cooking process.
So, click on the recipe and discover how to give your mushrooms a drool-worthy transformation.
Indulge in the delightful simplicity of Southern Fried Corn!
This classic side dish features fresh and sweet corn kernels sautéed to golden perfection with butter and a sprinkle of salt and pepper.
The result?
Delightfully crispy yet juicy corns with a lip-smacking savory and buttery flavor.
But that's not all…
An optional yet highly recommended ingredient is bacon fat that will add a rich and smoky touch that mingles beautifully with the sweetness of the corns.
Spice up your mornings with this mouthwatering recipe for Spicy Tomato Skillet Eggs with Prosciutto!
So, what exactly makes this dish stand out?
It's a flavorful breakfast that features eggs cooked poached in a zesty tomato sauce, infused with chili for that extra kick.
And there is more…
The eggs are topped with thin and salty slices of prosciutto and flavored with a medley of Italian herbs.
Head to the recipe and master this Italian skillet wonder.
Simple Skillet Green Beans – a delicious, nutritious and low-calorie side dish that can make your meals more vibrant.
You won't believe how easy it is!
Simply sauté fresh green beans in olive oil with garlic and add a flavorful kick with red pepper flakes!
These green beans pair wonderfully with any kind of main course including grilled chicken, juicy steaks or scrumptious fish!
Savor the delicious beans and enjoy the health benefits of these magical greens.
Learn to create mouthwatering hamburgers in an electric skillet in more than 20 minutes!
Sounds unbelievable, but it's true!
From cooking the gorgeously juicy beef patties to toasting the buns to crispy perfection, an electric skillet will be your trusty companion throughout!
And guess what?
No splutters or stovetop hassle!
Just a fun and satisfying meal that breaks the monotony as an exciting weekday meal.
Create a mouthwatering feast in a new way with professional results.
Here is the game changers…
And electric skillet! With even heating, the chicken turns out incredibly juicy with a crispy skin.
And that's not all…
Home cooks love the convenience it offers as there is no need for an oven or dealing with multiple pans!
Just head to the recipe for expert tips on seasoning and achieving that golden perfection.
Warm and comforting grilled cheese sandwiches are a satisfying snack or complete meal any time of the day!
Picture crispy, golden-brown bread enveloping gooey, melted cheese!
The electric skillet's gives a crunchy exterior while the cheese inside turns into a luscious, mouthwatering melt.
It's a quick and convenient way to make this classic favorite without needing a stovetop.
Want to take it up a notch?
Add your favorite fillings, from sliced tomatoes to crispy bacon, for a personalized twist.
Oh, the amazing Loaded Skillet Mashed Potatoes!
Picture creamy, buttery mashed potatoes cooked to perfection in an electric skillet, then loaded with all your favorite toppings.
Melty cheddar cheese, crispy bacon bits, chopped scallions and a dollop of sour cream, all beautifully combined!
It's a versatile and comforting dish that no one can say no to!
It's creamy potato paradise created in less than an hour that will make a gorgeous addition to your dinner table.
Presenting a sizzling adventure with spicy shrimp skillet!
It's an all-purpose that allows you to serve it as an appetizer, on a bed of rice, or as a filling for tacos or wraps!
The most unbelievable part?
With just 5 minutes of prep time and further 5 minutes for cooking, all you need is 10 minutes to have your shrimps ready!
A combination of zesty and spicy, it's a delicious seafood treat for your family or guests.
Spice up your Valentine's Day with an unforgettable Electric Skillet Shrimp Curry!
This dish is all about love and flavor, with tender shrimp cooked to perfection in an electric skillet, bathing in a luxurious, aromatic curry sauce.
The electric skillet creates the creamiest results with juicy shrimp in less than 20 minutes to impress your special someone.
Serve it with fragrant jasmine rice or warm bread for an intimate and delectable meal that'll make this Valentine's Day truly unforgettable.
Time to create a guilt-free delight using your electric skillet with this paleo recipe for an irresistible apple crisp!
Crisp, sweet apples are sautéed to perfection in the skillet, with a grain-free, Paleo-friendly crumble topping.
Think toasted walnuts, coconut flakes and a touch of honey for natural sweetness for a warm and comforting dessert.
So, dig in and savor the taste of fall with this 25 minutes recipe!
Skip the oven and prepare a delectable and savory Shepherd's pie in an electric skillet!
This modern twist combines seasoned ground beef and russet potatoes with a medley of seasonings and herbs for a creamy and delicious dish!
The magic happens when we top it off with a luscious layer of creamy mashed potatoes, perfectly golden and crispy.
Ready in less than an hour, it's ideal as a gorgeous dinner option for busy weeknights.
This beautiful fried fish is created in an electric skillet with results you can't achieve with an ordinary pan!
Cooked evenly with consistent heat, the exterior comes out flawlessly crispy, covering the succulent fish inside!
And guess what…
These lip-smacking, breaded fish fillets take only 20 minutes right from prepping them to cooking!
When it comes to cooking the perfectly fried fish, head straight to this electric skillet recipe and ditch the stovetop hassle.
Here is a low-carb dish loaded with healthy nutrients to offer you a wholesome meal option for your loved ones.
It's a beautifully vibrant meal with lovely chicken chunks, bite-sized broccoli florets and diced bell peppers and zucchini.
And that's not all…
Some gorgeous flavors are infused in the dish with garlic powder, onion powder, pepper and more.
But the best part ever is…
Everything cooks in the same skillet together, leading to a hassle-free and convenient experience for all home-cooks.
Experience the perfect harmony of flavors with zucchini and yellow Squash. It's like summer in a skillet!
Fresh, vibrant veggies are sautéed in an electric skillet, creating a tender and flavorful side dish with beautifully caramelized results.
Here comes the game changer…
Some freshly grated parmesan cheese is sprinkled at the top to give the beautiful veggies a delicious flavor.
Electric Skillet Creamy Tuscan Chicken is a delicious dish with tender chicken cooked in a creamy and flavorful Tuscan sauce.
The main features?
Thick and velvety sauce, juicy chicken and the combination of herbs and spices that give it a rich taste.
With a smooth and luscious, the chicken cooks wonderfully in the electric skillet as the sauce coats it beautifully.
Learn to create this delicious feast in just 30 seconds with this amazing recipe.
Presenting the ultimate quick and satisfying meal!
This hearty dish combines tender ground beef, perfectly cooked macaroni, and a flavorful sauce that's both comforting and delicious.
The most incredible part is…
We use the simplest ingredients to cook up this wonderful and exciting meal that delights the whole family.
And guess what…
It's all done in the same skillet where you season and sauté the beef with vegies and add the macaroni!
Do try this simple yet super-satisfying recipe.
Electric Skillet Sloppy Joes – a scrumptious and easy-to-make dish that brings a classic American favorite to your table in no time!
The main ingredients include ground beef cooked with onions and bell peppers, mixed in a tangy and sweet tomato-based sauce.
The result?
A yummy creation with tender meat and crunchy vegetables coming together in a flavorful and messy delight.
The secret tool?
An electric skillet of course. The precise temperature control and consistent heating ensure perfect and quick cooking!
Would you like to try an innovative burrito experience?
This Quick-Fix Burrito Skillet brings all the flavors of the classic without the hassle of rolling it up.
Simply cook seasoned ground beef with green onions, salsa and gooey cheese before stirring in the tortilla pieces.
But wait, there is more…
Top it with sour cream for a delicious, one-of-a-kind burrito delight!
Savor the succulent taste of Electric Skillet Steak!
This dish offers a juicy and tender steak seared in an electric skillet with perfect results.
The magic touch?
Precise temperature control that lets you get the ideal doneness for your steak. The recipe shares the right temperature settings for your preferred results.
And ingredients?
Just four!
With the steak of your choice, you can create a lovely dinner with a gorgeous herby and savory taste!
Did you know?
You can make some buttery soft dinner rolls in a skillet and ditch the oven for a change!
Here is the result you'll get…
The edges turn out chewy with a soft center featuring a flaky touch.
But here is what really makes these dinner rolls stand out!
A collection of herbs, garlic powder and sea salt that infuse the rolls with an irresistible aroma and an unforgettable taste.
It's an innovative, easy and one-of-a-kind recipe you must try!
When you're stuck for a quick dinner fix, turn to the Sausage and Vegetable Skillet!
It's a lifesaver meal that's both delicious and nutritious. Simply cook sausages with your favorite veggies in a single skillet, and voilà!
The best part?
You can sneak in those veggies for your kids effortlessly.
Bursting with flavors and colors, this dish is a surefire hit for the whole family.
Discover the delightful Electric Skillet Yogurt Cake – a unique and moist dessert option!
This cake stands out with its use of yogurt, giving it a creamy and tangy twist.
And guess what?
With the electric skillet's consistent heat distribution, you'll achieve a perfectly baked dessert to dazzle your folks.
It's a versatile treat that can be enjoyed plain, with a scoop of ice-cream or fresh fruit.
Whether you're a baking enthusiast or a beginner, this unique electric skillet cake is a must-try!
Here is a wonderful skillet creation to surprise you with its utmost convenience!
The unique and delicious dish features tender chicken cutlets that are smothered in a rich, flavorful spinach-mushroom cream sauce.
The outcome?
A mouthwatering combination of textures and flavors that pair perfectly with pasta or grains, making it a hearty and satisfying meal.
But here is the best part…
It's a healthy meal option as the spinach and mushrooms add essential nutrients.
Looking for an elegant dinner that's perfectly cooked?
Time to dust off that electric skillet and make some perfectly cooked fish!
It's not your ordinary fish dish – this one is special.
It's a delicious salmon seasoned with paprika and pepper for a flavorful kick! Plus a creamy sauce accompanies juicy veggies as a delightful side.
Whether it's a romantic dinner for two or a sophisticated meal for special guests, this mouthwatering option is easy to make and sure to impress!
Final Thoughts
Here comes the end of our tantalizing electric skillet recipes adventure. We hope you've enjoyed the flavorful journey!
Now you're equipped to delight your loved ones with culinary creations that blend convenience and taste like never before.
From breakfast to dinner, this versatile device will be your trusty companion for effortless and delectable recipes to make in an electric skillet.
Happy cooking, and may your kitchen always be filled with the aroma of mouthwatering success!
Do share your feedback about your experience with electric skillet recipes.