Jingle all the way with this wonderful collection of Christmas Trifle recipes.
From classic English Trifle to festive Gingerbread Cake Trifle, you are sure to find the right flavor for you.
Did you know?
The gorgeous layers in a trifle actually have a scientific basis!
According to experts, these layers create a unique texture which leads to an enhanced eating experience.
So, check out these trifle recipes for Christmas and create some layers of fun for the festive season.
Let's begin!
Celebrate Christmas with the most traditional English Christmas Trifle.
Layers of pound cake, whipped cream and fresh fruit will take you down the memory lane to your childhood Christmas days.
Try this classic recipe and enjoy the most decadent festive dessert. You may also add your own layer of jam or jelly.
Give the conventional Christmas trifle a more festive look with this recipe.
What makes this dessert more special?
It is garnished with crumbed red and green cakes – perfect theme for Christmas.
This dessert is more than just a tempting appearance.
A creamy and thick texture comes from condensed milk wile cream cheese adds another layer of delight.
Nothing beats a classic trifle dessert after a hearty Christmas meal.
Layers of jam rolls, jelly, fresh fruit and custard – mouthwatering!
You can, of course, tweak it a bit by adding fruits that you love – peaches, strawberries, bananas, oranges or anything that takes your fancy.
Do check out this recipe to create this beautiful layered dessert.
This stunning Christmas Trifle is full of berry goodness.
It's bright red color and sweet-tangy flavor makes it a lovely addition to your holiday dinner table.
And the best thing is…
It is really simple to make. So you can impress your guests with the minimal effort.
This recipe is just what you are looking for if you are beginner in the cooking department.
All you need to do is layer up everything nicely. You will have a crowd pleasing dessert ready without hassle.
And what makes this recipe stand out is…
The cute individual servings idea. It is sure to be a hit with your guests.
Here is an amazing way of whipping up an awesome Christmas dessert with leftover ingredients.
Have you ever wondered what to do with leftover Christmas cake?
You can use it to create a wonderful trifle by adding just a few more ingredients available at home.
Check out the recipe to discover how to turn the ingredients in your kitchen into a wonderful trifle.
Learn to create a delicious dessert in 20 minutes!
This recipe makes use of leftover Christmas pudding as the trifle base with added custard, prunes delicious double cream.
And there is more…
The tempting individual servings are a great idea as everyone can have their own little treats.
Give your traditional Christmas trifle a citrusy twist.
The combination of oranges and chocolate cake is an ultimate burst of flavor! You've got to try it to believe it!
Plus, the bright orange color adds some freshness to your dinner table. It is a touch of sunshine for your winter festival celebration!
Get ready to give your ordinary Christmas trifle a refreshing twist with the unbeatable combo of orange and chocolate.
It is an easy dessert that is ready within an hour. You may prepare it in advance and enjoy the rest of the time with your family.
Check out the recipe and create this heavenly version of the classic trifle.
Are you a beginner in the kitchen?
Try this easy recipe for traditional English trifle that you can serve this Christmas.
The most delightful thing about this recipe is…
There are no hard and fast rules about the ingredients! Use your favorite flavor of jelly, add any fruits you like and decorate the dessert the way you want!
This booze soaked trifle is for folks who like to have desserts with some kick.
Layers of sweet strawberry and tangy rhubarb combine with creamy custard and moist sponge cake to create this awesome sweet dish.
And there is more…
The vibrant red color makes it a festive addition to your Xmas feast.
This gorgeous nutty trifle deserves a place on your Christmas menu.
Enjoy layers of home-made sponge cake, blueberries, whipping cream and toasted almonds.
But this is what your guests will be most impressed with…
This trifle is made from scratch!
Follow the easy instructions in the recipe to create this masterpiece.
Simple layers combine to create an extraordinary trifle for your Christmas day that look absolutely stunning!
The recipe makes use of Scottish shortbread. Hence, the name Scottish Christmas trifle.
This is what you are going to love about it…
It is a flexible recipe – add or swap ingredients according to your taste and mood.
Here is a fun and colorful trifle that is going to win the heart of every kid in your family.
Made with layers of bright jelly, juicy sponge cake and yummy custard, this trifle is a joyful treat that's easy to make.
Here is a suggestion…
Add some candy canes or sprinkles for extra festive fun.
Christmas would be dull without a traditional trifle for dessert if you are on a diet.
Not to worry!
This healthy version features sugar-free jelly and home-made custard that is free from artificial sweeteners and flavorings.
So, check out this recipe and indulge in your favorite dessert with absolutely no guilt!
Add something unique to your Christmas table with these gorgeous trifle jars. These are definitely going to be a show-stopper at your holiday feast.
Take a break from the usual vanilla custard and strawberry jelly. Try this new flavor with cranberries and oranges.
And guess what?
It take only 45 minutes to create 5 of these stunning jars!
Extremely pleased to present this vegan version of your favorite Christmas dessert.
It features non-dairy whipping cream and milk with an eggless sponge cake to create the most beautiful layers of trifle.
So, check out this easy recipe and make your Christmas day more fun with a dessert that fits your vegan diet.
Are you excited to discover the recipe for a delicious Christmas trifle that fits your diet routine?
Here is a low-carb, Keto version of an amazing Black Forest Trifle.
The wonderful layers in this dessert are made with sugar-free jelly, low-carb chocolate filling and sugar-free cherry jam.
So, relish the rich dessert without worrying about gaining weight over the holidays.
If you or a family member has gluten allergy, don't deprive yourself of an awesome Christmas dessert. Just give this gluten-free recipe a try!
It has everything a conventional Christmas trifle offers – jelly, custard, sponge cake, cream and strawberries.
Create it from scratch or used store-bought ingredients, keeping the dessert gluten-free.
Strawberries and jelly always make a classic combination for Christmas trifle.
This recipe brings a surprising twist on the traditional trifle dessert.
Orange juice!
Drizzle some over sponge cake before adding the next layer. The tangy flavor beautifully compliments the sweetness of vanilla custard and raspberry jelly.
Get ready for a stunning, snowy white dessert perfect for the Christmas.
Who would have known a simple trifle could be so elegant?
Using Angel food cake, the beautiful dessert features white baking chocolate, whipping cream and peppermint cadies.
And the real surprise is…
You need no more than 5 ingredients to create this heavenly beauty!
Indulge in a dream dessert for the winter holiday season. The gorgeous dessert is as delicious as it appears.
With Meringue, madeleine and berries, it is luxurious dessert that perfectly fits a festive Christmas menu.
And the best part is…
It's easy and simple to make and is a good recipe for beginners.
Behold a wonderful spiced twist on the classic Christmas dessert!
Flavorful gingerbread cookies are the highlight of this trifle. The use of various warm spices – ginger, cinnamon and cloves – create a delectable taste.
Another great feature of this recipe is…
It is perfect for vegans! It's eggless with non-dairy milk and coconut based whipping cream.
Try a different flavor of trifle this Christmas.
Capture the beautiful essence of winters with pears and ginger for a scrumptious Christmas dessert.
So, layer them together with rich cream and custard. Add crushed ginger biscuits at the top for a delightful crunch.
Plus, the beautiful presentation of this trifle is going to take everyone's breath away.
Bored of the same old vanilla custard with raspberry jelly in your Christmas trifle?
Try this recipe that brings a refreshing change for your Christmas trifle.
The layers in this dessert are pumpkin spice cake, pumpkin puree, cream cheese, whipped cream and bits of toffee.
What a mouthwatering combination!
Enjoy your Christmas festivities with this gorgeous Berry Trifle.
This indulgent and rich dessert is also juicy and refreshing – all thanks to the wonderful berries.
A wonderful thing about this recipe is…
You can prepare the trifle a couple of days beforehand so that you can enjoy the festivities with your family on Christmas day.
Christmas feasts are all about indulgent and rich food.
And what better way of indulging than this decadent Triple Chocolate Trifle?
It is the perfect holiday treat for chocolate enthusiasts.
Layers of mocha mousse, fudge sauce and Devil's Food Cake crumbs are going to make you fall head over heels in love with this dessert.
Can you imagine Christmas celebrations without a traditional English trifle dessert?
Absolutely not!
Make your festive day happier with this simple yet decadent dessert.
You may customize this basic recipe to add your favorite fresh fruits or use the flavor of jelly you like.
Finally, layers the ingredients the way you want for the best results!
If you want to try a new trifle flavor this Christmas, Biscoff Banaofee Trifle is highly recommended!
This indulgent dessert features layers of fresh sliced bananas, crunchy Biscoff cookies, irresistible caramel sauce and whipped cream.
The result?
A combination of flavors and textures is simply divine!
Ripe bananas perfectly complement the crunchy cookies and sticky-sweet caramel sauce.
Turn your Christmas Trifle into a fun, mini treat for your guests.
The tempting presentation brightens up your Christmas table and impresses guests.
And that's not all…
You can prepare these babies beforehand. Have fun with your kids creating the layers in each individual serving.
Everyone at your Christmas party is sure to feel joyous with your mini Christmas trifles.
Have you ever heard of such a dessert before?
If not, here is your chance to give an innovative twist to your ordinary Christmas trifle.
It is a fancy and festive dessert that is going to make your guests awestruck!
So, turn to this recipe if you want to combine your love for apple pie and trifle!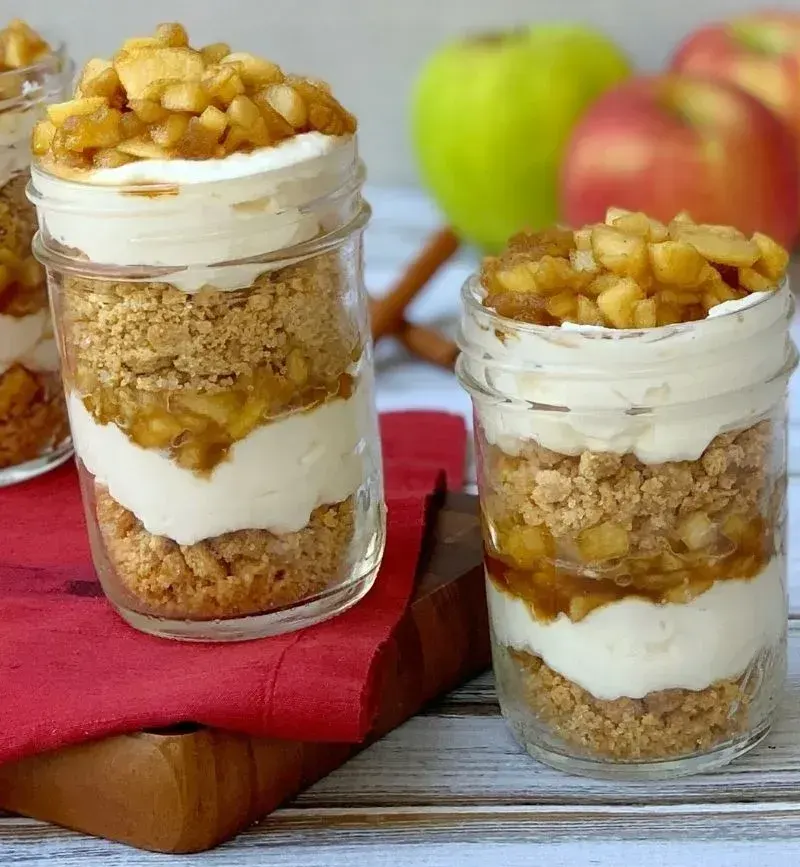 Brace yourselves for a Christmas trifle that is going to steal the show!
It is an epic fusion of orange flavor with ginger cake. Layer of white chocolate pannacotta topped with generous amounts of cream seals the deal!
This amazing trifle is a refreshing change from the usual vanilla and strawberry flavor.
Looking for a quick trifle recipe?
It's your lucky day!
You can prepare this gorgeous gingerbread trifle within half an hour!
All you need is 5 to 6 ingredients to whip up this trifle. Nothing has to be made from scratch – you can easily use store-bought ingredients.
Here is a gluten-free version of your festive flavor for trifle.
East as much as you want without any health troubles.
And another amazing feature of this trifle is…
You can make it ahead of the actual Christmas feast. That will give you plenty of time to focus on the rest of your cooking.
A hearty gingerbread trifle is such a delight to have on the auspicious occasion of Christmas.
But don't be scared of making this amazing dessert!
This easy recipe will guide you to create a lovely festive trifle without any hassle.
So, check out the recipe and don't miss out on this wonderful dessert.
This delicious trifle is a beauty to behold!
Bright red cherries with snow white cream is an eye-catching combination that can steal the thunder at your Christmas feast.
And there is more…
There is a symphony of flavors to enjoy with orange juice soaked cake that has been spiced nicely with nutmeg and cinnamon.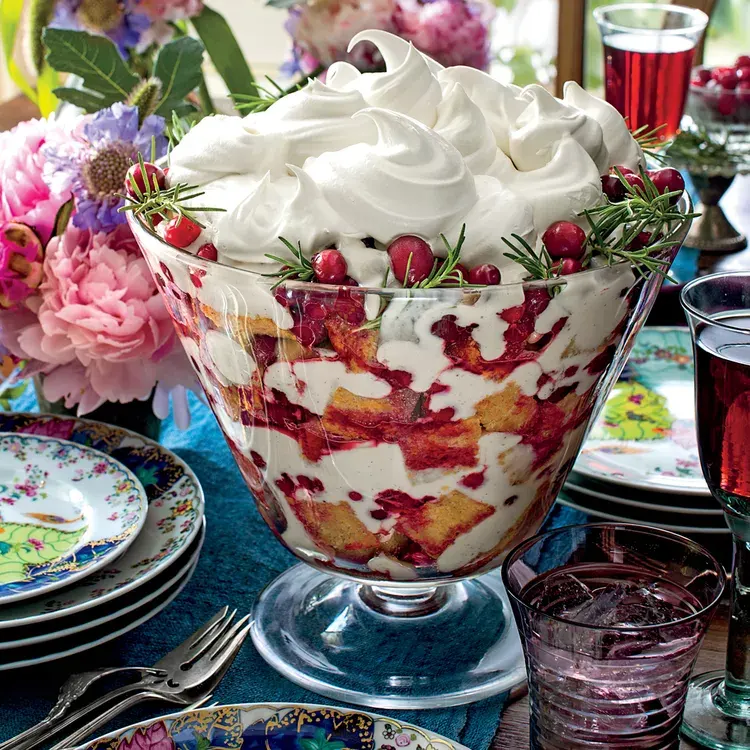 How to give your Christmas feast an unforgettable finishing?
Make and serve a delicious Pumpkin Cream Trifle that will leave everyone licking the last morsels off their spoons!
Here are the highlights of the dessert…
A creamy pumpkin puree, spice cake, cheesecake flavor pudding and – of course – velvety whipped cream!
Here is the perfect dessert for coffee lovers.
It is not your run-of-the-mill trifle!
The rich dessert features coffee flavored jelly, praline, cookies and cream cake and mascarpone custard.
Just looking at the recipe is going to make your mouth water!
Do try this unbelievably good holiday treat.
Enjoy a decadent pumpkin trifle this Christmas with layers of spiced cake and pumpkin cheesecake.
Do you know why it is a good idea to replace the conventional trifle with this version?
It adds variety to your Christmas dessert table. Plus, it is a great way of using any leftover pumpkin from your Thanksgiving feast preparation!
This is a simple trifle with a little variation to keep the holiday spirit alive!
Layer the dessert conventionally with sponge cake, custard, cream and fruits.
But here is one thing that is different…
A layer of yummy chocolate cream!
Make individual servings in cute little glasses for the added oomph factor!
Final Thoughts
So there you have it – a wonderful collection of the best Christmas Trifle recipes since it's the season to indulge in a festive treat!
From the most traditional trifles to the ultimate chocolate desserts or seasonal pumpkin and spice variations, these trifle recipes for Christmas are sure to inspire you!
So what are you waiting for?
Give your favorite recipes a try and do leave your feedback below.