It's time to embark on a cherry-filled adventure that is full of sweetness and fruity goodness!
The secret ingredient?
Cherry pie filling! It's super easy to use and makes desserts extra yummy.
There are just so many magical recipes with cherry pie filling – classic pies, creamy cheesecakes and scrumptious cakes!
And did you know?
The delicious cherries are full of antioxidants and iron! So, each indulgent bite also brings valuable nutrients!
These recipes with cherry pie filling are waiting for you to grab the ingredients and start cooking up a storm!
Let's get started with the fun!
Ah, the classic cherry pie! It's a dessert that never goes out of style.
We can't get over the golden crust that's flaky and buttery, hugging a luscious filling bursting with juicy cherries.
Now, let me spill a little secret.
Using cherry pie filling makes it a breeze to whip up. No need to pit and cook cherries from scratch!
And guess what?
If you grab a store-bought crust, the process gets even easier.
So, head to the recipe and learn to make cherry pie hassle-free!
Get ready for some magical baking fun with Cherry Pie Filling Dump Cake!
Imagine a dessert that's so easy, even kids can help you make it.
Simply dump three ingredients together – cherry pie filling, cake mix, and melted butter. That's it!
Just mix, pour, and bake.
The result?
A heavenly concoction of sweet cherries and fluffy cake!
So gather your little helpers and get ready for a delightful, fuss-free baking adventure that's full of fun!
Cherry Cobbler – juicy cherries nestled beneath a blanket of buttery, crumbly goodness!
Each bite is a delightful combination of sweet and tart flavors.
Now, here's the best part!
This quick recipe uses canned cherry pie filling, making it super easy without sacrificing taste.
So, get all the deliciousness without the fuss! Indulge in a bowl of cherry-filled happiness in no time!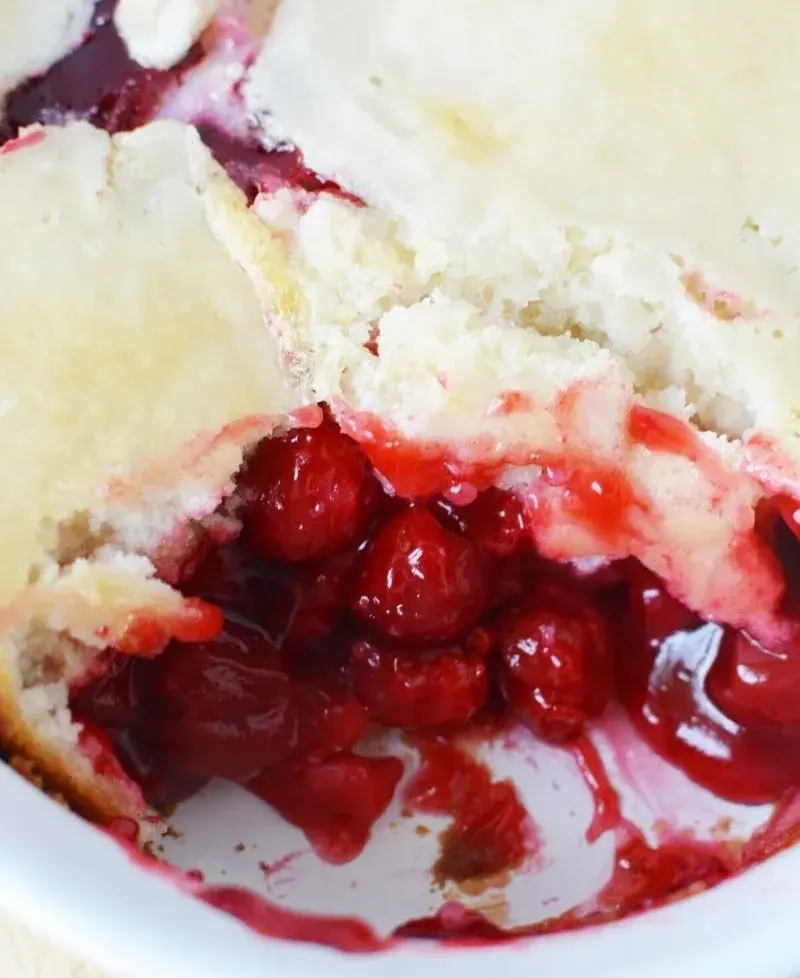 Calling all cherry pie lovers!
Brace yourselves for cherry pie bars – a unique form of pie perfection! These individual bars are always fun to make and easy to serve!
With just a flick of your whisk and a dollop of cherry pie filling, you'll have a whole pan of mouthwatering bars in a jiffy.
Expect to receive a barrage of compliments because these cherry pie bars are always a hit.
Hey there, pancake lovers! Get ready for sweet, cherrylicious pancakes that will give you the motivation to jump out of bed!
These fluffy pancakes are kissed with the delicate essence of almond and delicious cherry pie filling.
The best part?
Using canned cherry pie filling makes it super simple to create this one-of-a-kind breakfast magic.
So, whip up this quick and yummy breakfast on any morning!
Don't miss out on the chance to treat yourself to a plateful of pure pancake heaven!
Indulge in the decadent delight of a Black Forest Trifle – a dessert masterpiece that'll make you earn the super-chef status in your family!
It features gorgeous layers of luscious chocolate, fluffy whipped cream, and cherry pie filling.
The result?
A stunning sight with alternating layers of velvety goodness that are so incredibly indulgent!
And guess what?
This impressive masterpiece is actually very easy to put together!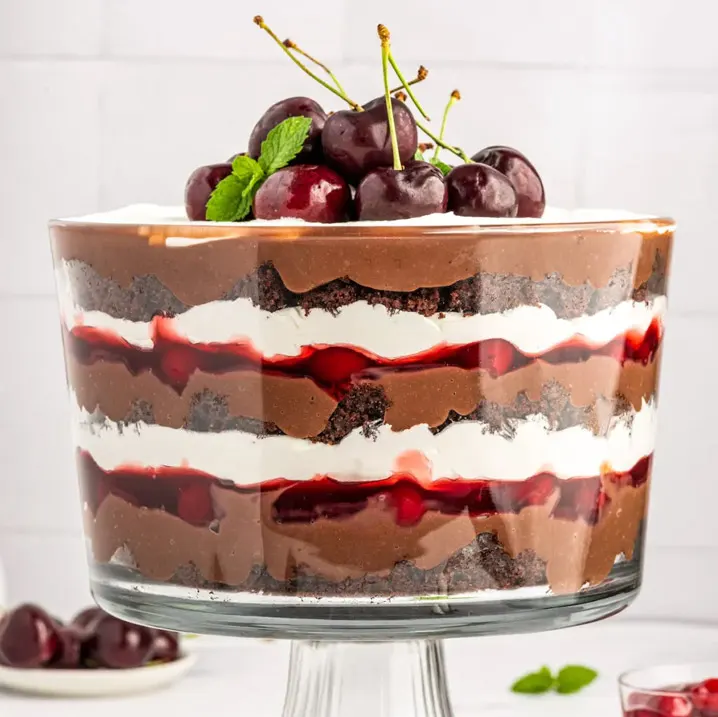 Cherry Cream Cheese Pie is about to rock your dessert world!
It features a creamy, dreamy filling infused with luscious cherry pie filling, nestled in a buttery graham cracker crust – a classic that's always love!
And guess what?
Making this impressive and indulgent dessert is a Piece of cake!
No baking, no pitting and cooking of cherries and no hours of creating the perfect filling!
Just whip it up with a can of cherry pie filling, chill, and voila!
Cherry Swirl Cheesecake is a creamy dream that makes you drool with vibrant cherry goodness.
Who doesn't like a velvety, smooth cheesecake with ribbons of cherry delight running through it?
Don't worry, home cooks, you got this!
Making it is easier than you think with only 8 ingredients on the list! Plus, only 20 minutes of prep time before refrigerating it to set!
Here is a delightful creation featuring a fluffy sponge cake drizzled with a sweet and tangy cherry glaze.
This light and airy cake is perfect for tea-time. You may also pair it with a dollop of cream or a scoop of ice-cream as an after-dinner treat.
And guess what?
This simple yet delectable cake just needs 10 minutes of prepping time before you pop it in the oven for the next 45 minutes!
Get ready to be blown away by the stunning Marbled Cherry Pie Cake!
It's a delicious fusion of cherry pie and cake, swirled together in a mouthwatering masterpiece.
Imagine the sweet, fruity taste of cherry pie filling combined with the moist, tender texture of cake. So indulgent!
Don't be intimidated by the masterpiece!
You can definitely create this beauty in your own kitchen.
Oh, and did I mention the recipe has a helpful video?
So, don't wait any longer! Head over to the recipe and get ready to bake up some marbled magic!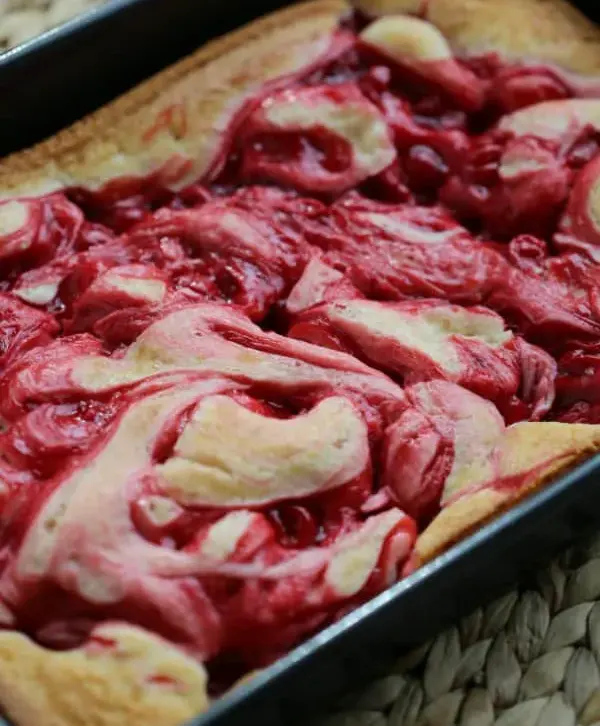 Indulge in layers of rich chocolate cake, luscious cherry pie filling and fluffy whipped cream. It's pure dessert decadence!
But don't worry!
Even beginner bakers can conquer this beauty with this amazing recipe.
Using just 4 ingredients, you will have this impressive dessert sitting on your dining table in no time!
So, if you ready to impress your family and guests with minimum effort, head to the unbelievably easy recipe.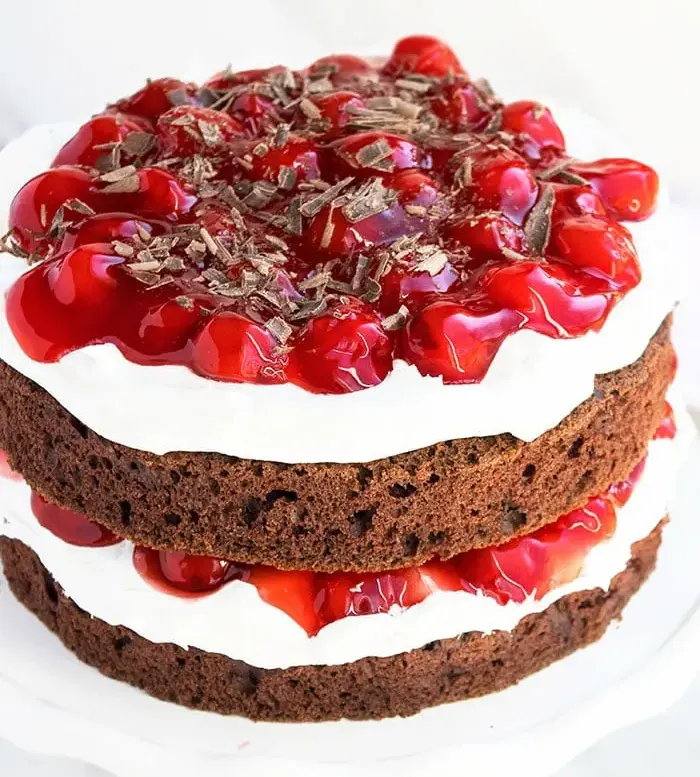 This incredible Heaven on Earth Cake is your paradise on a plate!
This divine creation features layers of fluffy angel cake, velvety sour cream pudding, and a delightful burst of cherry pie filling.
And there is more…
The cake is topped off with a cloud of whipped topping and a sprinkle of crunchy almonds.
But here is the best part…
This impressive dessert is actually easy to make with this quick recipe!
Here is a delightful treat known as Cherry Squares!
These bite-sized squares are a burst of cherrylicious goodness – a fluffy cake base with a heavenly cherry pie filling on top!
This sweet and tangy flavor goes really well with a texture that's soft and satisfying.
But here's the secret…
Serving them in squares is better than a whole cake because it's easy to grab and enjoy. Plus it's ideal for sharing!
So, hurry and head to the recipe to whip up these irresistible Cherry Squares.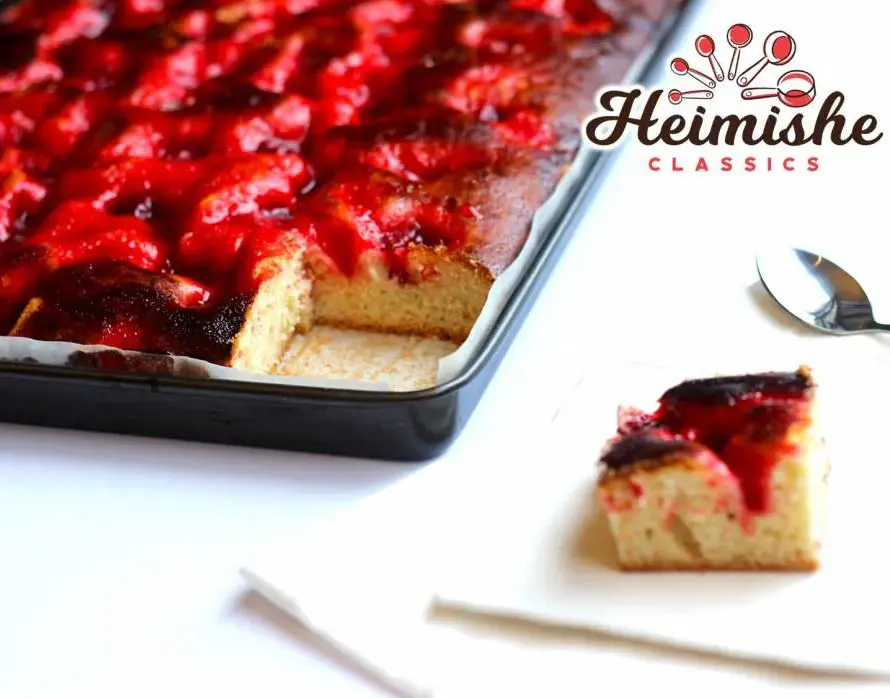 Calling all busy bees!
Need a scrumptious cake in a flash?
This incredible 2-ingredient recipe comes to your rescue!
It's the perfect solution when you're short on baking time but crave something divine. Simply grab a box of angel food cake and a can of cherry pie filling!
The result?
A soft and airy cake with juicy cherry topping! Such effortless perfection!
So, head straight to the recipe and impress everyone with this time-saving, mouthwatering delight!
Introducing a trifle like no other!
Here is the unique twist…
Instead of the conventional layers of cake, this recipe suggests chocolate cream sandwich cookies – more crunch and more decadence!
Plus, a whole layer of cherry pie filling brings fruity goodness that beautifully complements the chocolate cookies and whipped cream!
And not to forget…
The dessert instantly turns beautifully vibrant with the cherries.
It is a wonderful way of creating a delicious and eye-catching treat in a flash!
Get ready for a muffin makeover with Cherry Cobbler Muffins!
These delightful treats combine the best of both worlds filled with fruity goodness that can be felt in every bite!
And let's not forget the cinnamon sugar sprinkle on top that adds a hint of warmth to the muffins.
And here's the catch!
This recipe features a handful of basic ingredients plus a can of cherry pie filling for easy-breezy baking.
Would you like to try something different from your usual cherry pies and cheesecakes?
Here is a unique flavor combination – cherry coffee cake!
And this is no ordinary coffee cake!
It's a delightful blend of a moist cake bottom, juicy cherries and a crumbly, buttery topping.
But here is what will surprise you!
This incredible dessert needs just 8 basic ingredients and this wonderful creation is ready!
Get ready to try something super yummy – Cherry Pudding Cake!
It's a special dessert where cake and pudding come together in a delicious way.
Here is what makes it so wonderful…
It's a warm, gooey cake that features delicious and juicy cherry pie filling bursting inside!
Combine just 8 pantry ingredients to create this irresistible and addictive dessert!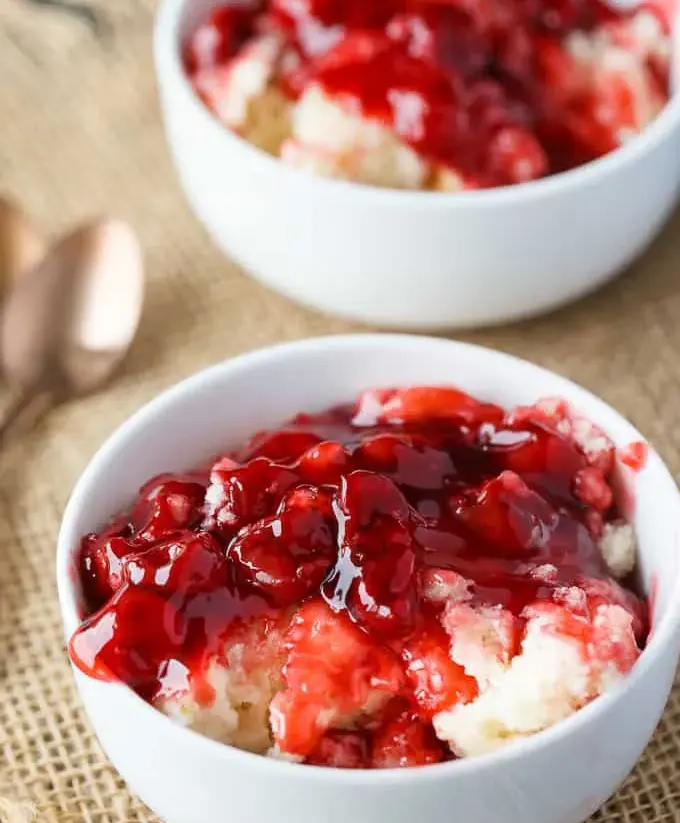 Here is a dessert that better than a cake!
It's a crumb cake! A dessert that's all about the texture!
Tender cake base topped with a layer of buttery, crumbly goodness enhanced by cherry pie filling!
And not to forget the charming coffee flavor that adds the oomph factor to the sweetness.
Creating the perfect crumb is a bit complicated. But not with this recipe!
Follow the clear picture instructions and learn to create the perfect crumb cake that is irresistible!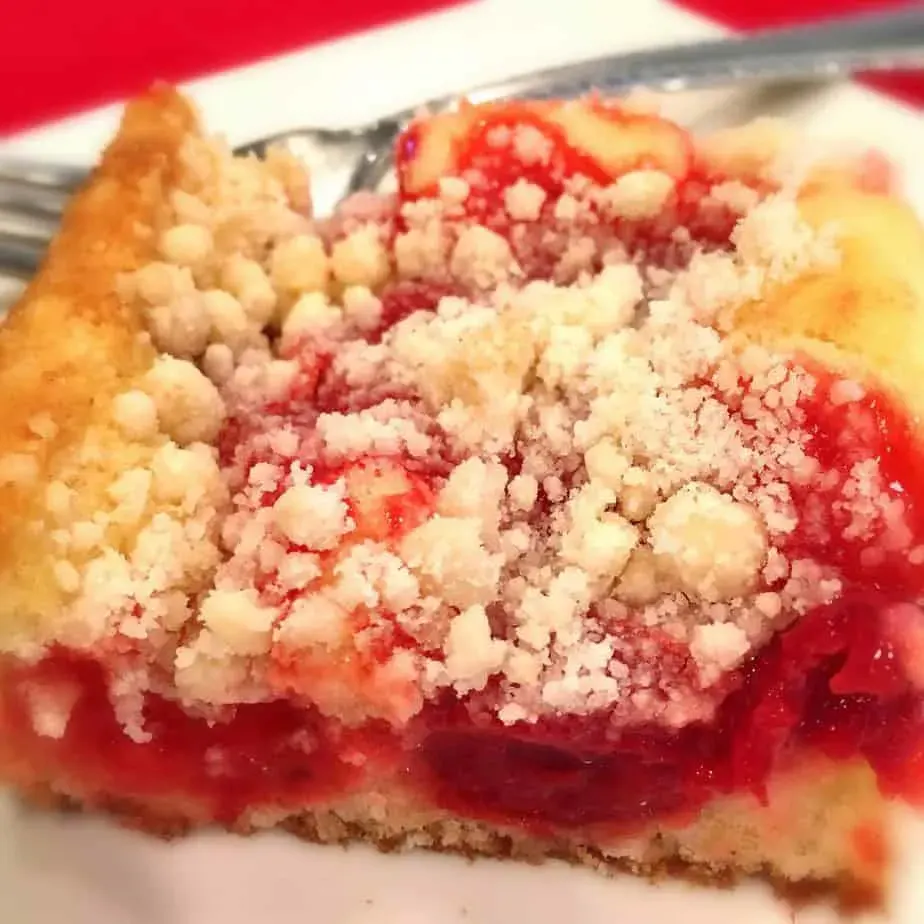 This recipe tells us how to add some fruity goodness to chocolaty heaven!
These easy chocolate cherry muffins are full of decadent chocolate flavor and delicious cherry pie filling – a rich and divine combo!
But here is what will make you rush to the recipe!
These gorgeous muffins are created with just 3 ingredients! Super easy, super quick and super delicious!
So, create these baked goodies for your kids, guests or just yourself and satisfy your sweet tooth!
Don't be turned off by the word salad!
It's not a collection of sliced veggies or fruits that leave you unsatisfied!
In fact, cherry pie salad is an indulgent treat full of juicy and sweet cherry pie filling, rich condensed milk, marshmallows, whipped cream and pecans!
And the result it…
A creamy and decadent treat that is as good as any dessert can be!
Simply combine a handful of ingredients and create this velvety and fruity delight that can be a sweet ending to any meal.
These adorable treats are mini pies that fit perfectly in your hand.
It is a flaky treat filled with sweet cherry goodness! The taste is a burst of fruity delight, while the texture is a perfect balance of crispy crust and juicy filling.
And guess what?
You can make your own perfect hand pies using just 4 ingredients mentioned in the recipe!
Enjoy them on-the-go at picnics or as a quick grab-and-go dessert!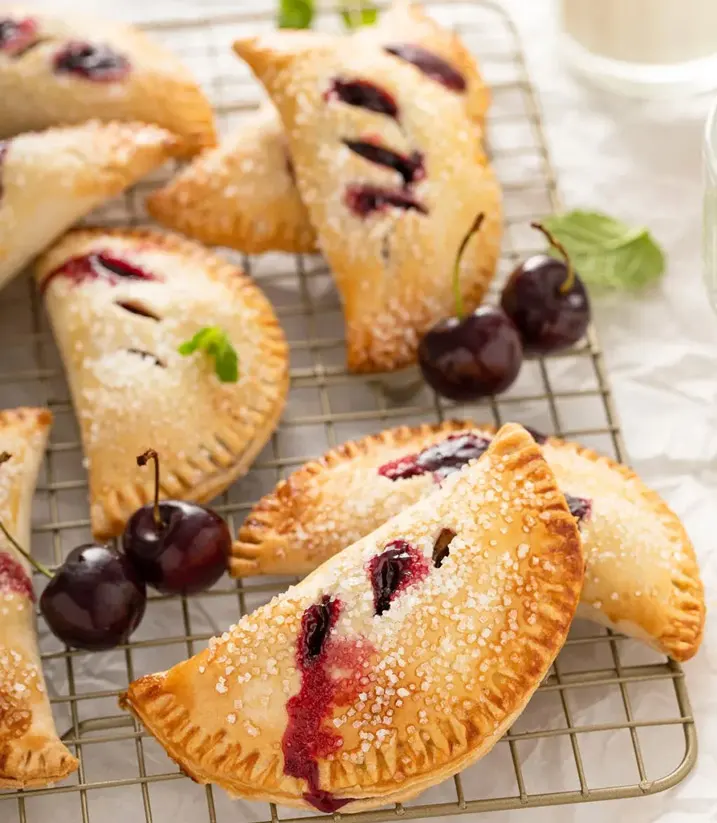 Get ready to be blown away by this amazing recipe. It's like nothing you've ever seen before!
Here is a pastry crust shaped like a fancy envelope, but instead of letters, it's filled to the brim with luscious cherry pie filling!
It's a treat that's perfect for those extra special moments, like Valentine's Day – an envelope full of your love!
Plus the sugar sprinkled at the top adds to the sweetness and sparkling charm!
Easy Cherry Turnovers are like little flaky pockets of happiness filled with sweet cherry goodness.
The taste is a heavenly blend of tartness and sweetness while the flaky pastry adds a satisfying crunch.
And the best part is…
You don't have to make anything from the scratch! Just follow the recipe and use only 6 ingredients for the perfect cherry turnovers!
Enjoy them for breakfast or an indulgent snack whenever you crave for it!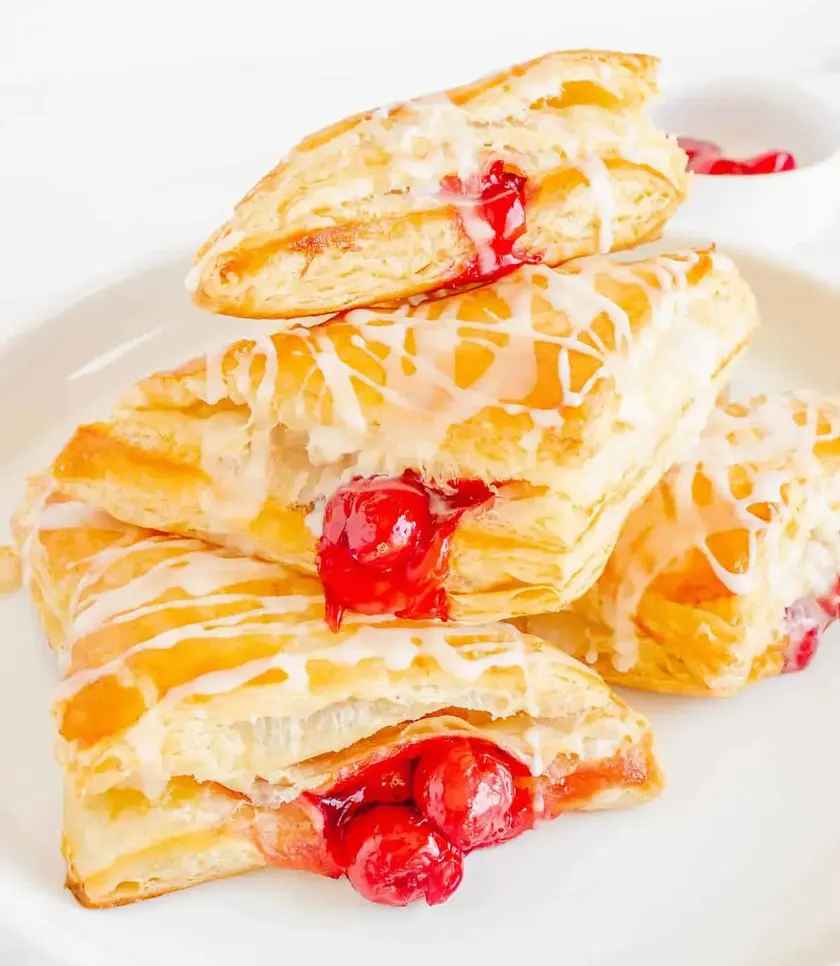 These cherry pie bites look small and humble, but here is the reality!
These are like mini bombs that explode in your mouth with cherry goodness!
These bite-sized wonders are made using flaky crescent rolls, adding a buttery and irresistible texture to the dessert.
And the most incredible part is…
You can whip up these treats using just 4 ingredients!
They're perfect for parties, afternoon snacks, or anytime you crave a burst of cherry-filled delight.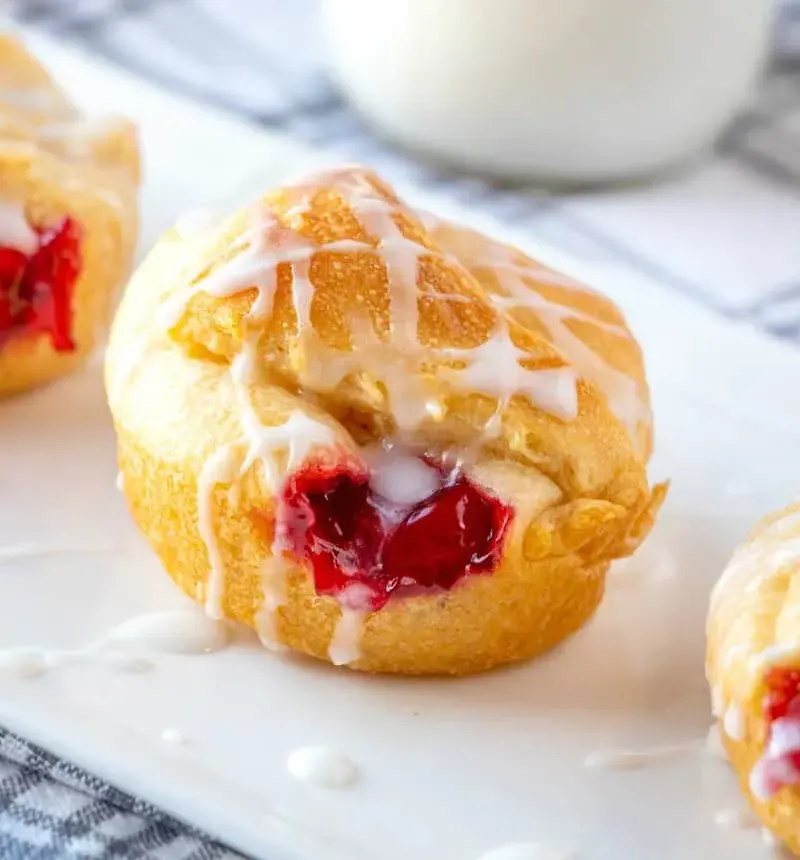 Get ready for a donut experience like no other with Air Fryer Cherry Pie Donuts!
These little delights are filled with a generous amount of luscious cherry pie filling that oozes out with every bite.
And here's the best part!
These are made using an air fryer – no unhealthy deep frying with lots of oil!
Plus, the texture is crispy and soft!
Oh, and don't worry about the preparing process!
There are picture instructions to guide you through.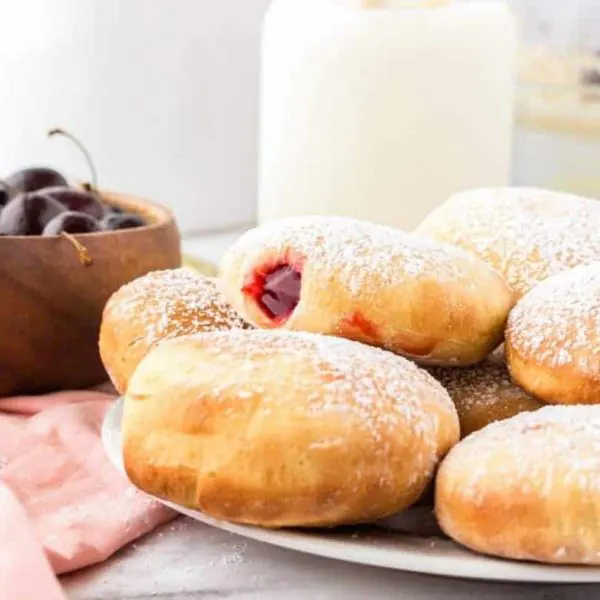 Cherry Pie Fluff is a delightful dessert that combines the best of both worlds – the creamy goodness of fluff and the fruity delight of cherry pie.
And surprisingly…
The luscious dessert is actually light. Perfect as a summer treat or a pillow-soft after-meal snack.
But the best part is here…
All you need is 4 ingredients to put together this satisfying treat!
And there is more!
This recipe also guides you to create a sugar-less version!
Here is the quickest pie you can ever make!
With graham crackers as the crust, the topping is made with ice-cream and cherry pie filling – creates the same touch as the classic cherry pie!
It is a must try recipe! No baking and no waiting around till the pie is cooked!
Plus, the ice-cream makes it a perfect summer-time treat to chill with!
So all you pie lovers, try this one-of-a-kind cherry pie ice-cream sundae and unleash the extraordinary flare!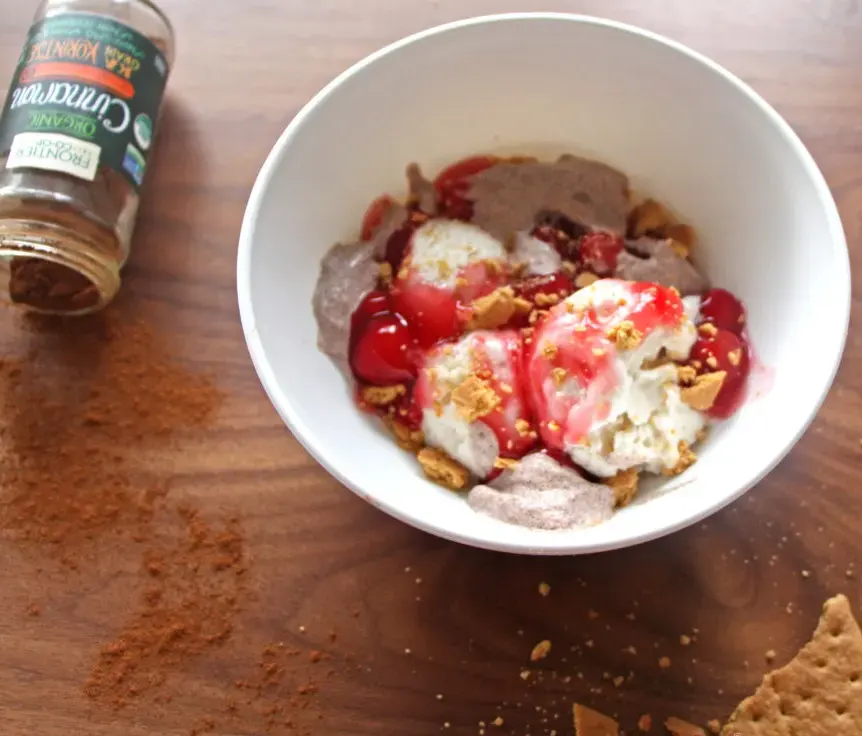 Make your breakfast more exciting and refreshing with this indulgent Cherry Pie Greek Yogurt Parafait.
It is not just a delicious, but also a beautiful way to start your day – a vibrant layer of cherry pie filling topped with snowy white yogurt!
And there is more…
The granola topping adds a wonderful crunch. Plus it also brings health benefits.
So, if you want your breakfast to be more vibrant and a balance between delicious and healthy, do try this recipe!
A Cherry Crisp dessert is a delectable treat that features a sweet and gooey cherry pie filling topped with a crispy and crumbly topping.
Here is the exciting part…
The crunchy topping is made with oats, brown sugar and cinnamon – a delectable fusion of crispy, sweet and warm tones!
And this dessert can be made even when fresh cherries are not in season. Simply used canned cherry pie filling!
So, go ahead and whip up this super-easy dessert that's a medley of wonderful flavors and textures!
Final Thoughts
Alright folks, so we come the end of our adventure with cherry pie filling recipes.
Just imagine the ease of creating a cherry pie cheesecake, filled donuts or black forest cakes with that perfect gooey filling!
This magical ingredient makes everything more convenient and quicker as you don't have to de-seed the cherries and cook them!
So grab a can and try these recipes with cherry pie filling for vibrant desserts, exciting breakfasts and fun-filled tea time snacks.
But before you embark on your cherrylicious journey, do share your comments and let us know what you think about these recipes.