Step into the world of delicious and nutritious Weight Watchers recipes.
Replace those oily potato fries with healthy zucchini chips, switch those heavy desserts with fruity yogurt pops and stay on track!
With baked fish recipes to air fried chicken, cut the fat from your meals and trim your waist without compromising on the flavor and quality of food.
Did you know?
Weight Watchers recipes are nutrient dense, but low in saturated fats and calories.
So, get ready to indulge in a satisfying feast without a hint of guilt!
Let's dive!
This delightful and nutritious dish brings together the vibrant flavors of a classic Greek salad with the wholesome goodness of quinoa and chickpeas.
These bowls are bursting with freshness featuring crisp cucumbers, juicy tomatoes, tangy Kalamata olives and creamy feta cheese!
Guess what?
The addition of cooked quinoa and fiber-rich chickpeas provides a satisfying texture and helps keep you full for longer – no more mindless munching!
Here is a mouthwatering and weight-conscious delight!
The most incredible part?
This dish replaces traditional pasta with nutritious zucchini noodles, creating a lighter and lower-calorie option.
Plus, tender and lean grilled chicken adds protein to the mix, making it a satisfying and balanced meal.
And not to forget the homemade pesto sauce that coats everything creating a lip-smacking flavor!
Overall, with fewer calories and carbs compared to regular pasta dishes, this Zucchini Noodles with Pesto & Chicken is a smart choice for weight watchers!
Presenting a nutritious and delicious alternative to traditional burrito bowls – a treat for weight watchers!
The main feature of the dish is…
Instead of using rice, this recipe features cauliflower rice, which is lower in carbs and calories!
Sautéed with corns, black beans, cilantro and flavorful spices, it creates a satisfying base for a mouthwatering topping of chipotle chicken!
This most unbelievable part?
This amazing dish is ready in just 13 minutes!
Enjoy a fresh and lighter twist to traditional wraps for your healthy eating routine.
Instead of using tortillas, these wraps are made with crisp lettuce leaves!
What's the benefit?
Lettuce is a low-calorie and carb-conscious alternative. Plus, it adds a refreshing crunch!
Now let's explore to the filling – lean ground chicken cooked with a flavorful blend of garlic, ginger and soy sauce.
Topped with crunchy peanuts, fresh green onions and a dash of Sriracha sauce, it's one of the most irresistible items on a weight watcher's menu!
Here is the perfect dinner idea for all our weight conscious folks – baked salmon.
The baking process is a good alternative for pan frying the fish with oil or butter. Plus, it helps in retaining the natural flavors of the delectable salmon.
This protein-rich treat is also full of omega-3 fatty acids that are great for the health of your heart!
Want to turn it into a complete meal?
Serve it with steamed veggies or a fresh salad, creating a balanced plate.
If you are looking for a satisfying meal option that fits your weight loss regime, here is the perfect choice for you!
Lean protein combines with broccoli, cooked in a creamy sauce made with reduced fat cream of chicken soup and evaporated milk.
And guess what?
You can use pre-cooked, leftover chicken for this recipe, helping you recycle and making this dish quicker!
Simply layer up in a casserole dish and toss into the oven for a healthy treat.
Presenting a decadent treat that will satisfy your sweet cravings without derailing your healthy eating goals.
This velvety mousse replaces heavy cream and butter with creamy avocado, which adds a smooth texture and healthy fats.
And there is more…
Dark chocolate – known for its antioxidants – gives this dessert its rich flavor without excessive sugar.
And guess what?
This healthy dessert is sweetened with maple syrup instead of white sugar!
Incredibly indulgent and delicious, it's a wonderfully healthy surprise!
Learn to create a hearty and wholesome soup that's a nutritious delight for health-conscious eaters.
This Italian classic is loaded with a colorful array of healthy veggies like carrots, sweet potatoes and baby spinach offering a range of vitamins and minerals.
And that's not all…
The addition of protein-rich beans, mushrooms and pasta makes it a filling and balanced meal.
It's a lovely meal option for any day of the week as it takes no more than 35 minutes to be ready.
Sea food lovers rejoice!
Presenting an easy, healthy and low-carb grilled shrimp to add to your weight watchers menu list!
These succulent shrimp are seasoned with spices and a rare combination of soy sauce, lemon juice and apple juice!
The result?
Flavorfully zesty and robust!
Plus, presented on skewers, it is a great way of putting an exciting dish on the table!
Treat yourself to a delightful and nutritious delight that combines layers of creamy yogurt, sweet blueberries and crunchy granola.
The best part?
This parfait is a burst of flavors and textures, providing a wholesome and satisfying experience.
And guess what?
The creamy yogurt is a rich source of calcium and probiotics, promoting your gut health.
And there is more…
Fresh blueberries add natural sweetness and antioxidants, while the granola provides fiber and crunch.
Incredibly easy to make with a handful of ingredients, it's a must-try recipe to enjoy the wholesome treat with all its health benefits.
Make your breakfast hearty yet low in calories with this recipe for skinny vegetable frittata.
Packed with an array of healthy vegetables like bell peppers and mushrooms, it is a great of getting a dose of vitamins and minerals.
The best part?
You can make it healthier by customizing the veggies selection with spinach, tomatoes and more.
But here is what makes the frittata stand out!
It's made of egg whites instead of whole eggs, reducing the overall calorie and fat content! Perfect for weight watchers!
Oh, you've got to try these Cauliflower Tacos!
They're perfect if you're watching your weight, but still craving for some deliciously satisfying food!
Here is what this dish is all about…
You load up some corn tortillas with a healthy mixture featuring cauliflowers, avocado crema and a refreshing red cabbage topping!
And not to forget…
The lip-smacking taco seasoning is the game changer which infuses the filling with mouthwatering flavors!
It's a fun, guilt-free treat that weight watcher and vegetarians both can enjoy!
Low Carb Zucchini Carbonara is a scrumptious and waistline-friendly twist on a classic Italian pasta dish.
In this version, traditional pasta is replaced with spiral zucchini noodles, reducing the carb content significantly.
The creamy carbonara sauce is made with eggs, Parmesan cheese, and a touch of garlic, creating a rich and flavorful coating for the zucchini noodles.
And the final magic touch?
Crispy bacon adds a delicious smokiness to the dish!
It's a low-carb and high-protein meal offering some mouthwatering yet guilt-free indulgence!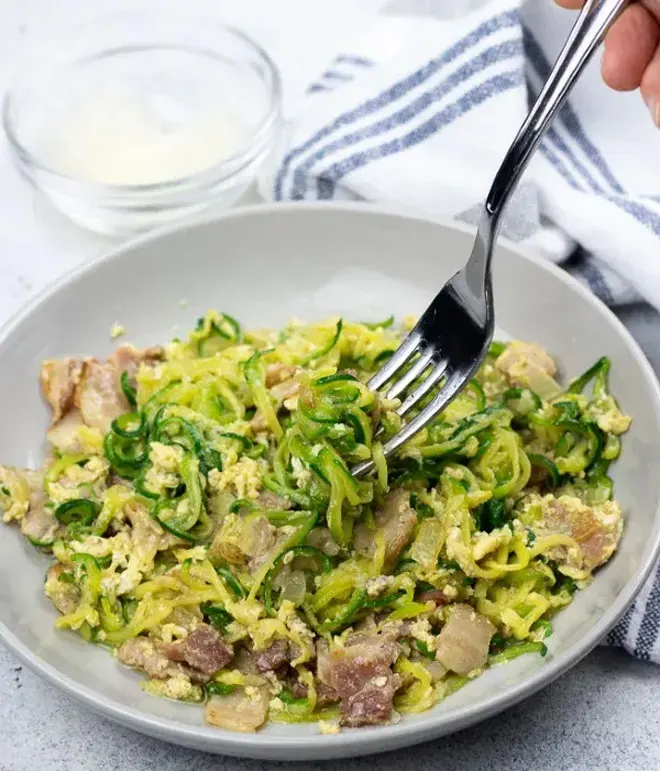 Allow me to introduce you to these amazing Ground Turkey Stuffed Peppers as a figure-friendly option for weight watchers.
Picture this…
Colorful bell peppers stuffed with flavorful ground turkey that's lean and delicious.
But wait, there's more!
We've got some brown rice thrown in for that extra wholesome goodness! And don't forget the fresh spinach that adds a burst of nutrients.
Now here comes the best part…
These are topped off with a sprinkle of melted cheese that makes these peppers even more irresistible!
Time to enjoy a burst of fruity goodness without guilt!
Guess what?
This beverage has no sugar!
We use frozen bananas to add a touch of natural sweetness to complement the tangy strawberries.
And here is a wonderful surprise…
Instead of dairy-milk, we use oat milk – much lower in fats and calories. Plus, it also turns out to be perfect for vegans!
Made with just 5 ingredients, enjoy the wholesome treat at breakfast or snack time!
Made with wholesome ingredients, these oatmeal cookies offer a treat to enjoy without the excess fat!
Rolled oats provide a hearty texture and fiber, while dark chocolate chips add a rich, indulgent touch without the extra sugar.
And here is a unique twist…
There is just a little amount of butter, substituting most of it with unsweetened applesauce!
These low-calorie cookies are perfect for your weight conscious diet!
Enjoy these chewy and satisfying cookies as a delightful snack, a sweet ending to a meal or anytime you crave a waistline-friendly dessert.
Explore a fun and exciting way to enjoy your eggs at breakfast.
We start with shredded potatoes, forming them into cute nests that get baked until they're crispy and golden!
Then comes the fun part…
Fill those nests with a mix of vibrant kale and other colorful veggies.
But wait, there's more!
We crack open some eggs on top and bake it all together until those eggs turn perfectly runny.
And the result is crispy, creamy, and nutritious goodness!
Ready to spice up your taste buds with some Skinny Chicken Tikka magic?
Picture tender boneless chicken, bathed in a luscious marinade of low-fat Greek yogurt and tantalizing India spices.
Can you feel the excitement building up?
Now, we grill it until it's juicy and full of flavor.
It's a low-carb and low-fat meal for times when you are craving for an exciting meal that brings some heat to your dinner table!
And guess what?
All those spices are going to give a boost to the fat burning process!
Before you give in to those cravings for an unhealthy snack, take a look at how to make this easy, nutritious and absolutely refreshing salad!
It's the perfect summer-time treat featuring the thirst-quenching watermelon with cucumber and crumbly feta.
Ready in 10 to 11 minutes, it's just the right dish to whip when you need to satisfy your hunger pangs without cheating on your diet.
So, check out the recipe and give the vibrant salad a try.
This heavenly concoction is here to satisfy your coffee cravings with a sugar-free and low calorie option.
And guess what?
You begin with plant-based milk, making it a healthier treat that's suitable for all vegans out there.
Flavored with sugar-free vanilla flavor, the beverage is infused with a flavorful experience that's light yet delightful.
The best part?
Creating this classic latte at home is a breeze with only 4 ingredients to combine!
First of all, can we just appreciate the name – Buddha Bowl?
It's not just a regular bowl – it's a bowl of pure goodness and Zen vibes!
So, what's inside this bowl of wonder?
We've got roasted sweet potatoes, which are like little nuggets of healthiness, and protein-packed chickpeas to keep you fueled and satisfied.
And let's not forget the rainbow of fresh veggies – kale, red onion broccolini – all adding a burst of color and nutrition!
Drizzle it all with creamy Tahini sauce and voilà!
You've got yourself a Buddha Bowl – a wholesome and flavorful meal that'll make you feel like a true Zen master!
Need a healthy snack on-the-go?
What's better than protein-rich, low-fat granola bars?
Picture chewy, nutty and loaded with all the good stuff! They're packed with protein, fiber and healthy fats, giving you amazing energy!
These bars are made with rolled oats, nuts, seeds, peanut butter and protein powder for that extra oomph!
And if the nutty crunch isn't enough for you, the recipe adds some indulgent chocolate chips to delight you!
It's a must-try recipe for your snack cravings!
Here is one of the easiest recipes for weight watchers – a lentil soup that's ready in less than an hour!
So, what's the secret?
The protein-rich Lentils are the stars here offering a fat-free and low-calorie meal that is really satisfying!
But that's not all…
We've got a medley of colorful veggies in there too – carrots, celery and onions.
And guess what?
Garlic, pepper, cumin and tomato sauce bring in lots of flavor so you can enjoy the soup with every slurp!
Give your breakfast a low-calorie twist with a simple egg white omelette!
Did you know?
Egg whites are rich in protein but low in calories and fats.
Plus, an egg white omelette can be customized any way you want. This recipe sneaks in some spinach and adds a touch of parmesan for more flavor!
So chuck out the cholesterol-loaded yolk and create a guilt-free, fluffy omelette just from the whites!
Add a fantastic quinoa and black bean salad to your weight loss regime – a delicious, low-calorie food for any time of the day!
Do you know how quinoa helps you with your health goals?
Being high in protein and fiber, it makes you feel full for longer periods and keeps you away from cravings!
But wait, there is more!
Black beans add even more protein and fiber, promoting a sense of satiety while aiding digestion.
So, learn to create this wonderful salad and avail the benefits of the star ingredients in your weight loss journey!
Oh, let me tell you about these amazing Baked Zucchini Chips!
Imagine thinly sliced zucchini, seasoned with smoked paprika and cumin that make them taste oh-so-good!
And here's the best part!
They're baked, not fried!
So, you get all the crispy goodness without the extra oil and calories.
And there is more…
Zucchini is like a superfood – low in calories but high in vitamins and minerals, offering a very healthy snack!
Citrus Rainbow Salad is like a burst of sunshine on your plate! It's packed with colors, flavors, and tons of goodness!
Featuring red and white cabbage along with carrots, it's a fun addition to your table. Plus, the lemon and orange juice add a refreshing citrusy touch!
Easy-to-make, one-of-a-kind and healthy, it's a happy salad that brings delight to your plate!
Imagine all the cheesy, saucy goodness of traditional lasagna, but with a healthy twist!
Instead of pasta, this recipe uses thinly sliced zucchini to create these cute little roll-ups – a low-carb, vegetarian treat!
But don't worry…
You won't miss the pasta one bit – the zucchini adds a delightful texture and flavor with ricotta, parmesan and mozzarella for the ultimate cheesiness!
So, whether you're cutting carbs or just want to enjoy a tasty and lighter lasagna, these roll-ups are a must-try!
Introducing the irresistible Mediterranean Roasted Chickpeas – crunchy, flavorful, and perfect for weight watchers!
These savory bites are loaded with Mediterranean spices, adding a burst of taste without the guilt.
But here's the best part…
The low-calorie chickpeas are a fantastic source of plant-based protein which supports weight loss and helps you achieve your health goals!
So, go ahead, click on the recipe and learn to make the easy snack.
Get ready to indulge in a healthier version of chicken parmesan with this waist-friendly recipe.
Skip the frying and opt for baking the eggplant, which means fewer calories and less oil!
The eggplant slices are layered with a tangy tomato-based sauce and a sprinkle of low-fat mozzarella cheese, creating a flavorful and satisfying meal.
Guess what?
With the eggplant's rich and meaty texture, you won't even miss the meat!
Here is a refreshing frozen treat that offers a delicious and guilt-free way to beat the summer heat!
Made with creamy yogurt and a medley of fresh berries, it is an indulgent delight to satisfy your sweet tooth.
Guess what?
You can sweeten these ice pops naturally by replacing sugar with honey. Plus adding bananas with the berries also add a touch of natural sweetness.
The most incredible part?
This fun treat needs just 3 ingredients! It's the easiest dessert for your sweet cravings.
Delight in a crisp and refreshing Cucumber Dill Salad!
This light and zesty salad is a blend of crunchy cucumber slices, aromatic dill and juicy red onions.
The best part?
It's a low-calorie option that keeps you feeling full and hydrated!
And guess what?
Cucumbers are rich in water content and fiber, while dill adds flavor along with antioxidants!
It's an incredibly easy salad loaded with health benefits.
Prepare a mouthwatering meal in just 15 minutes with this air fryer recipe for crispy chicken breast!
The most amazing part?
This recipe offers a satisfying crunch without the added calories of deep-frying!
Simply marinate lean chicken breast in a blend of spices and a touch of olive oil. Air fry until achieving a golden and tender texture.
The result?
A low-fat, delightful meal that's perfectly satisfying!
Here is a bowlful of heath!
Packed with vitamins, minerals and antioxidants from fresh tomatoes and green beans, this soup aids digestion and promotes a feeling of fullness.
But here is the best part for weight watchers…
Low in calories and fat, it's a satisfying and delicious option that supports weight management goals!
Ready in just 35 minutes, this nutritious soup can be whipped up on any weekday.
Here is an indulgent way to enjoy a sweet treat that's loaded with nutrients.
This delectable dessert combines chia seeds with a luscious blend of almond milk and unsweetened cocoa powder.
And guess what….
It's a sugar-free dessert that is sweetened naturally with maple syrup along with warm and complementing tones of cinnamon.
Preparing it the night before allows the seeds to develop a creamy, pudding-like texture, offering a convenient and filling option!
Start your day with a wholesome breakfast by enjoying Apple Cinnamon Oatmeal.
This nutritious dish combines hearty rolled oats, fresh apple slices, and a dash of fragrant cinnamon.
Guess what?
There is no refined sugar in this porridge! Instead, enjoy the natural sweetness of apples with honey or maple syrup.
But the best part is this…
Being rich in fiber, oats make you feel full for longer, keeping you away from unhealthy snacking!
Make your simple breakfast more beautiful and vibrant with healthy poached eggs and tomatoes on toast.
Poached eggs offer a protein-packed boost to keep you feeling full and satisfied without a single drop of oil used for their preparation.
And guess what the tomatoes bring other than juicy goodness!
A burst of vitamins, antioxidants and lycopene, contributing to heart health and overall well-being!
So what are you waiting for?
Head to the recipe and discover this vibrant gem for your weight management goals.
Presenting a treat for the fall season. This moist and flavorful bread is a healthier twist on the classic, made with sugar substitute.
Packed with the warm essence of pumpkin and aromatic spices, it's a delightful autumn-inspired snack or breakfast option.
Guess what?
Use this recipe to make a delicious pumpkin bread or pour the same batter into muffin molds and create beautiful breakfast muffins!
It's a delicious, low-fat treat for weight watchers to enjoy.
Here is an incredible meal option that's suitable for a weight watcher's diet as well as for our vegetarian friends.
This casserole combines protein-rich black beans, fiber-packed brown rice, and a medley of vegetables to create a well-balanced meal.
The most incredible part?
This casserole requires only 15 minutes of prep time and 35 minutes in the oven! So easy and hassle-free to make!
Savor the vibrant goodness of Honey Lime Rainbow Fruit Salad that offers a super-healthy alternative to refined sugar-loaded desserts.
It's a delightful and effortless option for weight watchers seeking a nutritious treat.
Bursting with colors and flavors, this salad features a medley of fresh, ripe fruits along with a lip-smacking honey lime dressing.
The best part?
You can add any of your favorite seasonal fruits to enjoy the salad just the way you want!
Final Thoughts
Wrapping up the amazing world of Weight Watchers recipes, we've discovered delicious and satisfying dishes that make healthy eating a joy!
The secret?
Smart ingredient choices and creative cooking techniques!
Imagine indulging in crispy air-fried chicken guilt-free or savoring a creamy chocolate treat with avocado and low-fat cocoa.
But it doesn't end there!
These recipes come with a bounty of health benefits, like starting your day with a wholesome apple and oats breakfast or relishing a fresh rainbow salad.
Weight Watchers recipes are the key to a happy, tasty and wholesome lifestyle!
What do you think?
Do leave your feedback and thoughts in the comments section.