Baking isn't as difficult as people have made it because there are sour milk recipes that can help you save milk and money.
We are saying this because sour milk is the ultimate secret weapon when we talk about baking because it has acidity, promising a fluffy and light texture.
That's the reason we shared a lot of sour milk recipes because it will help you keep up the baking.
In fact, our recipes using sour milk will ensure that you never run out of options (don't we all get tired of thinking about what to make?).
This delightful dessert takes the classic lemon cake to a whole new level with the addition of sour milk.
The sour milk not only imparts a unique tanginess to the cake but also helps keep it moist and tender.
The zesty lemon flavor perfectly complements the subtle sourness, creating a balanced and refreshing taste.
It's a fantastic treat for citrus lovers and a great option to impress guests at parties or gatherings.
Say goodbye to ordinary pancakes because these tangy buttermilk pancakes are here to elevate your breakfast game!
Buttermilk has long been a secret weapon in making fluffy and flavorful pancakes, and its slightly sour taste adds a twist to the traditional recipe.
The tanginess works wonders in cutting through the sweetness of maple syrup or your favorite pancake toppings.
These pancakes are an absolute treat on lazy Sunday mornings, and they're guaranteed to become a regular feature on your breakfast table.
When it comes to comfort food, there's nothing better than a creamy Alfredo sauce draped over a plate of fettuccine.
Now, imagine taking this classic Italian dish and infusing it with the richness of sour milk.
The result is a velvety smooth sauce that boasts a subtle tang, which complements the savory flavors of garlic and parmesan cheese.
This delightful twist on a beloved recipe is sure to impress both pasta enthusiasts and food connoisseurs alike.
Don't let your sour milk go to waste; instead, blend it into a refreshing and nutritious smoothie!
This creative use of sour milk adds a tangy kick to the smoothie while contributing probiotics and calcium to boost your gut health and bone strength.
By combining sour milk with your favorite fruits like berries, bananas, or peaches, you create a velvety smooth and creamy drink.
This drink is not only delicious but also an excellent way to start your day or replenish after a workout.
These savory muffins are a game changer in the world of baking. Adding sour milk in the batter results in moist and tender muffins with a delightful tanginess.
The addition of fresh chives imparts a subtle oniony flavor, elevating these muffins to a whole new level of sophistication.
They make for a wonderful side dish for brunch or a delightful accompaniment to soups and salads.
The Sour Cream and Chive Muffins are a unique twist on traditional sweet muffins, and their delectable taste will have you reaching for seconds and thirds.
Get ready to be transported to a world of enticing aromas with this Spiced Sour Milk Bread.
The combination of sour milk, cinnamon, nutmeg, and cloves creates a heavenly fusion of flavors that fills your kitchen with a tantalizing scent.
The sour milk helps create a soft and moist crumb, while the spices add depth and character to each slice.
Whether enjoyed fresh with a pat of butter or used as the base for your favorite sandwich, it is a true testament to the wonders of baking with sour milk.
Ranch dressing enthusiasts, prepare to be blown away by this tangy twist on a classic favorite.
The use of sour milk in the dressing adds a distinctive zing, elevating the flavor profile to new heights.
It maintains that signature creamy and herby taste you love in ranch dressing but with an extra kick.
Whether drizzled over a fresh garden salad, served as a dip for crunchy veggies, or used as a sauce for chicken wings, it will become your go to condiment.
If you're looking for a light and refreshing dessert to beat the summer heat, this Citrusy Sour Milk Sorbet is the perfect choice.
The tanginess of the sour milk harmonizes beautifully with the bright and zesty flavors of oranges, lemons, and limes.
The result is a smooth and velvety sorbet that bursts with fruity goodness and leaves a delightful tingle on your taste buds.
This sorbet is not only a delicious treat but also a healthier alternative to traditional ice creams, making it a guilt-free pleasure for all sorbet enthusiasts.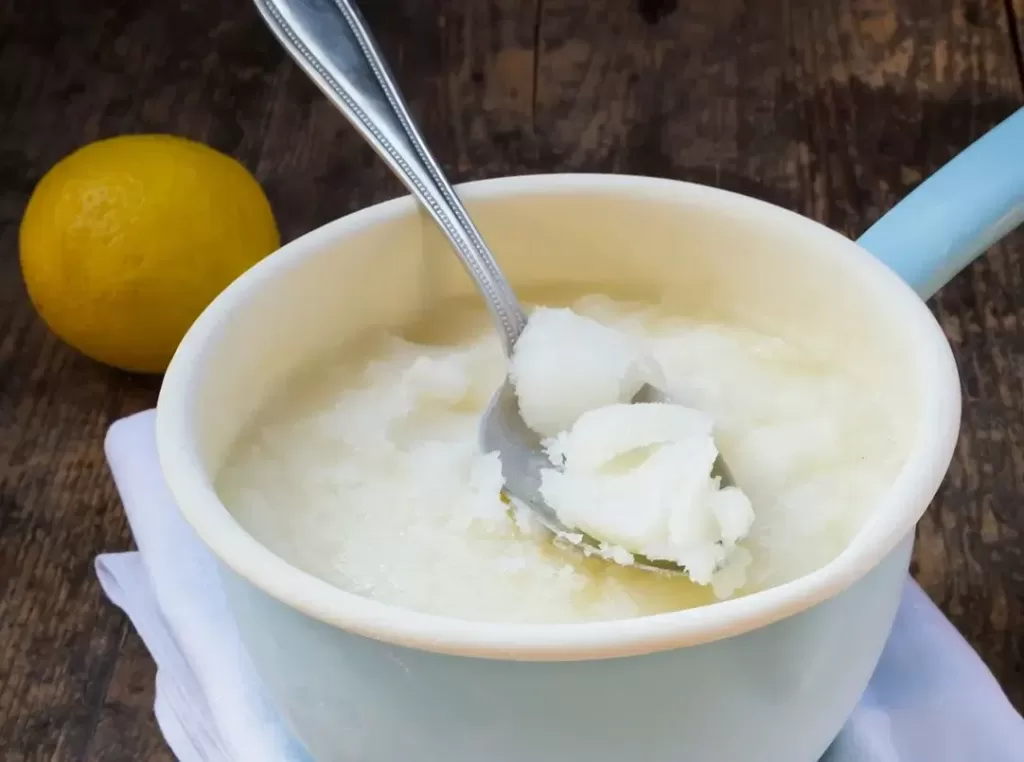 These biscuits are incredibly easy to make, and the sour milk adds a tangy note that perfectly complements the richness of the melted cheese.
With a golden brown crust and a soft, cheesy interior, these biscuits are the epitome of comfort food.
They are ideal for serving alongside soups, stews, or simply enjoyed on their own as a delectable savory treat.
Once you try these Cheesy Sour Milk Biscuits, you won't be able to resist making them over and over again.
This delectable condiment combines the goodness of sour milk with the natural sweetness of honey and the tanginess of Dijon mustard.
The result is a velvety smooth and flavorful mustard that strikes the perfect balance between sweet and tangy.
Whether you're using it as a dipping sauce, a sandwich spread, or a glaze for roasted meats, it adds a unique twist to your favorite dishes.
Its versatility and delightful taste will undoubtedly make it a staple in your culinary repertoire.
The combination of spinach, mushrooms, or bacon with the tangy twist of sour milk creates a delightful flavor profile that will leave your taste buds dancing.
The sour milk infuses the quiche with a luxurious creaminess, ensuring each slice is a melt in your mouth experience.
Whether served as a brunch centerpiece or a satisfying dinner option, this quiche is sure to impress even the most discerning palates.
With its flaky crust and sumptuous filling, the Savory Sour Milk Quiche is the epitome of comfort food with a unique twist.
Chilled Sour Milk Soup is a unique and refreshing culinary delight that may sound unconventional but is sure to captivate your taste buds.
Despite its name, this chilled soup offers a surprising burst of flavors and a cooling sensation, making it a perfect summertime treat.
The use of sour milk as a key ingredient adds a tangy twist that elevates this soup to a whole new level of taste and texture.
These delectable cookies are a delightful twist on the classic chocolate chip cookie.
The addition of sour milk in the cookie dough creates a soft and chewy texture, while the chocolate chips add bursts of sweetness in every bite.
The tanginess from the sour milk provides a unique flavor dimension, making these cookies stand out from the ordinary.
Whether you're a chocolate lover or seeking a new cookie experience, these are a must try treat that will leave you craving more.
The creamy sour milk forms the base of the dip, while an array of fresh herbs like dill, chives, and parsley infuse it with a burst of refreshing taste.
This dip is the perfect accompaniment for vegetable sticks, crackers, or even as a spread for sandwiches.
The tanginess of the sour milk complements the herbaceous notes, creating a dip that is both light and addictive.
The Sour Milk Herb Dip will quickly become your go-to option for healthy and flavorful snacking.
Breakfast will never be the same after you try these tantalizing Sour Milk Pancakes.
Using sour milk in the pancake batter results in fluffy and tender pancakes with a subtle tanginess that adds an exciting twist to your morning routine.
Whether drizzled with maple syrup, topped with fresh fruit, or served with a dollop of whipped cream, these pancakes are a delicious way to start your day.
Embrace the unique flavors of Sour Milk Pancakes and discover a new favorite breakfast dish that will have you looking forward to mornings.
Get ready to be delighted by the irresistible combination of flavors in this Lemon Poppy Seed Sour Cake.
The sour milk contributes to a moist and tender cake base, while the zesty lemon infuses it with bright citrus notes.
This cake is a true showstopper, perfect for dessert as well as afternoon treat with a cup of tea.
The Lemon Poppy Seed Sour Cake is a must try dessert that will have you savoring every mouthful.
The Creamy Sour Milk Fettuccine takes the classic fettuccine alfredo to new heights of flavor and creaminess.
The sour milk creates a luxurious and velvety sauce that coats the fettuccine strands beautifully.
The addition of grated parmesan cheese and garlic makes each forkful becomes a divine taste experience.
This dish is a comfort food dream, satisfying both your creamy pasta cravings and your desire for a unique and delightful flavor twist.
The sour milk adds a moist and tender texture to the scones, while the burst of juicy blueberries provides a delicious burst of natural sweetness.
Every bite is a delicious combination of flavors, making these scones a scrumptious treat for breakfast, brunch, or afternoon tea.
Whether enjoyed with a dollop of clotted cream or simply on their own, these scones are a delightful way to transform sour milk into a delightful baked good.
Elevate your dipping experience with the savory and tangy goodness of Sour Milk Onion Dip.
This creamy dip is a fusion of rich sour milk and caramelized onions, creating a mouthwatering taste sensation that will make you reach for more.
The tanginess from the sour milk perfectly complements the sweetness of the onions, resulting in a dip that pairs perfectly with chips, pretzels, or veggie sticks.
Whether served at parties, game nights, or as a delicious snack, this Sour Milk Onion Dip will impress your guests and keep them coming back for more.
Start your day with a delightful slice of Sour Milk Coffee Cake that's sure to brighten your mornings.
The sour milk contributes to a tender and moist cake base, while a cinnamon streusel swirl adds a burst of flavor and crunch.
Enjoy this delectable cake with a cup of hot coffee or tea for a comforting and heartwarming breakfast.
The Sour Milk Coffee Cake is a testament to how simple ingredients can come together to create a delicious and satisfying morning treat.
Final Thoughts
Sour milk is a sign that it has gone bad and has lost its freshness, but it doesn't mean that you've to throw it out.
That's because there are a lot of sour milk recipes that will help you save the foul milk without causing any health issues or taste issues.
The sour milk recipes are apt for people who like to bake and want to ensure a fluffy and light texture because it makes everything possible.
So, it's time you go through the recipes with sour milk and whip up something delicious that you've never tried!