Delve into the world of Indian tofu recipes where culinary tradition meets health-conscious choices.
Did you know?
Crafted from soybean curds, Tofu takes center stage for its rich protein content and low saturated fat.
Guess what?
Indians value tofu as a flexible ingredient for creating vegetarian and vegan treats as the tofu replaces meat, adding both texture and nutrition.
Its versatility shines through curries like Tofu Tikka Masala and sweets like Tofu barfi
So, explore the balance of taste and wellness with these Indian tofu recipes and enjoy creating interesting twists on classic favorites.
Let's open the door to scrumptious creations!
Presenting the vibrant Palak Tofu – a beloved dish hailed in Indian households as a scrumptious treat.
Cubed tofu is added to a creamy spinach curry to bring a protein-rich burst and a meaty texture to this vegetarian dish.
Here is the most incredible part!
This savory Indian meal takes only 35 minutes and it's ready to be served with soft flatbread,
Who says Tikka Masala is a treat only for the carnivores?
You can enjoy the scrumptious pleasure of a fiery and flavorful tikka masala even if you are a strict vegetarian!
It's a dish where tofu takes the spotlight!
Instead of meat, we marinate tofu chunks with the most mouthwatering blend of Indian spices before being grilled to deliciously charred goodness.
Now comes the masala…
Onions, tomato paste and coconut milk combine together with aromatic and flavorful spices and herbs to create a thick gravy.
It's an exciting vegetarian feast you shouldn't miss!
Behold!
We are going to introduce you to the vegan version of the epic Biryani that wins hearts all over the world as one of the most exciting Indian treats!
Here, tofu steps in as the protein hero.
Marinated tofu cubes join fragrant basmati rice layered with aromatic spices and herbs.
Each bite unveils the magic of biryani – oh the tantalizing aroma and the warmth of spices!
So, jump to the recipe and discover this vibrant dish with its tofu twist
Matar Tofu is a delightful dish where peas and tofu are the stars.
Guess what?
It's a pocket-friendly gem that's both wholesome and easy to make within 20 minutes!
The tender tofu is cooked with sweet peas in a spiced tomato-based curry bringing to the table a meal rich in protein, fiber and minerals.
So, when you're scratching your head for dinner ideas, Matar Tofu comes to the rescue as a quick, easy and nutritious meal.
Indian style baked tofu is a drool-worthy treat loaded with a finger-licking flavor and deliciously crispy texture.
The secret is so simple!
We just toss the tofu along with the marinade a zip lock bag and let the cubes soak up all the flavors.
The magic happens when they're baked until they acquire a golden hue and slightly crispy texture.
You know what?
This approach offers a healthier alternative to frying while still delivering the enticing taste of Indian cuisine.
Savor this spicy baked tofu as a protein-packed addition to salads, wraps, or enjoy on its own with a dipping condiment.
Presenting a delightful vegan variation of the classic Indian dish Chicken Do Pyaza or Keema Do Pyaza!
But what does "Do Pyaza" mean?
The term refers to "double onions", signifying the generous use of onions at two stages of cooking!
In this dish, tofu is sautéed with onions along with flavorful Indian spices creating a savory and textured dish.
As the tofu's softness meets the caramelized onions' sweetness, the dish offers a delicious way to relish this traditional taste with a plant-based flair.
Traditionally made with minced meat, this vegan version of keema swaps in crumbled tofu!
And there is more…
The dish boasts a rich and creamy texture from coconut milk, balancing the hearty tofu.
Guess what?
This rendition caters to both vegan and non-vegan palates, showcasing the versatility of tofu in a beloved Indian classic.
And the best part for home cooks is that it's a meal that's ready within an hour!
Tofu Bhurji is a delightful Indian dish that puts a creative twist on the classic "Egg Bhurji."
Instead of eggs, crumbled tofu takes the spotlight!
It's a scramble-style preparation where tofu mingles with onions, tomatoes, and spices for a lip-smacking result.
The most wonderful part?
It's not only a protein-packed breakfast for vegetarians, but also a versatile dish that can be enjoyed as a filling for a quick sandwich or wrap.
Tofu Jalfrezi – a vibrant Indian dish that's all about bold flavors and colorful veggies.
It's a beautiful stir-fry where tofu takes center stage, mingling with a mix of bell peppers, onions, and tomatoes.
The result?
.Tofu's softness complements the crunch of veggies in this quick and wholesome preparation.
Whether you're a tofu enthusiast or simply looking for a veggie-loaded meal, Tofu Jalfrezi delivers a satisfying balance of taste and texture.
And guess what?
This 35-minutes dish cooks in a single pot and takes no more than 35 minutes!
Presenting an innovative gluten-free take on a classic Indian sweet – the incredibly soft and juicy Gulab Jamun.
Guess what…
This version makes use of rice flour and corn flour along with tofu for a delightful gluten-free dessert.
Oozing with a sugary syrup infused with rose petals jam, this traditional sub-continental treat is a must-try!
So, leave your gluten worries behind and lose yourself in this divine treat!
Kadahi Tofu Sabji is a flavorful Indian dish that pays homage to the traditional "kadai" cooking style – cooking in a wok!
Cubes of tofu are stir-fried with capsicum and tomatoes along with the best of Indian spices and herbs.
Guess what?
With tofu as the main ingredient, this recipe turns it into an amazingly flavorful meal using a long list of conventional Indian seasonings.
The result?
An unforgettable meal no one can ever say no to!
Let's give a classic Punjabi favorite a vegan twist – Saag Tofu!
This nourishing Indian dish is where tofu meets the goodness of mustard greens in a lip-smacking fusion!
Guess what?
This culinary blend offers a healthy dose of plant-based protein from tofu, coupled with the nutrient-rich benefits of leafy greens.
And that's not all…
Indian spices like turmeric, cumin, ginger and garlic bring their own nutritional benefits to your plate!
Kofta is a spiced meatball, conventionally drenched in a flavorful curry that's served as a dish worthy of a feast.
Here is a regal twist that transforms the dish into a delicious vegan treat.
Instead of minced meat, these balls are made with tofu, retaining all the delicious fixings of a kofta.
But here is another twist…
Instead of the conventional frying method, these meatballs are baked in the oven in a casserole dish – easier and much healthier!
Once cooked, these are drizzled generously with a rich and creamy sauce, making it a lavish meal for special occasions!
Want to give a humble dish more flair without adding any meat?
Try this vegan Methi Malai Paneer Tofu.
Imagine tender tofu mingling with the earthy notes of fenugreek leaves, all embraced by a velvety dairy-free sauce!
This innovative transformation makes your veggie experience immensely flavorful with the cheese-like goodness of tofu!
And guess what?
You can create this beautiful and wholesome meal in less than an hour!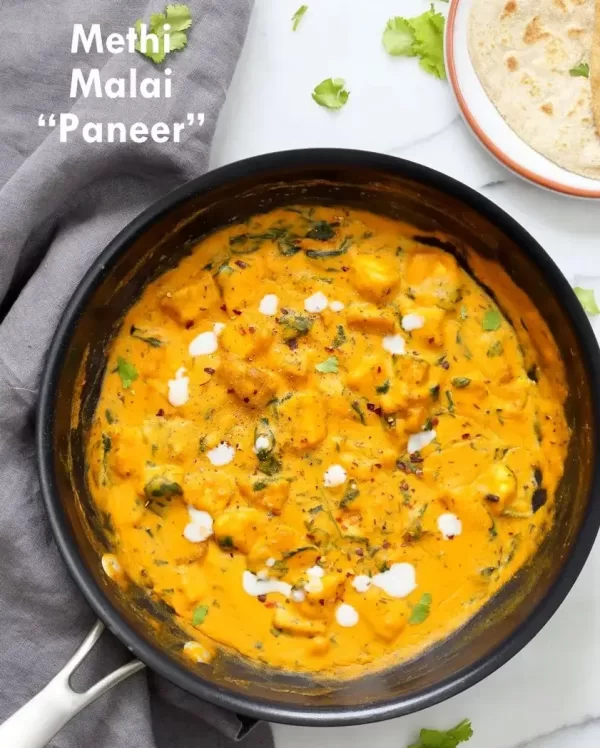 Curious to explore the world of creative flavors?
Here is an Indian classic dessert with an incredible twist to explore – tofu barfi with beetroot!
Imagine the sweetness of beetroots blending seamlessly with the creaminess of tofu to create a delectable treat!
Guess what?
This colorful dessert also offers a healthier spin with protein infused goodness and the vitamins and antioxidants of beetroots.
So enjoy this one-of-a-kind Barfi that invites you to savor the unexpected in a bite-sized delight!
Discover the sheer delight of Tofu Butter Masala, where tender tofu meets a rich, velvety tomato sauce.
This vegetarian rendition pays homage to the classic "Butter Chicken," a beloved dish in Indian cuisine.
Here, tofu steps in, offering a wholesome alternative while maintaining the signature creamy texture.
The result?
A dish that's both indulgent and nourishing, blending tradition with innovation!
Ready for a crunchy twist on Indian flavors?
Introducing Indian Air Fryer Tofu where the goodness of tofu meets the convenience of modern cooking.
Imagine perfectly crispy tofu, marinated with aromatic spices, all without excessive oil.
Unbelievable, right?
But, it sure is a delightful, guilt-free snack that's quick and easy.
Ready to give it a try?
Head to the recipe and learn to make this incredible snack!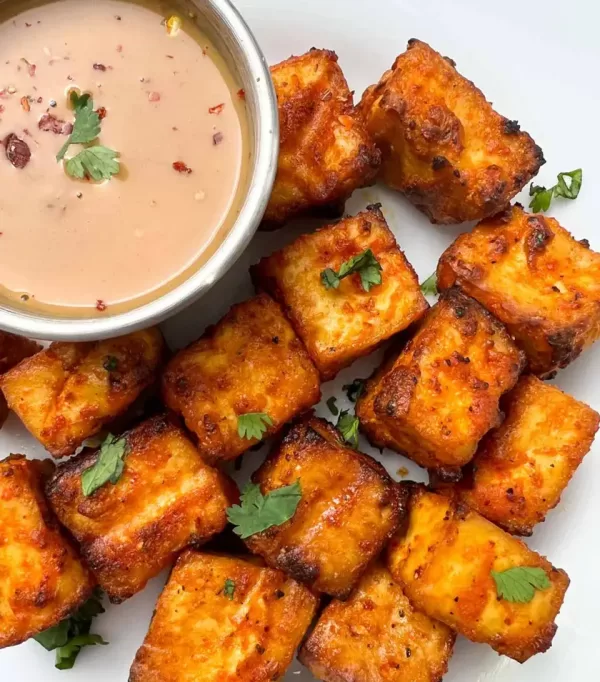 Get ready for a delicious fusion of flavors with Tofu Paratha.
Experience the softness of tofu mingling with the warmth of Indian flatbread that's crispy and oh-so-delicious!
It's an innovative meal that offers a protein-rich option for breakfast or even lunch.
And guess what?
This rich paratha is ready in just 20 minutes – a delicious and quick fix!
Tofu Peanut Bhel is a delightful Indian snack that's all about exciting textures and flavors.
Here is a playful blend of textures…
Crispy tofu cubes mingle with crunchy peanuts, tossed together with a medley of veggies and tangy chutneys.
And guess what?
This recipe combines the goodness of protein-rich tofu with nutrient-rich peanuts to create a wholesome and exciting treat.
Whether you're a fan of street food or just seeking a unique snack, Tofu Peanut Bhel is a must-try!
Indulge in the comforting harmony of One-Pot Dahl with Crispy Tofu.
Imagine fragrant lentils accompanied by tender tofu cubes that offer a satisfying texture.
The best part?
This recipe simplifies your cooking process by combining protein-rich dahl and crispy tofu in one pot!
So, upgrade your simple lentil curry with creamy and meaty tofu that instantly makes your meal more satisfying!
Final Thoughts
As we say goodbye to this flavorful journey through Indian tofu recipes, we're reminded of the magic that unfolds when tradition meets innovation.
The best part?
Tofu can fit into many dishes because it easily takes on different flavors. And it's not just delicious, but also good for your health.
Whether you're enjoying tofu in a spicy curry or a crispy paratha, these Indian tofu recipes prove how a single ingredient can be used in many yummy ways.
So, give these creations a try and don't forget to talk about your experience with us. We look forward to your comments.