Welcome to the flavorful world of vegan Italian recipes where plant-based ingredients blend seamlessly with traditional Italian cuisine.
You won't believe it…
Italian cuisine is secretly a vegan paradise!
That's right!
Many classic Italian dishes are naturally plant-based or can be easily tweaked to fit a vegan lifestyle.
It's all thanks to the abundance of fresh, seasonal produce and simple, flavorful ingredients that make Italian food so tasty and versatile.
So get ready to indulge in mouth-watering vegan pizzas, creamy pastas, and zesty marinara sauces.
Let's get started with these vegan Italian recipes!
Here is a delicious medley of beans and chickpeas cooked in a warming vegetable broth. The marinara sauce further enhances the taste.
Serve it as a side or even as a meal with some rice or bread.
But don't forget this…
Use nuts-based parmesan to make the dish entirely vegan.
Here is a mouth-watering and savory pizza that will tantalize your taste buds with its combination of caramelized mushrooms, creamy vegan cheese, and crispy crust.
This delicious pizza is perfect for vegans or anyone who wants to try something new and flavorful.
And here is the star of the show…
Caramelized mushrooms! What a rich flavor and texture!
Hey there, vegan foodies!
Are you craving a classic Italian pizza but don't want to compromise your plant-based lifestyle?
Look no further than Pizza Marinara!
Made with a delicious tomato sauce, garlic and aromatic herbs, this vegan pizza is simple yet oh-so-satisfying.
It's perfect for those who love the traditional taste of pizza without the need for cheese or meat.
Calling all olive lovers!
Here is a delectable pizza featuring heavenly olives!
With its crispy crust, tangy tomato sauce and generous toppings of delicious olives, this pizza is a vegan dream come true.
So go ahead, try this recipe and indulge in a savory treat. Your taste buds will thank you!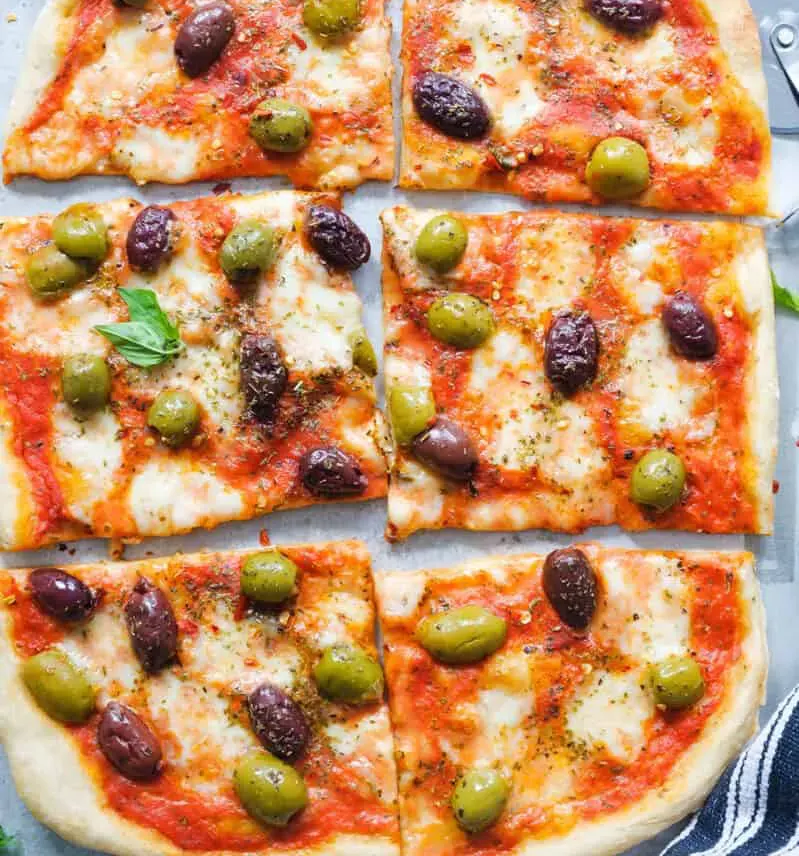 All vegans rejoice!
Here is a ravioli recipe that will soon become a family favorite.
Delicate parcels of pasta are filled with a satisfying tofu filling – the perfect choice for vegans and non-vegans alike.
So why not try this vegan twist on a classic Italian favorite and delight in every bite?
Try an innovative twist to the classic Italian ravioli.
Fill the soft pockets with delicious peas and shallots – fresh green and bursting with flavor.
Do you know?
This is not just a delicious dish but also a healthy one. It's a fantastic way of incorporating your greens in your meals.
This lasagna is made with layers of tender pasta, rich tomato sauce, and a creamy tofu ricotta that mimics the texture and flavor of traditional ricotta cheese.
But flavor is not all it offer…
This dish is easy to prepare, giving you a wonderful option to prepare even if you are not an expert cook.
Cooking is fun, but cleaning is not!
Who agrees?
Well, this recipe here will make clean-up easier for you as you cook some delicious and rich vegan pasta in a single pot!
This dish features lots of vegies, making it a healthy meal option for your family.
Give some fresh vegies a more exciting twist by trying this lovely spaghetti recipe.
You won't believe it…
Your kids would actually devour a big serving of nutritious vegetables without making a face!
So, check out this recipe and make a healthy dish that your family would be happy to have.
Do you know how to turn your pasta into a vibrant dish?
Try Pasta Primavera – a delightfully colorful blend of vegies with tender pasta.
And the best thing is…
You can add any vegetables you love!
Plus, it is such an easy to dish to make that even an amateur cook can whip it up easily.
Here is rich and festive soup worthy to be served on weddings!
What makes the soup so special?
It features vegetable meatballs to give a wonderful texture. The meatballs also make this dish extremely satisfying.
So, slurp your way to heavenly goodness without compromising your vegan diet.
Here is a satisfying vegan Italian meal that is easy and quick to make.
Featuring, zucchini, eggplant, onions and tomatoes, it's a wonderful and nutritious medley of a variety of veggies in a single dish.
Flavored with delightful seasonings, it is the perfect Italian meal to enjoy.
Get ready for a classic Italian dish that is both hearty and flavorful.
This dish is made with layers of tender eggplant, a rich tomato sauce and a vegan cheese alternative that will melt in your mouth.
This meal is perfect for vegans or anyone looking for a healthy and delicious eggplant dish option.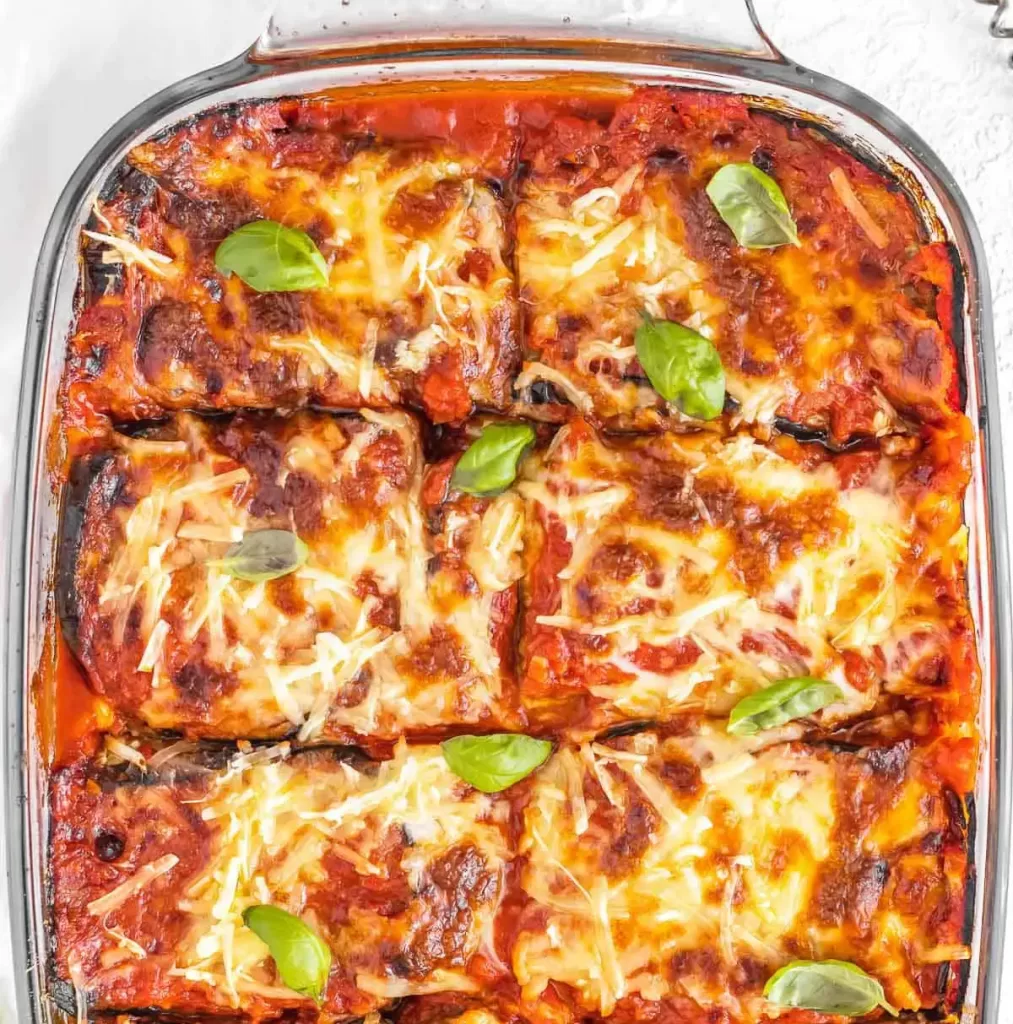 Here is a vegetable heaven for Italian food lovers!
Eggplants, olives and capers in a rich and savory tomato sauce – ah, mouthwatering!
And here is the thing…
You can add any vegies in season – zucchini, cauliflower, broccoli or more.
For a twist on the dish, you may add tender pasta and enjoy it like a true Italian delight.
This is Italian dish of roasted potatoes that is so easy to make, you won't believe it!
It is prepared using just 5 ingredients – simple, easy and quick.
Thin slices are layered neatly and beautifully in a dish that goes in the oven.
What comes out of the oven?
A deliciously crispy, goldenish layer of potato slices that can be perfect as an Italian side-dish.
Looking for a way to give your potatoes a flavorful Italian touch?
Try these irresistible Italian Potatoes with Salsa Verde – a dish that is simple to make but extremely delightful to eat.
All you need to do is, gather the 7 vegan ingredients mentioned in the recipe. Follow a simple cooking procedure and the yummy dish is ready!
Here is a recipe that is unbelievable!
It is vegan, gluten-free, oil-free and packed with nutrients!
This definitely an Amazing dish!
It also takes its name from Ziti Pasta that is the main feature of this classic Italian meal.
Do try this recipe for healthy and flavorful meal for your folks.
Bored of the usual roasted potatoes?
Try this recipe to give your spuds a tangy and zesty twist.
And the most delightful thing about this vegan recipe is…
You mix together just 4 ingredients to create an utterly flavorful Italian dish!
So, whip it up anytime to quench your thirst for some Italian delight.
This is a wonderful dish for anyone who is looking for an Italian touch to their holiday meals.
It is rich, delicious and features sweet potato that goes well on any Thanks Giving lunch table.
And, of course…
The dish is perfect for your pure vegan diet.
Savor the deliciousness of these Italian sausage crumbles that are absolutely vegan!
Here is why you are going to love these…
These sausage crumbles are wonderfully versatile – add them to your creamy pasta, sprinkle them over salads or use them as your pizza topping.
Enjoy this soy version of sausages any time of the day!
Mmmm….who can ever resist classis Tiramisu?
This recipe here is the plant-based answer to everyone's favorite Italian dessert.
Using all vegan ingredients, you can create the most heavenly Tiramisu – light, fluffy and absolutely irresistible!
It is an impressive dessert that can be the highlight of any occasion.
Make your healthy meals more exciting with this scrumptious Italian Salad.
Do you know what makes it awesome?
It is colorful, crunchy, nutritious and extremely easy to make!
Serve it as a side-dish or as a light lunch option that can be enjoyed with some crusty bread.
Here is a lovely summer pasta dish that is full of flavors and delicious textures.
Don't think it's an ordinary pasta salad!
It has the vegan versions of mozzarella, pepperoni and salami, making it a super joyful dish for vegan foodies.
Tossed in a delectable Italian dressing, it is the ultimate pleasure for your taste buds.
Here is something to make your salads and pastas livelier!
This vegan Italian dressing is a creamy, rich and absolutely flavorful addition to anything you want. You may even use it in sandwiches to replace mayo.
And another wonderful thing about this dressing is…
It takes only 5 minutes to whip it up.
This Vegan version of marinara sauce is a flavor-packed, plant-based alternative to traditional cheesy sauces in Italian cuisine.
Bursting with fresh tomatoes, aromatic herbs and garlic, it's the perfect sauce to pour over your favorite pasta.
And the best part?
You won't feel guilty about pouring it generously over your meals since it's a healthier, plant-based option.
Spaghetti Aglio e Olio is a classic Italian dish that translates to "spaghetti with garlic and oil".
It's made by sautéing garlic in olive oil until fragrant, and then adding the rest of the ingredients before tossing in the spaghetti.
This dish gets ready quickly – 15 minutes to be specific.
This recipe for an Italian eggplant dish is going to take your breath away!
Panko crumbs coated eggplant slices, cashew-based mozzarella, marinara sauce and Italian seasoning – an epic combination of ingredients for a legendary meal!
Trust me…
If you did not give this recipe a try, you would be missing out on a lot!
This hearty soup brings together pasta, beans and a medley of your favorite veggies.
Here is a suggestion…
Make it a day ahead as it gives time to the seasonings and flavors to fuse together perfectly, giving you an even better taste.
You can also freeze it and use on another day.
This salad is all you need to make your day brighter.
Enjoy a platter full of juicy tomatoes, flavorful oregano and melt-in-your-mouth vegan bocconcini. It's the perfect lunch option or a hearty side-dish at your dinner table.
Plus, it nutritious – full of antioxidants from fresh tomatoes and olive oil.
Presenting a juicy salad that is a vibrant side to any meal.
The most amazing feature of this Caprese salad is…
It brings a variety of flavors in a single platter – tangy tomatoes, sweet peaches and hot arugula.
And another star of this dish is…
Cashew based mozzarella that makes it a purely vegan salad.
Sliced red and yellow tomatoes, fresh basil and mozzarella made with cashews – what a salad!
It is fun arranging the vegies neatly and then adding dollops of your own home-made vegan cheese.
Have your kids help you with this easy arrangement – your very own little sous chefs.
A classic Italian bruchetta consists of some yummy vegie toppings and cheese loaded on top of French bread slices.
But don't worry.
This is an entirely vegan version with no dairy products at all – not even cheese.
Load some lightly toasted bread with chopped tomatoes and basil seasoned with salt and pepper and enjoy this crunchy and delightful snack.
Learn to cook your own healthy tomato sauce at home that would transport you back to your grandma's kitchen!
Skip buying store-bought sauce that is full of preservatives and artificial flavorings. Create your own Italian magic that is safe and healthy.
It is the perfect sauce the slather over pizza or drizzle on your pasta.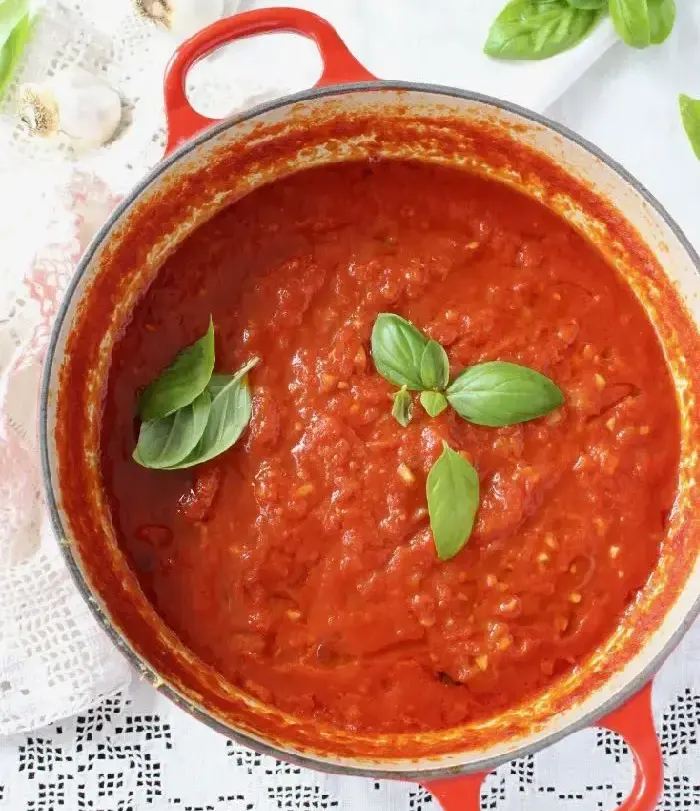 Would you like to have a delightful companion for your soups, gravies or pastas?
Try this soft-like-a-pillow focaccia bread that is a hundred percent vegan.
It melts-in-your mouth with its tender texture.
And there is more…
Adding herbs and olives to this bread is what makes it so delectable and irresistible!
Prepare your taste buds for pure Italian flavors with this Tomato Basil Pasta.
It is the perfect meal option for vegan folks – no cheese, dairy or animal products.
Learn to make this beautiful meal with this easy recipe. You'll have the juiciest pasta ready in 15 minutes!
This creamy and filling delight features risotto rice cooked with mushrooms and flavorful vegetable stock.
It is a very easy procedure that is further simplified by the step-by-step instructions given in the recipe.
So, do give this purely vegan dish a try and enjoy a truly delightful Italian experience.
Presenting a dish all Italian foodies adore – pesto pasta!
Learn to make this classic dish right in your own kitchen with the help of the simple instructions in this recipe.
And the best part is…
This recipe also provides amazing tips to help you get the best results with your pesto spaghetti.
This is one of the most wonderful recipes on this list as it gives you a unique and innovate idea for your pasta sauce.
Made with pureed chickpeas, this sauce is a wonderful way of making your pasta creamy, rich and velvety.
And not to forget…
It is an amazing protein-rich meal.
Presenting a hearty and dense bread with a crunchy crust.
What makes this Italian bread worth the effort?
Well, it's a great companion for soups, stews or simply olive oil! Plus, you can make the softest sandwiches with it.
Enjoy the aroma that will fill your house when you bake it.
Who says ravioli is only a meat dish? You should try this wonderful variation that is a hundred percent vegan.
The secret that makes this dish even more amazing is…
Ravioli stuffed with roasted garlic and almond ricotta!
You should definitely try it and relish the magical taste.
Final Thoughts
These vegan Italian recipes are a vegan dieter's dream come true.
Who says you have to give up your love for Italian cuisine to maintain a vegan lifestyle?
With a little creativity and some ingredient swaps, you can enjoy all the rich and bold flavors that Italy has to offer.
And not to forget…
These vegan Italian recipes are also great for your health.
So, start your vegan culinary journey and do tell us which of these recipes you are going to start with.
We can't wait to see your comments!