Hold on tight as we dive into an ocean of Keto salmon recipes!
Salmon isn't just any fish!
It's like a health elixir from the sea. Packed with omega-3 fatty acids, it does wonders for your heart, brain, and weight loss goals.
Plus, it's a lean protein that's perfect for all you keto fanatics out there.
And the best part is…
You can avail the health benefits through different delicious keto salmon recipes!
It could be keto salmon fat bombs, rich sandwiches, smoked variations and much more!
So, let's dig in and savor a mouthwatering and healthy meal today!
Let's dive!
You are going to love this sweet and savory salmon recipe that fits your keto diet.
With just 6 ordinary ingredients, the fish turns out delicious with a tender and juicy texture and a shiny glaze.
And here is the bonus…
It is not only keto-friendly, gluten-free and dairy-free!
Oh and did I mention…
It takes only 30 minutes to create this heavenly salmon dish!
If you are in the mood for a flavor adventure, you can whip up this incredibly easy salmon dish right away!
It features the lip-smacking flavors of lemon and garlic with a rich, creamy sauce!
And the most surprising part?
It takes only 30 minutes to put this gourmet creation together!
Plus the recipe uses just 6 ingredients for a hassle-free cooking experience.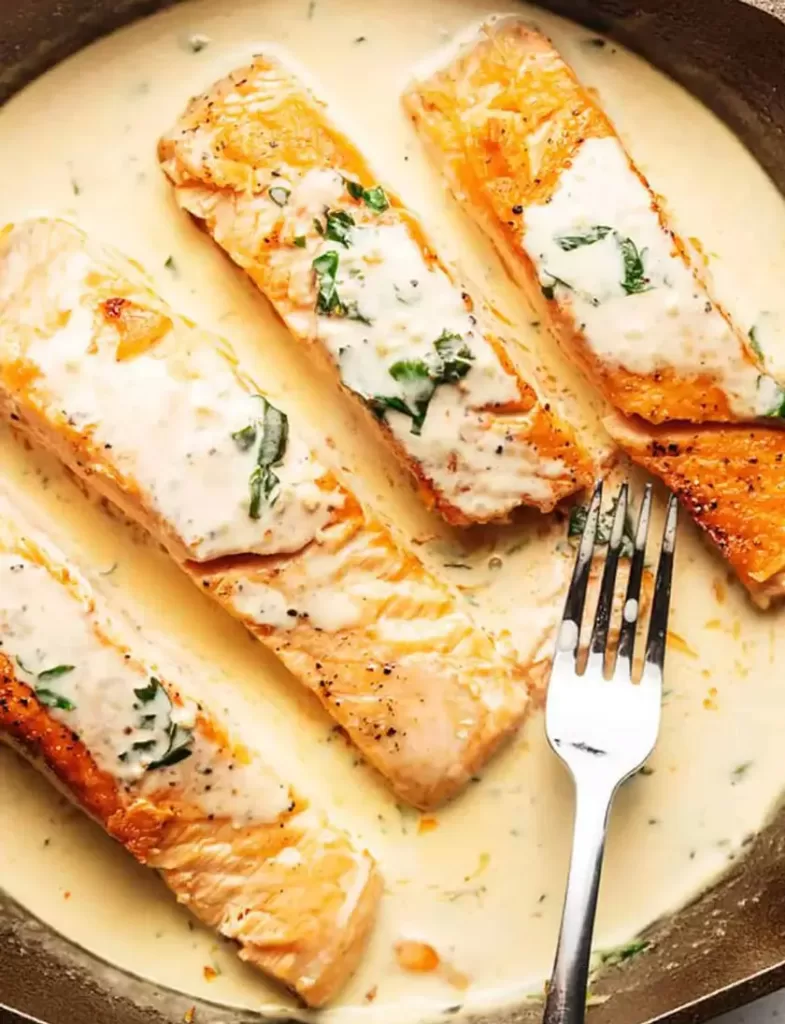 Here is a recipe that creates a luxurious salad loaded with veggies, nutritious eggs and protein-rich salmon!
But the most incredible feature of the dish is…
It's not only keto, but also glute-free! Plus, its paelo-friendly which means no questionable processed ingredients!
It brings together vibrant and juicy tomatoes, crunchy cucumbers and creamy avocados that are also a source of healthy fats!
When combined with grilled or broiled salmon chunks, it turns into a ravishing meal!
Can I interest you in a scrumptious meal with just 2 net carbs?
Unbelievable, right?
This low-carb recipes features salmon cooked in a delicious garlic butter sauce – high in fats but low in carbs for the perfect keto diet.
And the best thing is…
All the ingredients are cooked together in a single pan! Convenient and hassle-free!
So, check out the recipe and discover this unbelievably easy and tasteful keto salmon.
Garlic-butter is a popular flavoring for salmon. This recipe, however, skips the conventional creamy sauce and presents a twist!
With just 5 ingredients and 3 steps, you can create a sizzling masterpiece that is loaded with finger-licking flavors.
And the best part?
The recipe makes the low-carb dish more keto-friendly by adding butter and parmesan cheese – high fat ingredients to fuel the body!
Surprise your family tonight with this 30-minute recipe and put a healthy meal on the table!
Get ready for a beautiful keto salmon salad that is ready in 20 minutes!
Plus, it is a paleo-friendly salad that uses only fresh ingredients. No harmful processed items!
The star of the show is the tender salmon, which takes center stage with its melt-in-your-mouth texture.
The fish is complemented by a vibrant combination of ingredients. Fresh cilantro, zesty lime, rich avocados and the juiciest tomatoes!
The result is a wonderful salad that is a must-try!
Presenting little bundles of goodness packed with flavor and health benefits.
These savory delights combine the richness of smoked salmon with a keto-friendly cream cheese base.
And guess what?
All you need is 5 ingredients to create these balls!
And, drum roll please!
There is NO cooking involved!
These are perfect as a quick, energy-boosting snack with a delightful smoky flavor.
Here is a delightful treat with a sticky glaze that features lip-smacking sweet and spicy flavors.
It's not just a delicious meal…
This Keto glazed salmon presents a wholesome food option as it's rich in omega-3s and protein.
And the real incredible part is…
This perfectly delicious and eye-catching dish takes only 20 minutes and need only a single pan!
So be quick, head to the recipe and find out the secret behind this healthy, tasty and quick recipe!
Prepare yourself for an exquisite experience with this Keto Baked Salmon recipe.
This dish offers a delicate taste with zesty lemon tones that beautifully complement the elegance of this dish.
The salmon comes out tender and moist, with a beautiful golden crust that looks really gorgeous!
Don't worry if you are not an expert cook…
This recipe provides details instructions to help you nail the dish perfectly!
So what are you waiting for?
Click on the recipe and discover how to impress your folks!
Here is a delightful version of Keto salmon with an unforgettable taste and texure!
The secret behind the deliciousness?
Tender salmon topped with a flavorful combination of Parmesan cheese and aromatic herbs!
The crust adds a crispy texture that compliments the moist and flaky salmon, rich umami flavors and a hint of herbaceous goodness.
Here is the surprising part…
All this dish needs is 6 ingredients!
So head over to the recipe and discover this keto salmon sensation!
Experience the deliciousness of this Keto Low Carb Smoked Salmon Frittata.
This dish combines fluffy eggs with savory smoked salmon, some cheesy goodness and aromatic herbs!
The result?
A light and airy frittata with smoky, herby and cheesy flavors.
And here is the bonus…
With its high protein content and minimal carbs, this frittata is the perfect choice for a rich keto breakfast that is really filling and energizing!
You might come across a lot of recipes for keto salmon drenched in creamy garlic butter sauce.
But this is the easiest version!
There are just a few ingredients that can be whipped together in a single pan to create this heavenly salmon with its creamy concoction!
So, why slave in the kitchen worrying about creating the perfect texture and flavors?
Simply head to this recipe and create the perfect keto salmo with ga
Here is a quick recipe for a keto salmon meal – pan fried with generous buttery goodness!
The salmon fillets come out really gorgeous – slightly crispy from the outside and perfectly tender, juicy and melt-in-your mouth good from the inside!
And here are the secret flavorings!
A beautiful fusion of rosemary and garlic that have you lick your fingers clean!
Just put together a few basic ingredients and share this scrumptious meal with your family.
Time to savor some bite-sized salmon delights.
These crunchy nuggets are an indulgent treat that almost feel like a sinful, cheat snack!
But it's actually a keto-friendly option with protein-rich salmon in each bite!
And guess what?
This fun snack is what your kids are going to enjoy too. A great way of putting fish in their diet!
Here is a keto salmon recipe that is all about clean eating!
Put some protein-rich, keto friendly goodness along with vitamins, minerals and fiber on a single plate!
And it's not just some boring meal!
The salmon is cooked with delightful avocado butter while the veggies are seasoned with flavorings like garlic, red pepper flakes and more.
And not to forget…
The juicy tomato salad is refreshing and herby!
So, enjoy a super healthy, keto meal with this recipe that will make you feel excellent about yourself!
Discover a magical recipe that turns regular quiche into a keto-friendly option.
It is unbelievable how this recipe is so flexible and convenient!
Firstly, it gives you two variations – with or without crust! So, it's up to you which of the versions you want to make.
Secondly, if you are opting for the crust, you can use the same blender bowl for the crust as well as the quiche mixture without needing to wash it first.
So, make it hassle-free and enjoy at lunch or dinner.
Crispy Mustard Dill Salmon is a divine meal option that is incredibly easy to make in just 35 minutes.
The tangy zing of mustard and the refreshing touch of dill create a flavorful taste.
And the best part is…
Just 6 ingredients are enough to make this keto-friendly salmon that is delicious, tender and flaky.
Plus, this recipe yields 4 servings for a family meal that can be paired with veggies for healthier and more satisfying results.
Here is a recipe that's a lifesaver for those who want to achieve fantastic results with salmon even if they're not master chefs in the kitchen.
All this pan fried salmon asks for is 15 minutes and 6 ingredients! That's it!
It's a beautiful creation with a caramelized exterior and melt-in-your-mouth interior!
And here is the magical touch!
A zesty and savory dressing that features delicious and fresh orange juice!
Do check out the recipe and discover this one-of-a-kind salmon recipe.
Crispy keto salmon patties are a great way to fuel up your body with nutrients and let your taste buds have a treat at the same time!
These delectable patties are made with flavorful salmon, perfectly seasoned and coated for a satisfying crunch.
Each patty offers a moist and tender texture, bursting with savory goodness.
And guess what?
You can enjoy these in so many creative ways!
Sandwiched between lettuce wraps, atop a bed of mixed greens or with a vibrant vegetable salsa.
This recipe makes your meals indulgent yet guilt-free!
Get ready to enjoy a hassle-free meal with this no-cook recipe!
This creamy and indulgent creation will leave you feeling satisfied and nourished.
You will be surprised to know…
All this gorgeous salad takes is 5 ingredients and you have the perfect and most convenient meal option ready in no more than 15 minutes!
Not only is it incredibly filling, but it's also perfect for keto dieters with its low carb and high fat content.
So skip the cooking process and dive into this delectable salad that delivers on both taste and convenience.
Get ready to be impressed with this keto-friendly twist on smoked salmon blinis!
And the twist is…
Instead of traditional blinis, you will use a refreshing cucumber base that adds a crunchy touch. These turn out to be the perfect snack or party appetizer.
Plus, they're visually so tempting and fun to assemble.
So, follow the recipe to wow everyone with these irresistibly delicious and adorable little treats.
Indulge in the scrumptiousness of this Keto Smoked Salmon Avocado Salad.
This delightful salad combines the smoky richness of salmon with creamy avocados to bring a buttery richness and a creamy texture.
And that's not all…
The ingredients are tossed in a tangy and herbaceous lemon dill vinaigrette for a refreshing touch!
This vibrant salad is a great way to support your healthy diet with its keto-friendly and nutrient-rich ingredients!
This dish is an impressive creation that is going to blow your mind away!
These sushi inspired pinwheels are made with salmon strips rolled around a dollop of delicious cream cheese and crunchy cucumber!
Don't worry if you are not a sushi-making pro!
This recipe provides clear visual instructions for creating the roll-ups – a process that's so easy you'll be amazed!
So, follow the magical recipe and create this elegant and impressive dish like a pro!
Here is a mouthwatering creation that features luscious smoked salmon nestled between a fluffy and satisfying low-carb bagel.
This recipe calls for no more than 6 ingredients!
And assembling everything to create the sandwich is quick and extremely easy!
It's a perfect balance of savory, creamy and satisfying that aligns perfectly with a keto lifestyle.
Time to indulge in a creamilicious way to enjoy salmon without breaking your keto-diet.
Unlike conventional curries that need to be simmered and cooked for a long time, this easy keto dish takes only 25 minutes.
The richness of the coconut milk, combined with the fragrant curry paste and some herbs, creates a luscious and satisfying curry sauce.
The dreamy coconut gravy perfectly complements the tender chunks of salmon.
It's a melt-in-your-mouth concoction that delivers the best flavor and will definitely be a hit with your folks!
Indulge in a rich Keto Salmon Pie with Basil and Macadamia Nuts.
This delectable dish features a satisfying crust made from scratch. Then comes a flavorful salmon filling.
But wait!
Don't think this recipe requires too much hard work! Surprisingly, all you need is 10 minutes of prepping time before it sits in the oven for the next 30 minutes.
And here are the two magical ingredients!
Fragrant basal and crunchy macadamia nuts. These complement the tender salmon and enhance the dish!
Here is a fun appetizer to make your parties or special occasions more spirited!
You'll be amazed at how simple these gorgeous pinwheels are to put together!
A basic yet delicious and satisfying smoked salmon filling is rolled up in soft tortillas. The rolls are then cut to unleash the bite sized treats!
Just 5 ingredients and you can come up with this creation in no time!
Low-carb salmon and high-fat avocado are the best ingredients for a keto meal!
This bright salad has your favorite spring veggies in it along with tender and juicy salmon.
And here is the cherry on the top…
A zesty dressing featuring the flavors of lemon juice, mustard, simple seasonings and more!
Follow the step-by-step visual instructions in the recipe to easily whip up this salad.
A fish pie is a high-protein comfort food that turns out to be an excellent meal option anytime!
This keto version has a few twists that make this pie more innovative!
Instead of a potato top, the recipe uses cauliflower mash that is lower in carbs. It adds creaminess, wholesomeness and satisfaction!
And here is the secret behind the super creamy sauce…
Lots of heavy whipping cream and extra cheddar cheese! The perfect high-fat ingredients for a keto dish.
It's time to indulge in a delicious sea food pasta that brings the ultimate comfort.
The best part?
This 8-ingredient dish is so simple to make that you can enjoy a homemade keto pasta anytime!
Not great with cooking?
Don't worry, the picture instructions in this recipe make everything so easy even the most inexperienced cooks can create this dish like a pro!
Keto Scrambled Eggs with Smoked Salmon is a dish that's here to help you kick start your day in a delicious way!
Imagine this…
Fluffy, melt-in-your mouth eggs combined with savory smoked salmon!
It's a lip-smacking fusion of flavors with light and creamy eggs and a smoky touch!
Just 5 ingredients and you can whip up a meal that offers protein from the fish and a nutritional powerhouse of vitamins and minerals from the eggs!
It's a combo that you should definitely try!
Here is an Italian pasta dish that contains no actual pasta!
In order to keep it low-carb and keto-friendly, the recipe introduces a wonderful variation.
Zucchini noodles, or "Zoonoodles"!
These vegetable-based noodles are a healthier alternative with the same long strands but much lower in carbs!
These are accompanied by succulent salmon bathed in a velvety Alfredo sauce!
It's unbelievable how such a divine, creamy mela can actually be healthy!
Check out the recipe and find out for yourself!
Craving for some low-carb, Mexican fiesta?
Here is just the right recipe for keto dieters who love some Mexican indulgence!
Crispy but low-carb taco shells are loaded with flaky salmon chunks, a spicy jalapeno salsa, bright corns and tender avocados!
Lip-smacking, rich and super healthy!
And the most amazing part?
You can put together all the ingredients in just 30 minutes and create these wonderful, keto-friendly tacos!
Want to create a fancy breakfast?
Try this recipe for Keto Avocado Salmon Eggs Benedict – a simple yet elegant creation!
It features a harmonious combination of poached eggs, velvety avocados and juicy salmon.
And here is what adds a special touch to the dish…
A luscious hollandaise sauce!
Guess what?
Hollandaise sauce is already a keto-friendly item. So, you don't need to substitute any ingredients or bring changes to the original recipe!
So, head to the recipe for a beautiful and nutritious breakfast dish!
Salmon is often associated with elegance, but sometimes you just crave for a handheld meal that doesn't require forks and knives!
Enters Keto Salmon Burger!
It is a keto-friendly recipe that is also budget-friendly with just a few basic household ingredients!
Disclaimer:
Things can get messy!
But that's what a truly indulgent meal is like – messy, finger-licking delicious and lip-smacking good like this amazing burger!
There is nothing like a warm bowl of soup that brings both comfort and nutrition!
This is exactly what this recipe is all about!
Featuring Italian flavors, this delicious and aromatic broth is a creamy concoction enhanced by parmesan and heavy cream.
The healthy soup is a low-carb and high-fat option for keto enthusiasts. Plus the high-protein salmon perks up the soup's health benefits!
Here is a dish keto-dieters can eat to their heart's content!
It's low carb, wholesome and oh-so-satisfying!
This is a special stew with a gorgeously creamy base featuring cream cheese and coconut milk – delectable and rich!
This is what adds an extraordinary touch to the stew…
It is simmered with flavorful ingredients like basil and bay leaf that create a delicious dish!
Add your favorite vegetables with the flaked salmon for a more hearty experience!
Salmon patty cakes make an indulgent meal that is satisfying and fuel up the body!
These patties have a delicate crispy exterior with a mush, creamy and melt-in-your mouth interior!
And, it's not just a plain old recipe for ordinary salmon patties!
The appetizer features fiery jalapeno, flavorful garlic powder and irresistible sour cream for a spicy, tasteful and creamy result.
So, head to the recipe and discover these extraordinary salmon cakes.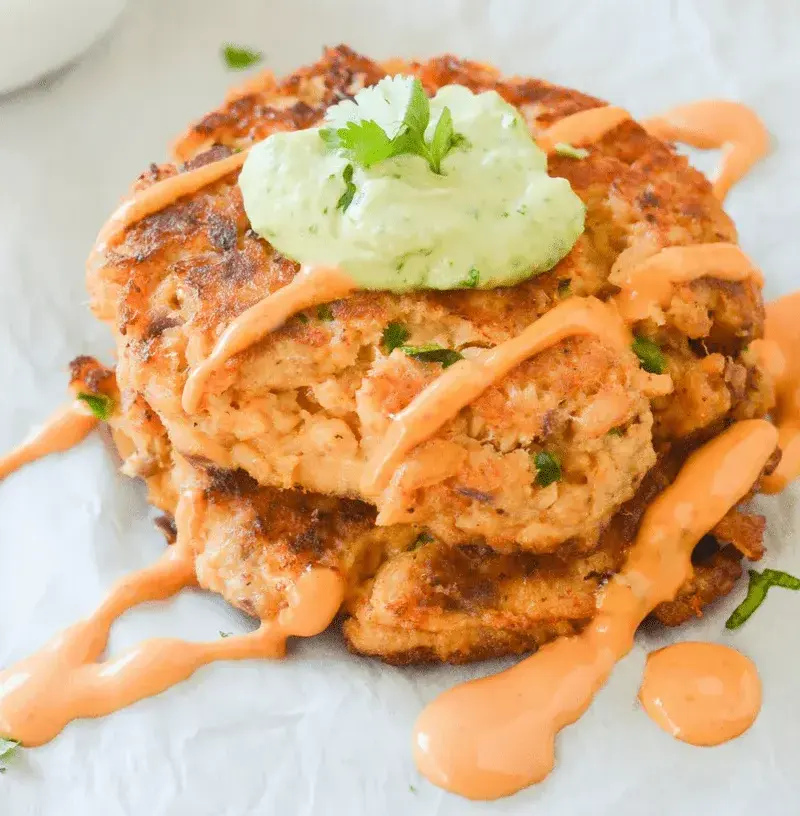 Low Carb Salmon Croquettes are delicious patties that are perfect for a quick keto meal!
Using canned salmon makes this dish more convenient as the fish is ready to use right out of the can!
And guess what…
In order to put these patties together, you just need ingredients that are usually already sitting in your refrigerator and pantry!
Enjoy the croquettes with a dip, sandwiched between low-carb bread or with a side-salad – there are just so many ways of savoring these!
Get ready for a creative dish featuring a delicious salmon mixture with a crunchy and refreshing cabbage leaf wrap!
It's such an innovative idea that brings together healthy ingredients, a beautiful presentation and loads of nutrition!
Here are the magical benefits of this innovative meal…
It's not only a feast for the eyes, but also a wholesome and low-carb option! The wrap is packed with protein, healthy fats and other essential nutrients.
So what are you waiting for?
Get your hands on this creative recipe!
Final Thoughts
In a nutshell, keto salmon recipes are a perfect match for your low-carb journey.
With its naturally low carb content, this fish becomes your ultimate keto-friendly companion.
And guess what?
It offers a world of culinary possibilities! From delightful salads to satisfying main courses and even finger-licking appetizers like salmon nuggets!
Worried about cooking this delicate fish?
Fear not!
These keto salmon recipes are designed to help you become a salmon-cooking pro.
So, what are you waiting for?
Give them a try and don't forget to share your thoughts in the comments below.
Let's dive into deliciousness together!