Who can resist the delicious charm of mini donuts?
Whether you prefer classic vanilla glazed or innovative fruity flavors, there are a lot of options you can try with these mini donut recipes.
But did you know?
Donuts were first created by Dutch settlers in the 1800s while the first ever doughnut machine was invented in 1920 by Adolph Levitt.
Today, you can make these little delights right in your own kitchen with the help of these mini donut recipes even without a professional donut maker.
So, get ready to indulge in a world of mini goodness.
It's time to get started!
Let's start with the most basic recipe for mini donuts.
Anyone can make these easily. All you need is an oven and an oven proof donut molding pan!
The simple glaze with sprinkles adds a festive touch to these donuts. These are sure to be a hit with kids.
Miniature, cute, and oh-so-delicious!
That's what you get with baked mini donuts!
Baking these donuts makes them a healthier option as compared to fried ones. The oil and fat content is much less.
And the best thing is…
This recipe gives you a plain canvas to glaze and decorate these donuts with any toppings.
Vanilla donuts coated with chocolate glaze – the most classic combination that takes us back to our childhood days.
Recreate your nostalgic memories by making these donuts in your own home with this easy recipe.
These little treats are an amazing tea-time snack, breakfast option or after-meal dessert.
Give your mini donuts a touch of warm spice with sprinkled cinnamon.
Cinnamon and sugar is a classy combination that creates an irresistible flavor. Plain vanilla donuts sprinkled with this heavenly mixture are truly delightful.
And there is more…
This recipe creates soft donuts with a cake-like texture that melts in your mouth.
Here is a creative way to serve mini donuts at a fun party.
These playful treats are perfect for birthdays, kids' potluck parties or any fun occasion.
These are so easy to make that his yummy snack can be turned into a fun project with your kids.
And that's not all…
This is a dairy-free recipe, making these donuts perfect for vegans.
Ever wondered what to do with the dough that's left after creating a hole in the center of the donut?
Well, check out this recipe to get some inspiration.
Fry these "holes" to get mini treats that are soft inside but crispy outside.
Sprinkle with some powdered sugar or coat them with chocolate.
These are no ordinary cream filled donuts!
Each mini treat is a bite-sized explosion of the yummiest chocolate filling. You can't help but say "mmmm"!
The recipe features donuts that are made using yeast. As the rise during baking or frying, a cavity is created inside that can be filled.
Learn all about donut holes with this informative and fun recipe.
Make bite-sized balls with donut dough and enjoy the delectable texture and taste.
These fun-sized donut balls are really easy to make. You don't need a high skill level in the kitchen for creating these goodies.
So, check out the recipe and get going!
This has to be the best recipe for mini donut holes.
Why?
Let's summarize all the reasons – these donut balls are eggless, yeast-free and take only 30 minutes to be served!
Slather some jam over them, drizzle chocolate syrup or roll them into cinnamon and sugar powder – there are so many way to enjoy them.
Create some tempting mini donuts within 15 minutes!
Yes, it is possible!
With the use of the simplest ingredients, you can whip up a beautiful batch just in time for breakfast or tea time.
Plus, using a vanilla glaze for these chocolate donuts enhances the sweetness of these delightful treats.
I bet you haven't tried Rose Glazed donuts before!
Well, here is your chance to give these innovative donuts a try by following this wonderful recipe.
Bake a batch of mini donuts that are dairy-free. Next prepare the rose glaze to give a glossy appearance to your donuts.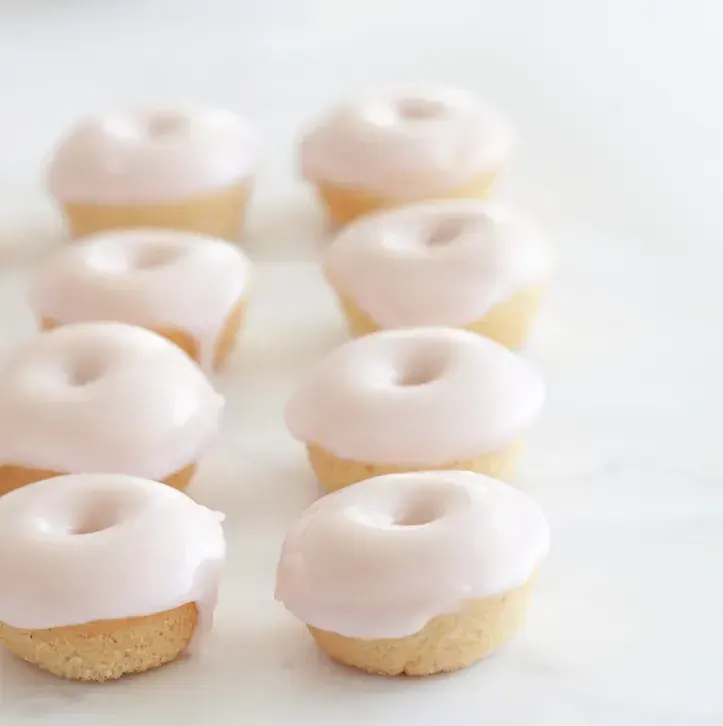 Looking for ways to make your mini donuts festive?
Try these baked gingerbread donuts – the perfect addition to your holiday dessert table.
The batter is made with lots of festive spices. The tender and flavorful donuts that come out of the oven are then drizzled with a sweet maple based glaze.
What a combination of flavors!
Do you want to make your family and guests awestruck this Christmas?
Here is the perfect recipe to inspire you.
Give your adorable mini donuts a Christmas makeover. Using pretzels for antlers, red jelly beans for nose and candy eyes, Rudolph's cute face will be ready!
Do check out this recipe for easy, step-by-step instructions.
If you are looking for unique, holiday flavors for mini donuts, it's your lucky day!
These gingerbread donuts are glazed with cool peppermint for the perfect Christmas touch.
But here is the highlight of the treat…
Crushed candy canes are sprinkled over the donuts for a sweet crunch and a Christmas-perfect presentation.
Close your eyes and imagine this…
Biting into a soft cake full of chocolate chips that melt in your mouth!
If you are impressed with this idea, here is a great recipe for you to try.
These adorable chocolate chip mini donuts and bite-sized pieces of happiness!
Give a fruity touch to your usual chocolate chip donuts.
This recipe helps you create adorable little donuts with an epic flavor combination. Banana and chocolate sure is a heavenly fusion.
A delightful thing is…
One single batch will give you around 48 donuts to enjoy! It's definitely worth the effort!
This is one is for all the health-conscious folks and weight watchers.
These little donuts are made in an air fryer without any added grease. Plus, these are sugar-free!
And there is more…
With only 2 grams of carbs in a single donut, these fit perfectly in your keto diet.
Are you on a diet, but still crave for donuts?
Not to worry!
Here is a recipe that gives you a sugar-free version of the treat with only 1 gram net carbs per serving!
Plus…
Since these are mini sized, you can enjoy having a couple of them which is better than devouring a full-sized one.
Get ready for a sweet holiday treat with these innovative Halloween candy corn mini donuts!
These bite-sized delights offer a playful and colorful twist on traditional donuts. Vibrant orange and yellow hues resemble the iconic candy corn.
And the taste is just as delightful!
So, follow this recipe and impress your folks!
These are the perfect donuts for all kinds of parties and celebrations!
The best thing is…
It's a quick and easy recipe using cake mix. You don't have to make the donuts from scratch.
A simple vanilla glaze and lots of sprinkles give the final touches to this cheerful treat.
Final Thoughts
These mini donut recipes prove that awesome things can definitely come in small packages!
So are ready to embark on your miniature adventure in the kitchen?
You are sure to have lots of fun baking, frying, glazing and decorating.
So, which of these mini donut recipes are you going to try first?
Do comment below and let us know.