In India, potatoes are called "Aloo".
They form the foundation of countless mouthwatering Indian potato recipes, pairing effortlessly with a diverse array of veggies and spices.
But did you know?
Potatoes are more than just a delicious ingredient!
Here's a fascinating fact: they belong to the nightshade family, Solanaceae, and are actually swollen underground stems called tubers.
These humble tubers are loaded with essential nutrients that fill your meals with wholesome goodness.
So, join the aloo party and explore the tantalizing flavors of Indian potato recipes!
Let's start Exploring!
Easy Bombay potatoes are an immensely flavorful potato dish with Indian spices.
The recipe is as simple as it can be!
Just roast cubed potatoes in a wok with onions and flavorful spices. When the potatoes are tender, garnish with chopped coriander and green chilies.
It serves as a mouthwatering side dish that is quick, but absolutely delightful.
Aloo ki Bhujia – absolute deliciousness with a surprisingly simple recipe!
This Indian potato curry is a staple dish in the Sub-continent. Enjoyed with a paratha or simple roti, it serves as a budget-friendly and filling meal.
Thinly sliced potatoes, a tomato gravy and black cumin – a simple fusion that creates an unforgettable flavor!
Indulge your taste buds with the irresistible flavors of Indian cuisine by trying the ever-popular Jeera Aloo.
A must-try dish, this tantalizing recipe is a staple that simply cannot be overlooked. The aromatic and flavorful jeera – or cumin – adds an incredible taste to simple potatoes.
So, prepare to be captivated by its aromatic spices and delectable taste sensations.
Prepare to be enchanted by the quintessential street food appetizer of India, Aloo Pakora.
With its irresistible popularity, this crispy and flavorful delight is adored by all.
Thin slices of potatoes are coated with a gram flour batter and deep fried to create a scrumptious appetizer.
So, succumb to its tempting allure and experience a taste sensation that simply cannot be resisted.
Hard-boiled eggs and tender potatoes in spicy gravy – a meal that is nutritious, filling and wonderfully delicious.
Prepare a rich gravy with tomato paste, ginger, garlic and other typical Indian spices. Cook potatoes till tender and add the boiled eggs.
It's as simple as that!
Make this dish any time you wish to enhance your simple and humble potatoes.
Prepare to embark on a culinary journey to India with the classic Aloo Ka Paratha.
This beloved and tantalizing Indian staple is beyond words—it's a flavorful masterpiece!
Imagine this…
Crispy, stuffed flatbread with a filling of spiced mashed potatoes. Served hot, every bite is more delightful when dipped in mint chutney!
Get ready to savor the heavenly delight of Aloo Paneer, a scrumptious dish that boasts immense popularity in India.
This culinary masterpiece combines velvety cubes of paneer with perfectly cooked potatoes.
The result?
Satisfying textures and a protein-rich vegetarian meal.
Easy to cook yet bursting with richness, it's a culinary journey you can't resist.
Prepare your taste buds for a flavor-packed adventure with Aloo Matar, a humble Indian dish that has won hearts all around.
Tender potatoes and sweet green peas come together in a harmonious blend, creating a wonderful experience with textures and taste.
And the best part is…
This curry is budget-friendly and easy to whip up any time.
Aloo Dum Biryani – a culinary masterpiece that holds a special place in Indian cuisine.
This aromatic dish features succulent potatoes cooked to perfection, layered with fragrant basmati rice, and infused with a medley of spices.
But here is what sets it apart…
It's the cooking technique for this 'dum' biryani – a slow-cooking process allowing the flavors to meld together.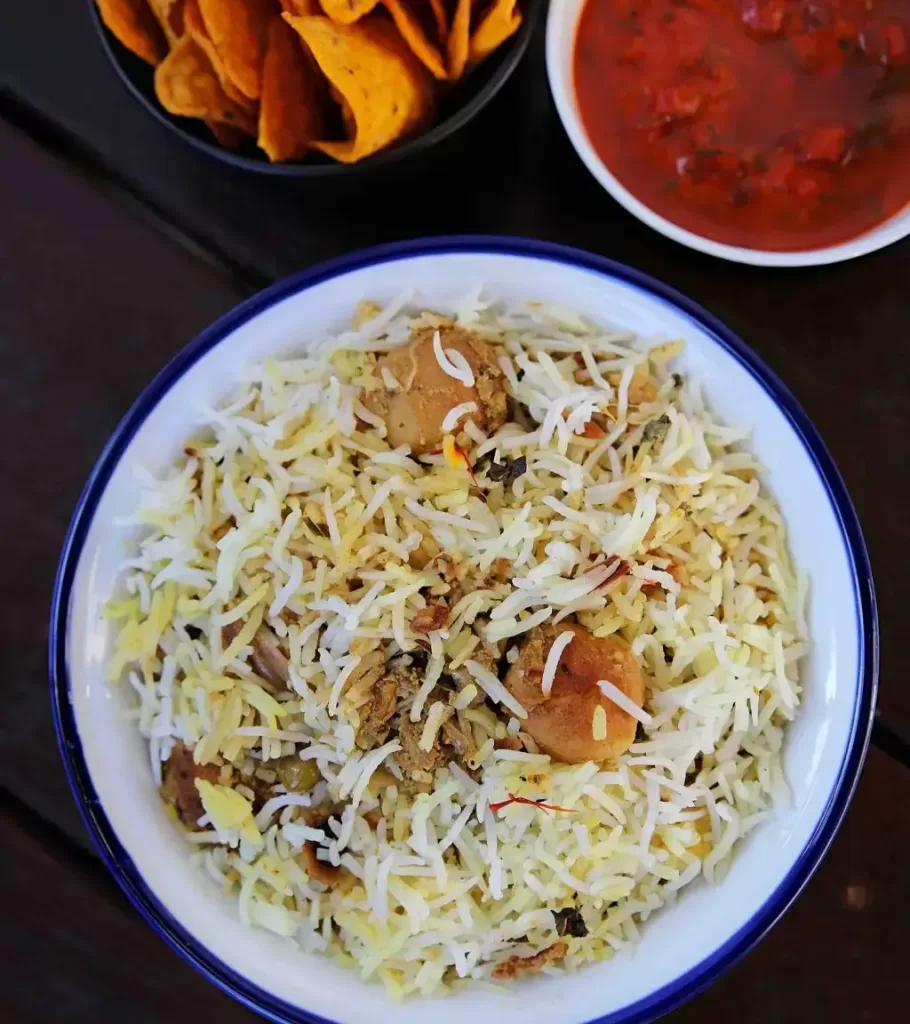 Dosa, a traditional South Indian crepe is typically made from fermented rice and lentil batter.
This tantalizing variation adds a scrumptious twist…
Add grated potatoes to the dosa batter and get a more flavor appetizer with a richer texture.
Enjoy the crepes with your favorite Idnia
Potatoes and eggplant – a popular combination in the Indian vegetarian cuisine.
It's a recipe passed down from generations in the sub-continent. It's a must-have meal at least once a week in the local households.
And here is the reason why…
It is flavorful, spiced up, satisfying and an uncomplicated dish to cook!
Presenting an Indian yogurt dip with spicy notes and tangy flavor.
Creamy yogurt is spiced up with salt, chili powder, cumin and other flavorful spices with chunks of tender potatoes. Other veggies, like onions, may also be added.
This budget-friendly dish beautifully enhances simple rice dishes or appetizers.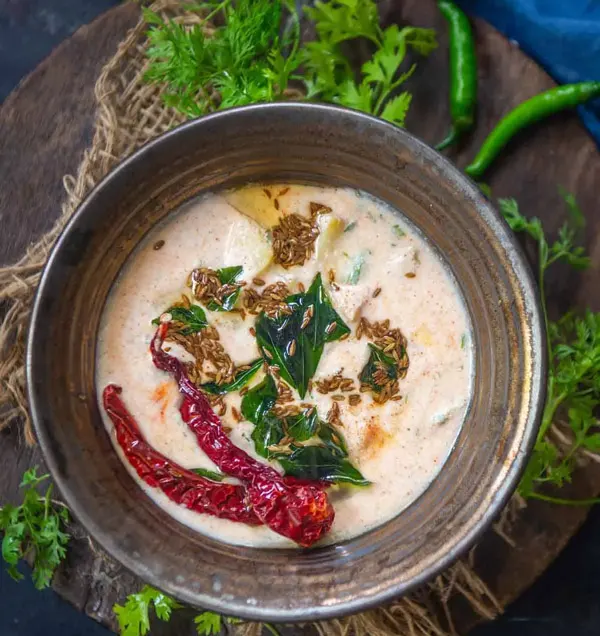 Potato cutlets, or potato patties, are an awesome tea-time snack that is crispy, spicy and oh-so-satisfying.
These are simply made with mashed potatoes. Add all the spices you love with an addition of chopped onions, chopped tomatoes, green chilies and coriander.
This delicious potato mixture is formed into patties, coated with breadcrumbs and fried till nice and crispy.
Here is a mesmerizing snack from Maharashtra, India – the delectable Batata Vada!
Encased in a golden, crispy gram flour coating lies a spiced potato filling that offers a burst of flavors.
With its crunchy exterior and soft, melt-in-your-mouth interior, this savory treat is wonderful with a side of chutney.
Cauliflower and potato curry – or aloo gobi – is simplicity that is remarkable!
This budget-friendly and humble dish is an Indian classic that is full of comforting nutrition.
It pairs well with warm roti or steamed rice for the ultimate Indian experience.
So, head to the recipe and discover the simple procedure of whipping up a comforting meal.
Potatoes, peas and rice – a truly comforting experience that turns out to be an immensely satisfying meal.
Tender potatoes and vibrant peas create an excellent fusion of textures that is both satisfying for the taste buds and appeasing for the eyes.
Cooked in an instant pot, this can be an easy weekday meal for your family.
Can you believe it?
Indian-style mashed potatoes – known more commonly as Aloo ka Bharta – take only 10 minutes to be ready!
This flavorful mixture of potatoes with spices, chopped crunchy onions, tender tomatoes and green herbs is not just a side dish!
It is a complete meal when paired with straight-from-the-griddle hot roti!
This is how the lively Punjabis of India enjoy the humble potatoes – floating in a creamy, lip-smacking curry.
This is no ordinary curry…
It has a rich yogurt base that imparts a subtle tangy flavor to the meal. Plus, adding a little cream enhances the richness.
Baby potatoes are slow-cooked to perfection in this gravy, perfectly infusing the flavors.
For those of you who don't know…
Kofta is conventionally an Indian meatball that can be made with chicken, mutton, beef or pork.
Here is a purely vegetarian twist – meatless potato meatballs. Cooked in a delicious gravy, these make the perfect Kofta Curry.
Enjoy it as a hearty and satisfying meal with chapatti or rice.
Here is a savory breakfast option to brighten up your day.
Aloo Anday ki Bhujia is a kind of dry curry that features scrambled egg with soft potato chunks and a blend of delicious spices.
Paired with a paratha at breakfast, this humble dish instantly turns into a hearty meal.
Aloo capsicum is a dish where the vibrant capsicum takes the spotlight, infusing its distinctive aroma and flavor into the tender potatoes.
It is the perfect pair of veggies where the potatoes provide a satisfying texture while the capsicum takes charge of the flavor.
With just 2 primary ingredients and a handful of spices, you have a beautiful dish to serve as a side.
Aloo chaat is an immensely popular street food item in India.
It is a simple dish to make at home with just potatoes and a couple of spicy and tantalizing sauces.
It is a quick snack idea when you are craving from something lip-smacking!
Plus, you can whip it up even if all you have is potatoes available at hand!
If you ever visit India, bhel puri is a must-try street food!
But you don't have to wait for your Indian visit to try this scrumptious snack!
Simply gather some puffed rice, tangy tamarind chutney, zesty green chutney, diced onions, tomatoes, and boiled potatoes and create this dish at home!
Pani puri – crispy shells loaded with a savory filling along with tamarind water!
Learn how to make the best potato filling to stuff the shells with.
You will be surprised!
This immensely flavorful filling is made with just boiled potatoes and spices! that's it!
So, enjoy your own pani puri at home and forget the unhygienic street version!
Puri, or fried flatbread is how the Indians relish a plethora of curries.
Here is the best accompaniment for a crispy puri – a simple potato curry. Flavorful, juicy and delicious!
Guess what?
If you cook Indian food often, you'll have all the ingredients needed for aloo puri already at your home.
Give your Punjabi chickpeas masala a twist by adding some tender chunks of potatoes to it. The texture and satisfaction level will be instantly elevated!
It is a simple way of fulfilling your cravings for some spicy Indian food since making the dish is not complicated at all.
Plus, with no meat or dairy items, it is an awesome vegan meal.
One of the most beautiful creations of the Indian cuisine is the vibrant, stuffed capsicum.
While you can stuff it with any kind of filling, considering a mixture of mashed potatoes will be a budget-friendly as well as a satisfying option.
It will be an innovative and eye-catching addition to your table.
Here is a filling snack that takes only 20 minutes to prepare!
You will be totally surprised by the super easy preparation!
Simple create a spicy mashed potato mixture, slather on soft bread and you are done! Even a kid can make it!
Speaking of kids, this sandwich can be great as a lunchbox item.
Here is a South Indian treat that is an exciting snack and a filling meal.
The main features of the slider are a spicy potato fritter nestled in a soft bun, generously smeared with chutney. Mmmm delicious!
The texture is a delightful contrast of crispy and pillowy, while the taste is a perfect blend of savory, tangy, and spicy.
Aloo kachori is a heavenly Indian snack that you won't be able to resist!
Imagine this…
A deep-fried pastry filled with a spicy potato mixture! A crispy outer shell and a rich potato filling to take your breath away!
Making it at home allows you to enjoy its fresh and authentic taste.
Aloo Chana Chaat – an incredible street food salad that never fails to excite your taste buds!
Boiled potato cubes, chickpeas, onions, tomatoes, and a medley of spices, all tossed together.
The result?
A burst of flavors—tangy, spicy, and refreshing.
It's a simple yet sensational dish that'll will make you lose yourself with every bite!
Ah, the delightful aloo samosa! A crispy, golden-brown pastry filled with a savory potato stuffing that's been spiced to perfection.
And not to forget the fun triangular shape that makes a samosa stand out from the rest of the appetizing snacks there are!
Follow this recipe and add samosa-making to your list of culinary skills!
Aren't the plain old masala fries too mainstream?
Give them a spicy, Indian twist with this recipe for crispy Masala fries.
Inspired by the famous Indian pakoras, these potato fries are coated with conr flour and deep fried to achieve the perfect crunch!
Enjoy with a condiment like ketchup, mint or tamarind chutney for the best results!
You must be familiar with the much loved aloo paratha. But have you heard of aloo naan?
It's like a fluffy, golden pillow of deliciousness!
Traditional Indian bread is stuffed with a mouthwatering mixture of spiced mashed potatoes. The naan itself is soft and chewy.
It's a heavenly combination of carbs and comfort!
It is really common to find potatoes in every other Indian dish. But, did you know, potatoes also make delightful desserts?
Aloo ka halwa is a delightful and indulgent dessert that is rich and oh-so-sweet!
With a luscious, melt-in-your-mouth smoothness, it can also be a nutritious and filling meal for toddlers.
Potato Thokku – a fancy name for a simple to make South Indian dish.
Sure, the list of ingredient seems long, but you simply toss everything together in a wok, stir fry for the right amount of time and your dish is ready.
So, if you want to enjoy a quick Indian potato dish, don't miss this recipe!
Are you ready to indulge in a beautifully tender sweet treat?
Barfi – a popular Indian sweet snack – is not conventionally made with potatoes. But why not venture with this budget-friendly ingredient?
A handful of ingredients and you'll have some rich, creamy and heavenly dessert bites to enjoy with your family!
If you want to add the oomph factor to your potato curry, here is just the recipe for you!
Fit for royalty, this luxurious dish features cashew nuts to add richness to an otherwise simple meal.
And it's not just about the taste and texture…
Cashews brings loads of nutrients to turn the curry into an extremely healthy meal.
Meet the all-time snack superstar – potato and onion fritters!
These delectable Indian pakoras feature a tantalizing combination of sliced potatoes, onions, and a zesty blend of spices.
All ingredients are enveloped in a golden, crunchy batter. The fritters are just waiting to be dipped into a tantalizing condiment like mint and coriander chutney.
You must have come across lots of tomato based curry recipes, but this one is made with yogurt that adds a tangy touch!
It is creamy, smooth and infused with aromatic spices.
And the most amazing part is…
It's cooked in an instant pot to yield quick results.
Final Thoughts
These Indian potato recipes offer a budget-friendly solution for meals that please the whole family.
From comforting vegetable curries to crispy street food snacks like samosas, the humble potato is here to delight you in many ways.
Making Indian food recipes allows us to explore diverse flavors, expand our culinary horizons, and appreciate the richness of Indian cuisine.
So, add some magic to your potatoes with these spicy recipes and explore dishes that are a joy to make!
Do you have any more creative ideas to spice up potatoes?
We would love to hear from you!