Would you like to try an exciting cuisine?
Dive into some mouthwatering Vietnamese recipes – from tangy and lip-smacking Pho Noodle soups to heavenly Ca Kho To fish.
Do you know what Vietnamese cuisine is famous for?
It features fresh ingredients, bold flavors and healthy cooking techniques.
The result?
Dishes that are not only delicious, but also healthy and nutritious!
So why not spice up your next meal with these Vietnamese recipes?
Let's begin!
If you are fond of spicy Indian curries, you are definitely going to like this Vietnamese version.
But here is how it stands out from conventional curries.
It is a fusion of spicy gravy and comforting stew featuring vegies with the chicken.
Enjoy it as a warm and lovely home-cooked meal with your family.
Awesome news for vegetarians!
This scrumptious Vietnamese curry is purely vegetarian with potatoes, eggplant and mushrooms.
The gravy is creamy and features ginger, garlic, lemongrass and lime for a flavor explosion!
Prepare this hearty curry within an hour and savor the dish with noodles, rice or bread.
Here is a traditional and authentic Vietnamese recipe made with juicy beef mince.
For those of you who don't know…
Bun Cha consists of a tender meatball, rice noodles and some fresh veggies all wrapped in a crispy lettuce leaf!
Try this perfect recipe that makes every step very simple with picture instructions.
Ah! You are going to love this!
Banh Mi – a delicious Vietnamese sandwich that features a crispy baguette filled with a variety of savory meats, fresh veggies, and tangy sauces.
But wait…
This version of the recipe replaces meat with tofu! Same rich texture, but perfect for vegans!
Hey chicken lovers, this one is for you!
Fill a Vietnamese baguette with juicy grilled chicken along with pickled vegies and herbs. Lemon grass adds a fresh and zesty flavor.
It is very easy to make and can be enjoyed as a quick meal at home.
Serve these beautiful and delicious crepes to surprise your folks at dinner.
This popular Vietnamese dish features a crispy rice flour pancake filled with savory meats, veggies, and fresh herbs. What a scrumptious feast of textures and flavors!
And there is more…
The unique mix of sweet, salty and sour flavors make banh xeo a tasteful sensation.
Have you ever heard of salad rolls?
Well, that's what these delicious Vietnamese rolls are. Rice paper rolls filled with a rich salad mixture.
It is no ordinary salad though!
There are herbs, crunchy veggies, rice noodles, shrimp and pork!
Plus, the creamy peanut sauce is the perfect dip for these rolls.
If you are into Vietnamese cuisine, this classic broken rice recipe is a must-try!
Wondering why it is called broken rice?
It is made with broken grains of rice that are shorter than regular grains.
These rice are served with lip-smacking pickles and tofu. You may add your own variation and add your favorite meat.
Here is a quick dish to make with ingredients that are already available in your kitchen!
You will, of course, need Ramen noodles. Combine these with any seafood you have stored in your freezer.
Flavor with ginger, garlic along with chicken and vegetable seasonings to create a mouthwatering dish.
Get ready for an authentic Vietnamese noodle soup recipe you've been craving!
It's not the traditional and popular Pho soup, but an equally exciting variation.
The highlights of the recipe are its chili seasoning, vegies, meat and – of course – noodles!
So, cook this easy soup and serve a bowl-full of delight!
Here is an exotic Vietnamese soup that features an exciting seafood medley – prawns, mussels and clam.
And you know what…
The use of lemongrass in this soup helps alleviate digestive disorders. Plus, it is also effective against inflammation.
So, enjoy this hearty soup and avail the health benefits.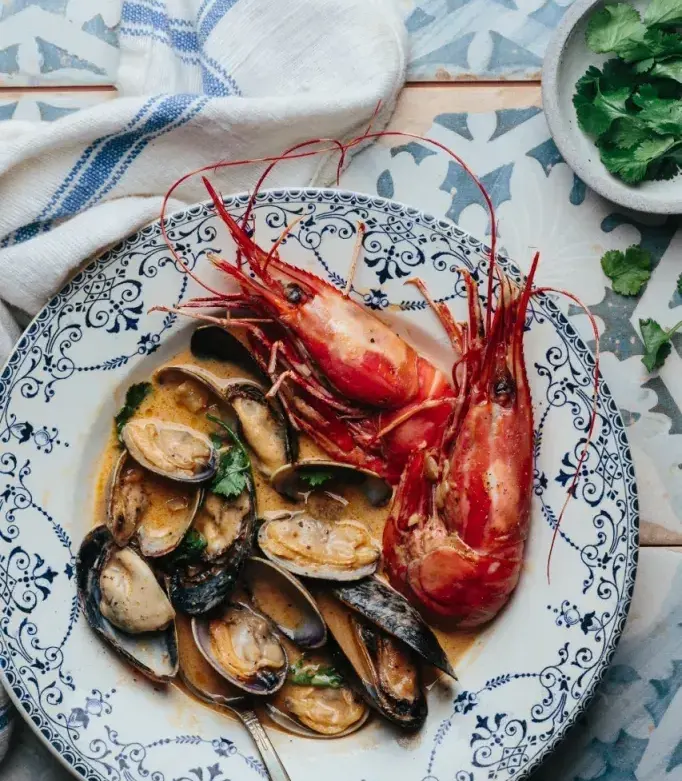 This recipe will literally tantalize your taste buds and make you drool!
It makes use of tender and meaty fish fillets that are cooked with braising technique.
The result is…
Perfectly tender fish with a thick and sticky gravy that goes really well with a side of steamed rice.
This sweet and sour sauce is a popular condiment all around the globe.
You might have been served with this dipping sauce at a restaurant or fast food with some fried chicken, nuggets or other snacks.
Now you can make one at home and enjoy the same authentic taste with your snacks.
This classic beef dish literally means "shaking beef" in English!
Why?
Cubes of beef are marinated and cooked in a pan that is constantly shaken by the chef to ensure the beef is cooked on all sides!
But, that's not all…
The yummy fusion of classic Vietnamese flavorings add a sweet and tangy taste to the juicy meat.
This classic dish is popular among the locals as well as other foodies living around the globe.
The main highlight of the dish is…
Authentic Vietnamese sweet and savory flavor since salty fish is drenched in a sweet caramelized sauce.
But don't worry…
Having a claypot to cook this dish is not mandatory!
This tantalizing soup hails from Southern Vietnam.
The sour and tangy flavor of the soup comes from a tamarind-based broth – lip-smacking!
Some ingredients worth noting are meaty catfish, bright tomatoes and pineapples.
Yes, you read it right!
The pineapples complement the sweetness of the soup and add an exotic texture.
Give your everyday omelette a classic Vietnamese touch with this recipe.
It is more flavorful and more satisfying!
How?
Other than egg, the omelette features rice vermicelli noodles, minced garlic and immensely flavorful fish sauce!
All it takes is 15 minutes to whip up this delicious breakfast!
Here is a vibrant Vietnamese dish loaded with delicacies from the sea.
This unique stir fry features crunchy cucumbers and an adventurous umami flavor.
This luxurious seafood stir fry is a quick recipe and full of delectable Vietnamese flavors – crowd-pleasing recipe that is fit for a dinner party.
Learn to cook this delicious dish that features scrumptious shrimp cooked with caramel sauce – a lip smacking fusion of sweet and salty!
You won't believe this…
This dish is ready within minutes by throwing together just a few ingredients.
But the flavor are an immense delight for the taste buds!
If you didn't try this recipe, you would be missing out on a dish featuring a traditional Vietnamese touch.
Vermicelli noodles, juicy chicken flavored with aromatic lemon grass and some fresh veggies and herbs.
And the final Vietnamese touch is…
Serving the dish with authentic sweet and sour Vietnamese dipping sauce.
Time to try a refreshing drink from Vietnam – Tra Chanh Hanoi.
Just use 5 ingredients to make this amazing lime iced tea.
And the best thing is…
You can customize the recipe – add or remove a few ingredients to add your own touch and enjoy the drink.
Here is a lovely summer dish that you would love to enjoy at the end of a tiring day.
You spend the minimum amount of time in front of the stove to whip up this dish!
Rice noodles, fresh vegetables and delicious chicken, all in the same dish! What more could you ask for?
Time to enjoy a delightful dessert the Vietnamese way!
In this fruit cocktail, you can add any and all the fruits you can imagine!
It's a colorful array of divine fruits in a creamy milk mixture – looks like a rainbow on a cloud!
Create this fun dessert that will be a real hit among your folks.
This is how they make Crème Caramel in Vietnam!
Banh Flan, as they call it here, is velvety smooth accompanied by yummy caramel.
Just one word of caution while cooking it…
You need to be careful about the cooking temperature and time.
But not to worry!
This recipe provides the perfect instructions to guide you through the process.
This traditional Vietnamese dish is really versatile – enjoy it as a family meal, serve it at large gatherings and pack it in a lunchbox for your office.
It is a medley of textures with rice and crunchy vegetables.
You may also add your favorite meat to turn it into a heartier meal.
Porridge is usually a simple and rather bland breakfast in most parts of the world.
But not this Vietnamese version!
This rice porridge features juicy chicken, aromatic ginger and garlic along with a zesty touch of lemon juice.
It's fun to cook and a delight to serve at breakfast or brunch.
Do you enjoy English egg muffins for breakfast?
If yes, this Vietnamese egg sandwich is sure to win your heart!
Unlock the goodness of fried eggs, asparagus and smoked salmon sandwiched between Vietnamese baguette buns.
This highly satisfying meal can also be enjoyed for a nutritious lunch option.
The much awaited Pho soup recipe is finally here! It's one of the most popular dishes of Vietnamese cuisine.
Noodles, broth and tender chicken – comforting, delicious, satisfying and nourishing!
Flavored with special pho spices, the soup will soon be a family favorite at your home.
So, head to the recipe and learn to cook this yummilicious Vietnamese soup!
Here is a buzz-worthy beverage from Vietnam!
All coffee lovers must try this rich, bold, nutty and almost chocolate version that sets it apart from your usual cup of brewed drink.
And it is not just about the taste.
Vietnamese coffee has a special way of serving – creamy condensed milk at the bottom with coffee layered at the top.
Get ready for a jiggly delight – Tau Foo Fah pudding!
Made from freshly coagulated soy milk, it's a silky smooth and healthy dessert that even vegans can enjoy.
Served with a drizzle of sweet syrup, it's like a heavenly experience.
Just like life, this dessert is all about balance…
Soft yet firm, sweet yet not overpowering!
Final Thoughts
Vietnamese recipes might be new to you, but these exotic dishes may soon become your favorite meal choice!
Foodies will be delighted to enjoy some comforting noodles soups, lip-smacking fish dishes, delightful desserts and much more.
So, embarking on this Vietnamese culinary adventure is totally worth your time and effort!
Feeling hungry yet?
Before heading to the kitchen, do let us know which of these Vietnamese recipes you are dying to try first!