Make your cooking experience more fun with these colorful Purple Cabbage recipes.
Also known as red cabbage, this variety stands out from the regular cabbage thanks to its beautiful hue.
But there's more to it…
Purple cabbage is loaded with antioxidants, vitamins, and fiber, making it a nutritional guru!
So, add a pop of color and fresh crunch to your salads, soups, sandwiches and even curries!
There are just so many beautiful purple cabbage recipes to explore.
Let's begin chopping!
Get ready to feast your eyes on the vibrant and crunchy delight presented by this Easy Purple Cabbage Salad!
With its stunning purple hue, it's a showstopper on your plate that brings a refreshing dose of healthy nutrients.
But there's more!
The addition of sunflower seeds brings a delightful nutty crunch, taking the texture to the next level.
And let's not forget about the dressing – it's a perfect harmony of sweet and zesty flavors.
Get ready to zing up your taste buds with our Purple Cabbage and Carrot Slaw!
This crunchy and colorful concoction is delightfully creamy and rich.
And here is an exciting twist…
Other than cabbage and carrots, this salad also features jalapenos that brings a spicy twist.
Plus, you can create this lovely salad using pantry ingredients including mayo, mustard and apple cider vinegar.
So whip it up for a lovely dinner, BBQ party or picnics.
Here is a great way to add some delicious flavor to vibrant cabbage.
The cabbage is cooked to perfection with extra virgin olive oil and garlic, resulting in a light and aromatic dish.
The texture is crisp and tender, creating a satisfying bite.
And there is more…
Top it off with toasted sesame seeds for an added crunch and flavor boost.
Serve it as a side with grilled chicken or enjoy it as a flavorful veggie-packed main course.
Get ready to dive into a plateful of deliciousness with a vibrant side-dish.
This dish is all about tender purple cabbage infused with the aromatic wonders of dill and garlic.
The best part is…
With the slow cooking technique of braising, the cabbage becomes melt-in-your-mouth tender!
And when it comes to the flavor, dill adds a fresh and herby kick, while the garlic brings a satisfying savory punch.
With its vibrant colors and amazing taste, this dish is perfect for adding some pizzazz to your meals.
This crunchy and light snack is pure temptation!
It is a great way of sneaking some antioxidant-rich cabbage in your diet! And these are so delicious you wouldn't believe it's a healthy snack!
The secret?
These are baked instead of deep frying, cutting down on excess oil.
But here's the real surprise…
Apples!
They bring an extra layer of crunch and a delightful sweet and zesty twist to the flavor to this fun appetizer.
Here is a wonderful fusion of creamy sweet potatoes and crunchy purple cabbage to create some scrumptious patties!
These are thick, velvety and really satisfying as a healthy snack or side-dish.
And the best part is…
These are ready in 35 minutes! Quick and easy!
And guess what?
These purple cabbage patties are really versatile. Enjoy them with a dip, load them between tender buns or pack them in lunch boxes.
Red Cabbage Okonomiyaki – originating from Japan, this savory pancake is a twist on the traditional version.
What sets it apart is the vibrant red cabbage, adding both color and a unique flavor profile.
Making this dish is a fantastic idea because it combines the umami goodness of okonomiyaki with the health benefits of red cabbage.
So, dive into the recipe and experience the perfect fusion of delightful flavors with a healthy twist.
Get ready for a soup that's not only delicious but also packed with health benefits!
This recipe features the incredible power of cabbage, loaded with antioxidants that work like magic to keep you looking youthful.
And there is more…
It's the perfect detox option, helping you flush out toxins and reset after those indulgent weekends or holiday feasts.
And let's not forget about its stunning purple color! Serving this soup to your loved ones is like presenting them with a bowl of pure beauty.
Get ready for some mouthwatering goodness with our Grilled Cheese and Red Cabbage Sandwiches!
These sandwiches are the perfect balance of simplicity and indulgence.
With just a handful of ingredients, you can whip up this delicious treat whenever those cravings hit.
The melted cheese and tangy red cabbage create a flavor combo that is absolutely delicious.
And guess what?
The bright cabbage also adds a beautiful touch to these sandwiches, making them a feast for both your eyes and your belly!
Get ready to spice up your appetizer game with these incredible Thai Chicken Cabbage Wraps with Peanut Sauce!
These wraps are not your ordinary appetizers!
These are innovative, packed with flavors, and have a presentation that will blow your mind!
Picture this…
Vibrant purple cabbage wraps filled with tender chicken, savory mushrooms, and crunchy peanuts. And out of this world combination!
And the peanut sauce adds a creamy and tangy kick that ties all the flavors together perfectly!
Here is a nutritious soup for the winters full of veggie goodness and protein-rich white beans.
The beans add creaminess and a tender texture along with crunchy veggies like purple cabbage, cauliflower, broccoli and carrots.
And that's not all…
The purple cabbage adds a bright hue that you won't find in your regular soup, making it more exciting at the dinner table.
You may also customize to include other veggies like mushrooms perhaps.
And don't forget the final touch…
A sprinkle of parmesan for some extra flavor.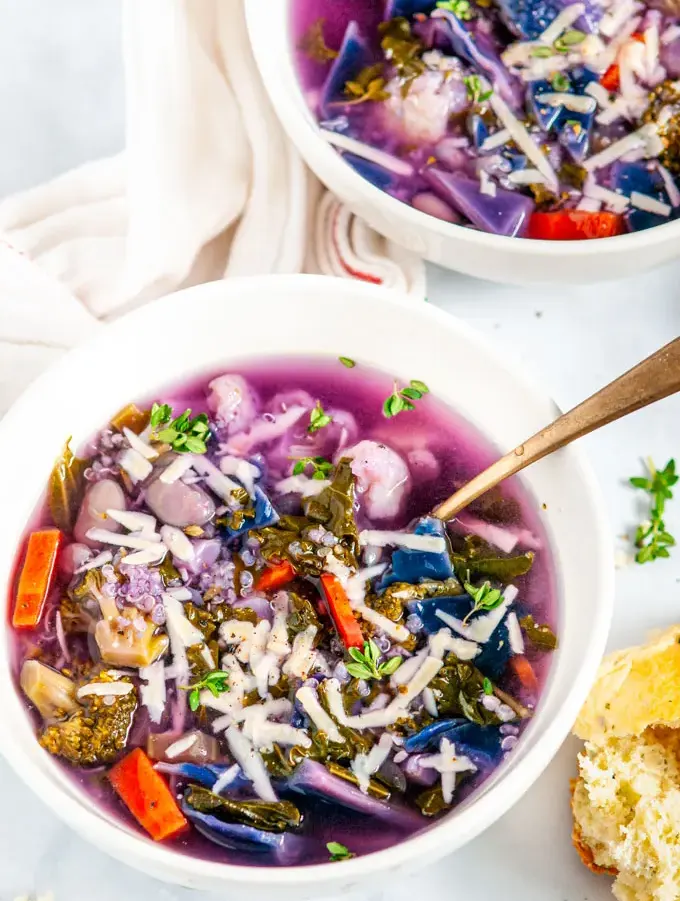 Looking for ways to make your food more exciting for your kids?
Here is a gorgeous sandwich that nobody can say no to!
This rainbow sandwich is loaded with all the colorful veggies you can imagine – purple cabbage, peppers, tomatoes, carrots, radishes and more!
And here is how you make it truly indulgent…
The secret ingredient is flavored cream cheese. You may pick any flavor your kids love more.
So, head to the recipe and discover more about this fun and healthy sandwich.
This recipe takes creativity to the next level by transforming simple ingredients into an exciting and innovative dish!
Using red cabbage leaves as wraps, these rolls are attractive and add a pop of color to your party table.
But here is the best part…
The filling is very rich with meat, mushrooms and delicious flavorings featuring sweet, zesty and spicy all at the same time!
And guess what!
These rolls are baked to offer a healthy meal with minimum oil.
This gorgeous dish is culinary beauty at its best!
Believe me…
The ingredients are very simple – cucumbers, carrots mangos, avocados all served in a purple cabbage wrap.
But it's the beautiful, rainbow-inspired arrangement that makes all the difference!
And of course…
The flavor-loaded maple peanut sauce is generously drizzled at the top to add a sweet, zesty and nutty goodness that is oh-so-velvety!
Don't miss out on this simple yet absolute masterpiece and check out the recipe right away!
Say hello to the easiest pasta dish ever!
This vibrant and wholesome salad needs only a few ingredients and takes no more than 10 minutes before you can serve it!
It features crunchy and nutrient-packed purple cabbage with carrots and onions. Plus almonds and sesame seeds are added for an extra crunch!
The delicious dressing adds creaminess and a fusion of sweet and tangy flavors.
Enjoy as it is or with a hearty main-course meal.
Get ready for a Thai-inspired dish that brings a balance of sweet, savory and tangy notes.
The curry paste adds a delicious kick and brings a lip-smacking flavor to this noodle dish.
But the best part is…
The satisfying combination of tender noodles with crunchy and bright cabbage and broccoli rabe. It's comforting goodness with a dose of nutrients.
And in order to make it more wholesome, the recipe uses wheat noodles.
Indulge in the exotic Asian taste of purple cabbage curry that brings immense flavors with some irresistible heat.
Inspired from sub-continental cuisine, it features authentic Indian spices like cumin, turmeric, red chilies and more.
But here is the best part…
The tender potatoes and peas, along with the vibrant purple cabbage, create a satisfying texture that is beautifully appeasing.
The recipe is definitely worth your time as it offers a wholesome dish with the essence of Indian flavors.
Calling all health fanatics!
Here is a delicious South Indian version of a purple cabbage stir-fry dish that brings loads of health benefits.
This purely vegan delight is also gluten-free. Plus, being low in carbs, our keto friends are going to love it.
Here is what brings magic to the vibrant cabbage…
It is stir fried in coconut oil with mustard and cumin seeds and a few other bold Indian spices.
Finally topped with shredded coconut, it is so simple yet finger-licking delicious!
Get ready for a fantastic stir fry experience with Purple Cabbage and Green Pea Stir Fry!
It's not just delicious; it's also incredibly good for you!
It's full of antioxidants, vitamin and fiber – an excellent way of consuming healthy nutrients while you enjoy a lip-smacking dish.
The secret behind the gorgeous flavors?
It's a blend of classic Indian flavorings like chili flakes, ginger, curry leaves and more!
And let me tell you…
It looks absolutely gorgeous with the vibrant purple cabbage and the bright green peas!
Do give this beauty a try!
Get ready to be blown away by the deliciousness of Red Cabbage with Apples!
This creative combination takes red cabbage to a whole new level.
Baked with apples, onion, and herbs, everything gets incredibly tender, while the natural sweetness of the cabbage comes out with a delightful caramelized finish.
The taste is a perfect balance of sweet and savory, while the texture is melt-in-your-mouth amazing.
This innovative dish brings loads of nutrients – antioxidants, anti-inflammatory nutrients and countless vitamins.
Presenting a feast for your eyes in the form of this bright salad. The combination of purple and orange really uplifts the mood!
The flavors are a creative blend of savory goodness with a touch of natural sweetness.
Every bite offers a satisfying crunch from the cabbage and a creamy texture from the sweet potatoes.
But, it's not just a treat for your taste buds…
It's a healthy choice where the red cabbage brings its antioxidant power, while sweet potatoes deliver a punch of vitamins and minerals.
This bread is not your average loaf! It's got that tangy sourdough taste.
But here is a twist…
The recipe has added vibrant purple cabbage to the mix, turning it into a showstopper.
And we call it elegant because it brings a touch of sophistication to any table.
But here's the best part…
You can do so much with it! Make killer sandwiches, pair it with hearty soups, or toast it for a breakfast that'll make you smile.
Stuffed paratha – or stuffed, fried flatbread is a heart favorite in India!
The purple cabbage filling brings an exciting variation for vegetarians who can enjoy the crispy paratha with some crunchy and flavorful stuffing.
This is why you are going to love it…
This flatbread is so satisfying all by itself. Enjoy it over breakfast or serve it as a scrumptious lunch option as it's both filling and nutritious.
Totally worth mastering this simple Indian paratha!
Presenting a wonderful way of making use of the incredibly nutritious purple cabbage!
It's a simple and delicious way to preserve the vibrant flavors of cabbage with a tangy twist.
Not only does it add a pop of color to your plate, but it's also packed with nutrients like vitamin C, antioxidants and fiber.
And the best part?
It's incredibly versatile!
Use it as a tangy topping for sandwiches, a zesty addition to salads, or a crunchy side for your favorite dishes.
Say hello to a scrumptious omelet that is way tastier than your regular eggs!
This Indian-inspired breakfast adds a kick to the fluffy omelet with green chilies, red chili powder and all-spice powder!
Plus, grated red cabbage and chopped onions give it a beautiful crunchy texture that is oh-so-enjoyable!
It's ready to be served at your breakfast or brunch table in just 20 minutes!
Easy-to-make, rich, vibrant and nutritious – don't miss the incredible recipe!
Final Thoughts
Purple – or red – cabbage has proven itself to be a true kitchen superstar!
From its eye-catching color to its crunchy texture and incredible health benefits, it's a veggie that knows how to steal the show.
Now armed with an array of purple cabbage recipes, go forth and dazzle your family with creativity.
Toss it into salads, create rainbow sandwiches or cook it into scrumptious curries. Get slicing, cooking, and let the purple magic unfold on your plates!
And if you know any more ways to use purple cabbage, do enlighten us in the comment section!