Get ready to go bananas over these frozen banana recipes!
Would you believe it?
Bananas are technically berries!
And it's the only fruit that contains the amino acid tryptophan which can help boost your mood and reduce stress!
So, bring some joy in your life with these recipes using frozen bananas.
There are so many wonderful treats you can make with this sweet ingredient.
Let's start!
Make some soft, moist and delicious banana bread with this recipe.
And guess what…
Using frozen bananas makes the procedure easier than it is with fresh ones.
The recipe gives you step-by-step instructions so that you can bake the perfect banana bread even if you are beginner.
Here is the easiest way to make some delicious chocolate chip muffins.
These are soft and sweet with chocolate chips that melt-in-your-mouth – absolutely addictive.
The best thing is…
You can use over-ripe frozen bananas that are about to turn useless. Simply freeze them and use whenever you wish to make these delicious muffins.
Make some refreshing and nourishing smoothie with this recipe.
Do you know how frozen bananas make it easier?
You can simply whip up the smoothie any time with some sweet, frozen bananas sitting in your freezer!
It's a yummy drink to have when you want to cool off on a hot and tiring day.
Drink your way to health – give your body a boost of iron and other nutrients with this Spinach Smoothie!
Don't worry if you don't like how uncooked spinach tastes!
Just throw in some frozen bananas to sweeten your beverage naturally. Plus, get a boost of calcium, magnesium and fiber with the added banana.
What could be a nutrient packed drink that your kids would love?
Here is the answer!
Try this 5-ingredient banana smoothie that takes minutes to prepare. Your kids are going to love its creamy texture and sweet taste.
And that's not all!
It's a purely vegan smoothie with no dairy products.
Creamy peanut butter and sweet bananas blend together in a deliciously smooth and satisfying smoothie.
It's the perfect combination of protein and potassium in every sip!
The best thing is…
This smoothie is like a healthy dessert that you can enjoy for breakfast or anytime of the day. Yum!
Here is a banana cake that is crazy-awesome!
Creamy, moist, tender and indulgent! This is probably the most irresistible banana cake you'd ever had with its rich cream cheese icing.
And here is why you are going to love making it…
The recipes utilizing over-ripe, frozen bananas and gives the best results.
Put your frozen bananas to use and make the easiest banana bread.
All you need is a handful of simple ingredients and only one bowl. Mix all the ingredients, pour the batter into a ban and bake a delicious banana bread.
Enjoy warm with a cup of coffee or spread your favorite jam on a loaf or two.
Get ready for an epic flavor combination – banana and coffee!
Mouthwatering!
This recipe helps you utilize over-ripe bananas and get the sweetest results.
And that's not all…
It is a flexible recipe that gives you the option to make it purely vegan. Simply switch a couple of ingredients and you will have a vegan banana-coffee cake to enjoy.
Here is a delicious and healthy snack you can enjoy at breakfast or as a quick dessert – frozen banana muffins.
The secret behind their delightfully sweet taste is…
Bananas that are overripe!
So, using frozen bananas for this recipe will yield the best results. You will have the tastiest muffins to relish.
Here is a recipe that is going to delight you since everything about it is awesome!
Just throw together 2 ingredients to make a perfectly creamy and delicious ice-cream!
And there is more!
This rich, chocolaty ice-cream is a healthy dessert with all the nutrients of ripe bananas.
Make an amazing home-made ice-cream with just 3 ingredients!
Combine some frozen bananas, cocoa powder and nut butter for a decadent treat that everyone would be asking more of!
And that's not the only reason to whip up this epic dessert!
It is a vegan treat with no added sugar!
Make the best ice-cream without an ice-cream maker!
Here is why you are going to love making it!
You need only 2 ingredients to whip up a super-healthy treat that is dairy-free, vegan and has no added sugar!
Plus, your kids are going to love eating this delicious ice-cream.
Here is the healthiest ice-cream for you and your family!
Rich in nutrients coming from bananas, you added to the healthy-factor with tahini – a paste made from sesame seeds.
The result?
A delicious and creamy treat loaded with healthy fats, proteins and lots of minerals and vitamins.
Here is a healthy way to begin your day with a green smoothie.
Not a fan of kale?
Don't worry! Adding frozen bananas to the smoothie makes it creamier as well as naturally sweet.
You wouldn't even know it's a drink made with kale!
So, go ahead and try the recipe for a yummy way to recharge yourself.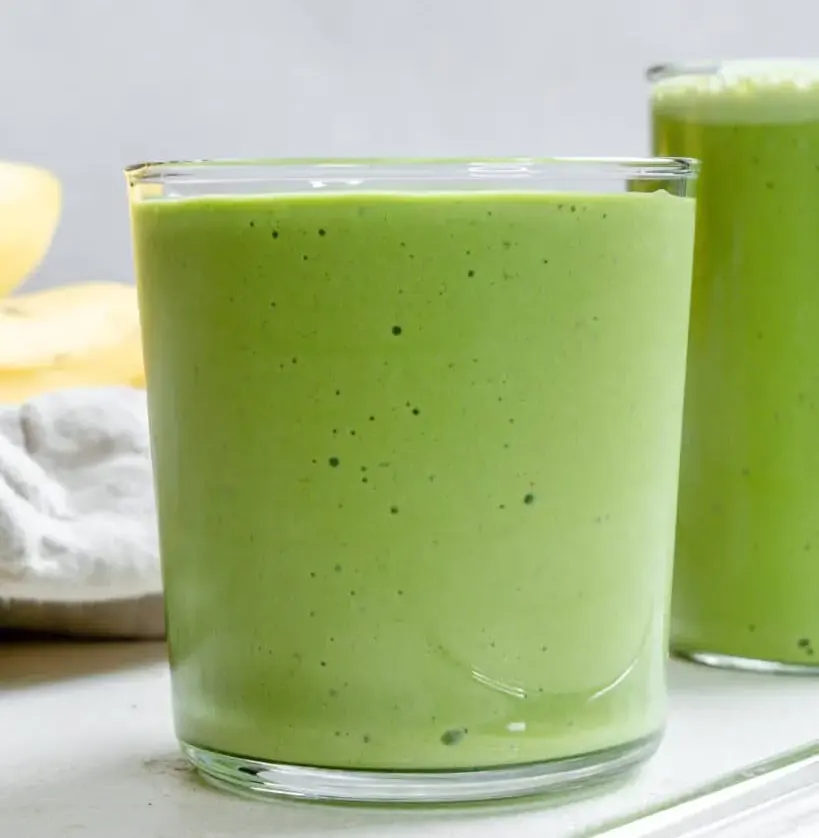 Make the best alternative to unhealthy ice-cream – chocolate and banana frozen!
This delightful treat offers more than a punch of nutrients…
It is so easy and simple to make that even your kids can whip it up! Using just 5 ingredients, your lovely yogurt is ready in 5 minutes!
Here is a healthy, no-bake dessert that is like a tempting cheesecake.
This frozen banana dessert has a crumbly crust made from graham crackers with a rich and creamy filling oozing with the goodness of bananas.
It's a great way of putting some over-ripe, frozen bananas to use.
Just when your bananas are about to go bad, turn them into these delightful frozen bites!
It's a quick and delicious snack you can have any time – simple to make with a few ingredients already available in every household.
Plus, it's a fun way to make your kids eat bananas.
Ice-cream or nice cream?
The latter definitely! Specially if you prefer a dairy-free, low carb and sugar-free alternative to traditional ice-cream.
Whip up the sweet and cool treat using frozen bananas, maple syrup and your favorite flavorings.
Enjoy vanilla, chocolate chips, strawberry or peanut butter versions to satisfy your cravings.
Creating ice-cream with frozen bananas is always a great idea for so many reasons!
It is healthy, low in calories, vegan, dairy free with no additional sugar and no bad fats!
And there is more…
This ice-cream alternative is incredibly easy to make with just 2 or 3 ingredients.
Nothing can be easier than this!
Make a creamy, dreamy, guilt-free ice-cream with just ONE ingredient!
All you need is frozen bananas! Blend them to a smooth and creamy dessert to be enjoyed any time!
An awesome idea to add some fun for your kids is…
Make them into popsicles!
A classic beverage that never fails to satisfy is a yummy banana milkshake.
Make it creamier, yummier and healthier with this recipe.
Add some hempseeds for added nutrition. Plus, use ripe frozen bananas to make the shake sweeter without adding any refined sugar.
A dash of vanilla adds to the flavor, making it more indulgent.
Save your bananas from turning bad by making these delightful little treats.
Nut butter and chia jam adds to the natural sweetness of the bananas and gives a creamier and richer texture.
It is an amazing idea for offering a healthy snack to your toddlers. These frozen banana treats are fun and exciting for little ones.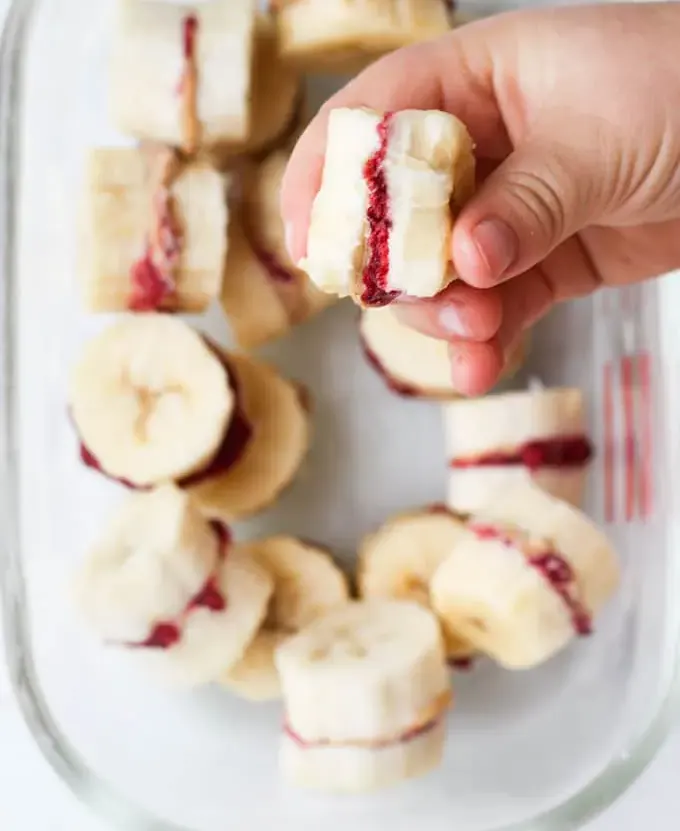 These bite-sized treats are an innovative and healthy way of enjoy a snack with your kids.
The recipe gives you variations for four different amazing flavors. All are fun as well as healthy!
But what you are going to love the most is…
Creating these banana bites is a fun process that you can enjoy with your kids.
Looking for a way of including fruits in the diet of your kids?
Here is a fun idea – healthy frozen banana treats.
With a frozen banana base, you can be creative with the toppings – peanut butter, chocolate chips, chopped mixed nuts, blueberries, raisins and much more!
Give this super-healthy treat to your kids this summer.
Here is a fun treat for your kids – and you!
With some creamy and chocolaty Nutella in every bite, it is a great way of making your picky eaters have bananas and get some vitamins and minerals.
These are easy to make for moms who are super busy. No hassle or mess!
Here is a fruity recipe for energy balls that help you utilize frozen bananas.
This can turn into your go-to-snack.
Here is why…
These are loaded with healthy ingredients, are vegan and gluten-free!
So, enjoy these banana balls as a snack or breakfast option without feeling guilty.
Get creative with simple frozen bananas. Turn them into these amazing ice-cream cups!
This fun dessert is a healthy treat to enjoy this summer.
And you won't believe it…
You need only three ingredients to create a delightful sweet and healthy treat to enjoy guilt-free with your family.
Everything about this smoothie is healthy – proteins, fiber, vitamins and minerals.
Not to worry if you are not too fond of spinach.
Using frozen bananas, you can add some delicious sweetness to the smoothie and mask the unpleasant taste of spinach.
So, check out the recipe and make this easy and delicious smoothie.
Give the classic banana bread a chocolaty twist with this recipe.
Adding chocolate chips that melt-in-your mouth really elevate the texture of your banana bread.
And there is more…
Use over-ripe bananas sitting in your freezer to add the sweetest flavor to your bread.
Enjoy at breakfast or as a healthy dessert any time.
Final Thoughts
Frozen bananas are not just for smoothies anymore!
Check out these frozen banana recipes and discover so many amazing new ways of using this sweet and delicious fruit.
Whether you're looking for a healthy snack, a refreshing dessert or a healthier alternative to ice-cream, frozen bananas can be a great ingredient to work with.
Add natural sweetness, creaminess, and nutrition to your food with these recipes using frozen bananas.
But first…
Do comment below and tell us which of these sweet treats are you most excited to try!