Enter the world of convenience with the best crockpot soup recipes. No more laborious stovetop monitoring and hectic meal preparations!
Do you know?
The low and slow cooking method infuses flavors, tenderizes meats and melds ingredients harmoniously.
And the result is…
Rich, robust broths and perfectly tender vegetables and meats!
So, get ready to enjoy some wonderful chicken soups, beef broth or purely vegan delights with these slow cooker coup recipes.
Let's Simmer!
You know what's absolutely amazing?
A Chicken Crockpot Gnocchi Soup!
Picture this…
Tender chicken, fluffy gnocchi, and a creamy broth that's bursting with flavor.
And it gets even better!
This soup has this magical mix called mirepoix – chopped carrots, celery, and onions. It adds a fantastic crunch and brings out wonderful flavors.
Adding some more magic are the Italian seasonings, giving your soup a Mediterranean flair.
Oh, and did I mention the bacon and baby spinach?
It's a hearty as well nutritious concoction you must try!
Get ready for a wholesome delight – Healthy Crockpot Potato Soup with Chicken!
This soup boasts a creamy texture and a comforting taste that's perfect as a nutritious treat!
The tender chicken and velvety potatoes create a satisfyingly smooth consistency with chicken chunks bits of carrots and celery swimming around.
And there is more…
Chopped bacon adds to the luxurious texture of the soup and makes it a satisfying meal.
A chicken tortilla soup brings an amazing Mexican experience in the form of a comforting soup that makes you full and happy!
It's a delicious and vibrant soup with colorful bell peppers, pinto beans and tender corn for deliciously rich textures.
And speaking of rich…
The creamy and velvety broth is really irresistible, thanks to the heavy cream that gives the soup a magical touch.
And the flavor?
Absolutely lip-smacking! Savory cumin, aromatic oregano and fiery enchilada sauce create a flavor fusion that's remarkable!
A chicken noodle soup is always a comforting and satisfying meal options that you can whip us with simple ingredients at home.
This recipe is extra special!
You create this magical concoction from scratch, using fresh and wholesome ingredients including nutritious vegies.
But here is the best part ever!
This is a "dump-and-go" recipe! You simply throw all the ingredients in the crockpot and let the appliance do all the work!
Calling all pasta and soup lovers!
Here is a recipe that combines the best of both worlds with comforting pasta swimming in a delicious chicken broth.
But here is the star ingredient…
Parmesan! It brings a creamy and nutty kick that is irresistible. Plus Italian herbs like oregano and basil create a wonderful flavor.
And guess what!
With only 20 minutes of preparation, the soup cooks in a crockpot all on its own!
Looking for a comforting, vegan soup?
This mushroom wild rice soup is a wholesome vegan option that is full of aromatic ingredients and wonderful textures.
But the best part is…
This is the ultimate convenient recipe for a soup! Made in a crockpot, the prep time takes only 15 minutes with hassle-free clean-up afterwards!
It is a rich a creamy soup featuring coconut milk. Plus, mushrooms, wild rice and veggies make it really filling.
A homemade chicken vegetable soup is a simple yet delicious classic that brings comfort as well as nutrition.
Guess what?
This simple soup is low in fats as there is no cream or fat-rich ingredients. It's a simple chicken broth with veggies that serve as a healthy meal option.
But don't worry…
It's not a plain soup. Some wonderful seasonings like black pepper, garlic and thyme really lift up the flavor.
Crockpot lentil soup is a hearty and delicious dish that's a great vegan option.
It's a flavorful soup packed with nutritious lentils and a medley of veggies – a wholesome soup with fresh ingredients.
But that's not all…
This lentil soup brings a spicy kick with smoked paprika and black peppers.
Plus, the broth features a thick and delightful texture, perfect to be enjoyed with some crusty bread.
Have you ever tried a Turkey Noodle soup?
This brings a flavorful combination in the form of a comforting and nourishing soup that's perfect for the winters.
Using cooked turkey, you can prep the dish in just 10 minutes before all the ingredients go into the crockpot!
And there is more…
Featuring some basic vegies, Italian seasonings and egg noodles, you can create an amazingly satisfying meals with simple ingredients!
Indulge in a hearty soup that is prepared with just a handful of ingredients in your crockpot!
The best thing is…
It is a super nutritious soup featuring ham broth that is rich in iron and other minerals. Plus, the beans add proteins and fiber.
Carrots and onions mingle with the ingredients to offer a more hearty experience with the textures.
Simply dump your ingredients in the crockpot and let the magic simmer!
Have some leftover turkey from the holidays?
Here is a great idea to turn it into a fantastic comfort meal!
Create a comforting broth and add vegies for a satisfying and nutritious meal that needs only 20 minutes of prepping time.
Here is a tip…
If you don't have sufficient leftover turkey meat, you can simply add more of your favorite veggies to increase the quantity!
So, head to the easy and customizable recipe to discover a convenient meal!
Crockpot beef soup is a delicious dish full of nutritional benefits.
It is a wonderful way of loading up on protein, iron, zinc, B complex vitamins, amino acids and more!
But the best part is…
This crockpot recipe means you can put all the ingredients in a crockpot and just forget about it till it's done and ready to serve!
It's also great for freezing to be conveniently used any other time.
Here is a soup you are going to love even if you are not a fan of spinach!
It's a creamy, dreamy and cheesy soup featuring rich cream cheese! Plus three-cheese tortellini pasta makes it more fun and satisfying!
And wait, there is more!
The flavor of the broth is simply amazing with cumin, oregano, garlic salt, pepper and other delicious ingredients.
Oh and guess what…
Unlike other slow cooker soup recipes, this one doesn't take ages! It will be ready in around 3 hours for you to begin slurping the deliciousness!
Discover a wonderfully rich and amazingly effortless recipe for a beautiful minestrone soup.
It's a mouthwatering combination of vibrant vegetables, kidney beans and cannellini beans, all cooked in a flavorful vegetable broth.
This meatless and dairy-free concoction is perfect for vegans who can dive into this rich, satisfying and nutritious meal!
Get all the ingredients in your crockpot in the morning and the delicious and rich soup will be ready 6 hours later well before dinner time!
Here is a recipe that supports a healthy lifestyle for diabetics!
The delicious concoction includes tender chicken, vegetables, pre-cooked noodles and low-fat chicken broth.
It's a great option for diabetics as it contains balanced ingredients that won't cause a sharp rise in blood sugar levels.
But that's not all…
This soup is also packed with vitamins, minerals, and fiber from the veggies, providing immune support and promoting overall health for the whole family!
Here is a soup that is not only flavorful but also immensely nutritious – a great dinner idea for the whole family.
Featuring chickpeas and butternut for a creamy concoction, it is a delicious dish that is purely vegan!
And that's not all…
It's not a plain, boring soup. In fact, the flavors are really exciting with garlic, Italian seasonings and fiery paprika!
So, head to the recipe and learn to create this yummy and nutritious delight!
Get ready for an exciting soup featuring a vibrant Mexican flair!
Brace yourselves for a fiery experience – Jalapeno peppers, spicy salsa, smoked paprika and cayenne pepper combine to create an explosive flavor!
And there is more…
This soup has a deliciously creamy texture, thanks to the cream cheese, avocados, lentils and beans that just melt in your mouth!
And the final touch….
A sprinkle of crunchy tortillas creating a superb texture contrast of crunchy and creamy soft!
This vegetarian tortilla soup is definitely a must try!
Here is a great way of consuming some nutritious veggies – easy slow cooker vegetable soup.
It's a meatless, wholesome recipe with a flavorful twist that comes from garlic, smoked paprika and kosher salt.
But here is the best part…
It's a totally hassle-free recipe that doesn't require you to sautee the veggies. Simply dump the ingredients in the crockpot and let everything simmer!
Attention all vegans!
Get ready for a delightful surprise that' full of satisfying textures and mouthwatering flavors.
Imagine plant-based sausage and tender potatoes swimming in a creamy, dreamy broth! Plus, the vegan parmesan add to the savory flavors.
And guess what…
This soup is a nutritious concoction high in protein, fiber and important minerals to recharge your body at the end of your day!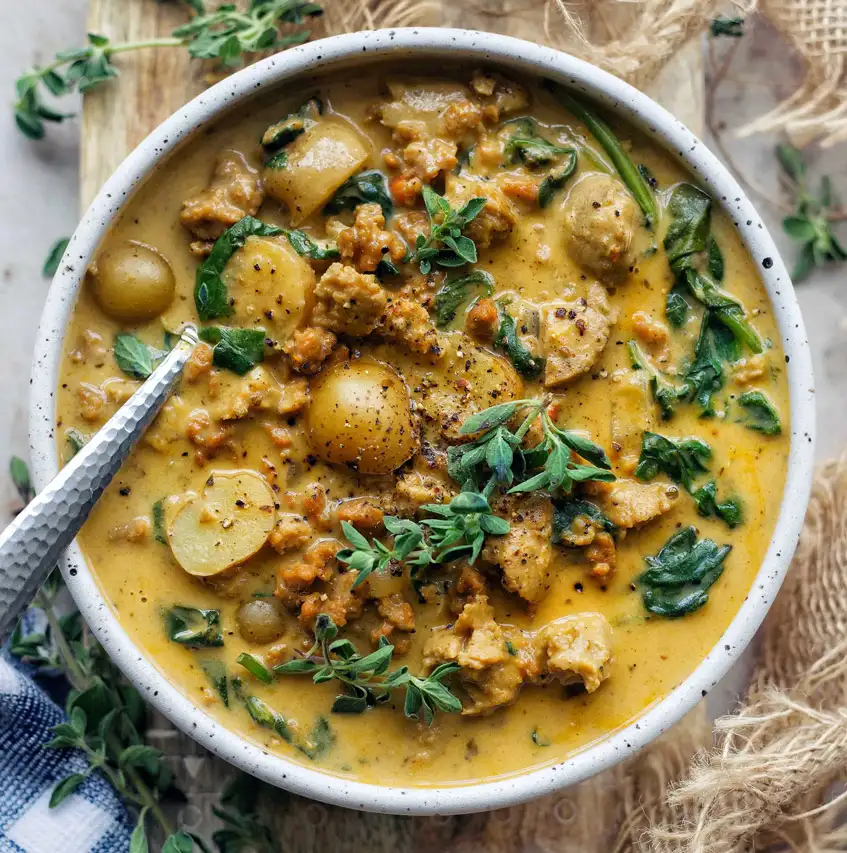 Presenting another meatless, vegetarian delight – Slow Cooker Mushroom Soup!
With its hearty texture and pleasing flavors, this soup is a captivating dinner options for vegetarians and mushroom enthusiasts.
Here is what you are going to love about it…
The soup has a rich and creamy texture which is further enhances by cream and parmesan cheese – a truly indulgent treat!
And guess what…
It only takes 2 hours in the crockpot before it's ready to serve!
Get ready for a delightful Thai-inspired food with creamy goodness and a spicy punch!
This incredible soup brings together velvety coconut milk, rich peanut butter and the kick of red curry paste.
The result?
A luscious broth features a sweet and nutty flavor fused with savory and spicy notes!
And there is more…
Other than tender chicken, there is a medley of colorful and nutritious veggies including broccoli, bell peppers, mushrooms and more!
But let's unleash the best part!
It's a guilt-free dinner choice with less than 250 calories per cup!
So, indulge in a bowlful of nutrition with this easy recipe.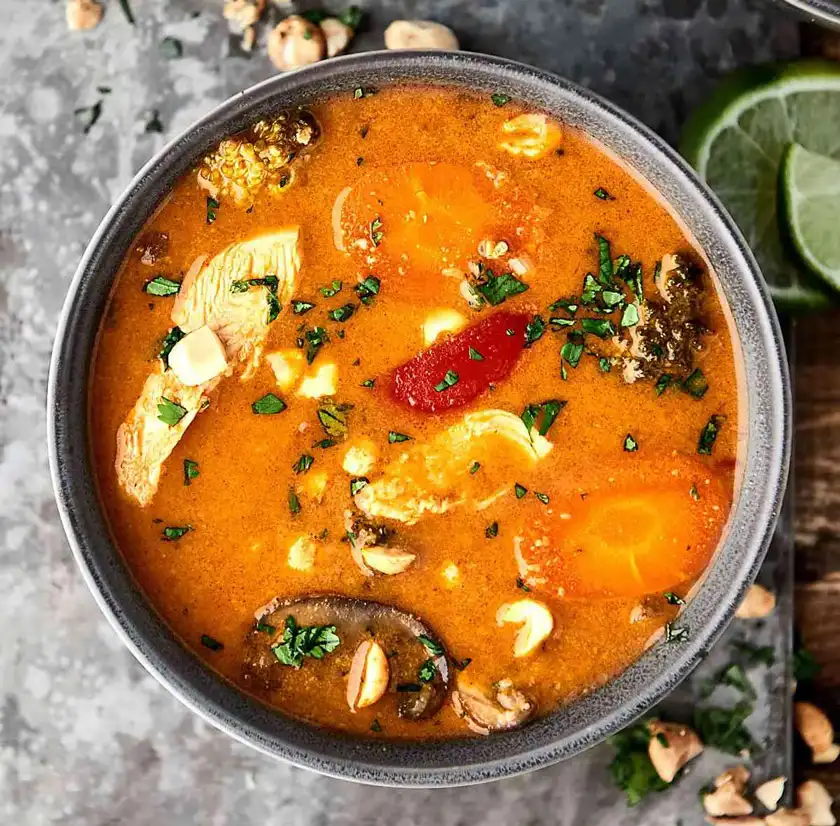 A classic chicken corn soup is always a welcome dish during the winter season. But this chicken and corn soup has a delightful twist!
It's a rich broth featuring sweet corns along with a medley of other nutritious veggies – potatoes, carrots, celery and onions!
And there is another exciting twist!
It's a thick and velvety broth featuring cream cheese for a delicious texture and rich taste!
Make it in your crockpot within 4 hours for a delicious and well-cooked dinner!
Looking to add a satisfying element to your soups?
Try this chicken and rice soup which appeases hunger and energizes the body!
It is a fusion of chicken, colorful veggies and rice, all with a comforting and warming broth to offer a complete meal that is wholesome.
And there is more…
Everyone at the table is going to love it for its aroma and flavor imparted by a collection of herbs.
Cooked slowly in your crockpot, every flavor is going to infuse beautifully, providing you with immense flavor and a delightful experience.
Get ready to taste the incredible Slow Cooker Shrimp Boil Soup!
Just imagine juicy shrimp, smoky sausage, red potatoes, sweet corn, and onion, all seasoned with the famous Old Bay seasoning!
The best part is…
It's a delicious as well as healthy dinner option. The shrimp and veggies provide protein and important vitamins and minerals.
And guess what…
With only 10 minutes of prep time, your slow cooker will have the perfectly cooked shrimp boil soup ready in 3 hours!
Step away from the ordinary and savor something extraordinary with this crockpot Italian bean soup.
Its tomato-based broth not only delivers a burst of rich flavors, but also packs a punch of antioxidants, vitamins, and minerals!
The protein-rich beans and meaty sausages add to the richness of the dish and make it an exciting addition to the dinner table.
It takes around 6 hours to be cooked in a crockpot, making sure that the beans are perfectly tender and well-done!
Savor the Italian flavors and a tangy kick – delicious and one-of-a-kind!
Bring Thai experience to your own home with the recipe for a delicious Tom Kha soup.
Here is what makes it stand out…
It features a creamy, coconut milk based broth that is not only satisfying but also really nutritious.
Plus, you will enjoy incredible Asian flavors with red Thai curry paste, fish sauce lime leaves and more – a savory, spicy and tangy fusion!
Make this exotic soup conveniently in your slow cooker and impress your family!
Don't let the name fool you!
Zucchini Soup is anything but ordinary! It features lots of incredible ingredients that elevate this modest vegetable to new heights!
The most exciting part?
There are gorgeous Italian sausages along with bright bell peppers, juicy tomatoes and parmesan cheese that turn the soup more appetizing!
Your slow cooker will fuse the flavors perfectly and make all the ingredients delightfully tender with the minimum effort on your part!
Prepare to be dazzled by Easy Crockpot Lasagna Soup!
This genius creation combines all the goodness of traditional lasagna in a comforting and warming bowl of soup!
Lasagna pasta sheets, a medley of cheeses, veggies and savory beef all combine together in a broth to create a delightful dinner option.
The best part?
No need to spend time layering! Just cook the beef, toss everything into the crockpot, and let it work its magic.
It's an innovative recipe worth trying!
Savor a Japanese creation that exhibits simplicity, yet offers complete satisfaction!
But don't be fooled by the name!
This soup is more than just onions. Shiitake mushrooms steal the show, adding their beauty and incredible texture.
And the best part is…
It's a light and savory soup made from fat-free chicken broth, a touch of salt, and the natural flavors of veggies.
So, hurry and jump to the recipe for a lovely meal option that will leave you feeling nourished and content.
Slow Cooker Italian Meatball Soup is a meal that stands strong on its own – no accompaniment needed!
This incredible soup boasts a rich broth filled with nourishing veggies and hearty meatballs.
And that's not all…
The flavors are simply amazing, with a perfect blend of Italian herbs and a hint of black pepper.
This soup is a showstopper that adds vibrant color and excitement to your dinner table.
And the best part?
Making it in a crockpot brings ultimate convenience, creating the perfect fusion of all the delicious ingredients.
Final Thoughts
So, here comes the end of our simmering delights and mouthwatering aromas!
These crockpot soup recipes show you the way to the utmost convenience and perfection when it comes to flavor, texture and deliciousness of your soups.
From simple noodles soups to rich, meaty broths, you'll find comforting, satisfying and wholesome slow cooker soup recipes here.
Which of these tempt you the most?
Do let us know your thoughts.